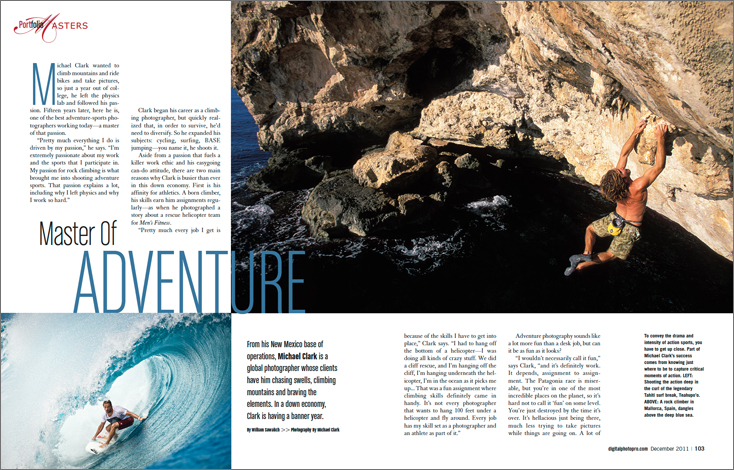 It is truly a great honor to be included in the December 2011 "Masters" issue of Digital Photo Pro. After 15 years of hard work, this article, entitled "Master of Adventure" is one of the jewels of my career so far. Not only is it fulfilling to see this come to fruition but there is also a very good story behind the article and my relationship with Digital Photo Pro — and their sister publication, Outdoor Photographer.
Fifteen years ago in the spring of 1995, when the idea of becoming a professional photographer was just a pipe dream, one of my first submissions was to Christopher Robinson at Outdoor Photographer. I had shot some landscape images in Palo Duro Canyon State Park (near Amarillo, Texas) and wrote a one page article for one of their columns to go along with the images and my submission. At that time, I was still testing the waters to see if I could even get anything at all published. In total, I sent out three submissions: two to climbing magazines and this one to Outdoor Photographer. Amazingly all three submissions were published and that was the start of my career as an adventure photographer.
A few years ago I met up with Christopher, now the Editor of Digital Photo Pro, in Los Angeles and we reminisced about his selection of my work back in 1995 since he is partly responsible for my decision to pursue photography as a career. During that portfolio review, we got to chatting about possible articles for Digital Photo Pro and it's sister publications and I became a blogger for Outdoor Photographer shortly thereafter. In that initial meeting Christopher said he wanted to feature me in Digital Photo Pro and I was ecstatic about that possibility since on my list of goals the last few years, which is taped to the wall right next to my computer, I have written, "Have a feature article about my work published in Digital Photo Pro."
After shooting a big assignment out in the Los Angeles area earlier this year I met up with Christopher again and he asked me how things were going. When I told him I was having a stellar year he said, "Ok, that's it. I would like to feature you in the Master's issue at the end of the year. How does that sound?" I just about fell out of my chair. But before I was too overwhelmed I managed to say "Yes, that sounds fantastic" or something to that effect. Christopher has literally seen my entire career from the very beginning. So in light of that history, it is a very special honor to be among the mix in the December 2011 Masters issue.
My thanks to Christopher Robinson for including me in the this latest issue and for the great article and layout. Also, my thanks to William Sawalich, who wrote the article, and did a great job. It has been a pleasure working with you both. You can pick up a copy of the December 2011 issue of Digital Photo Pro at the local newsstand or you can read the article here on the DPP website.