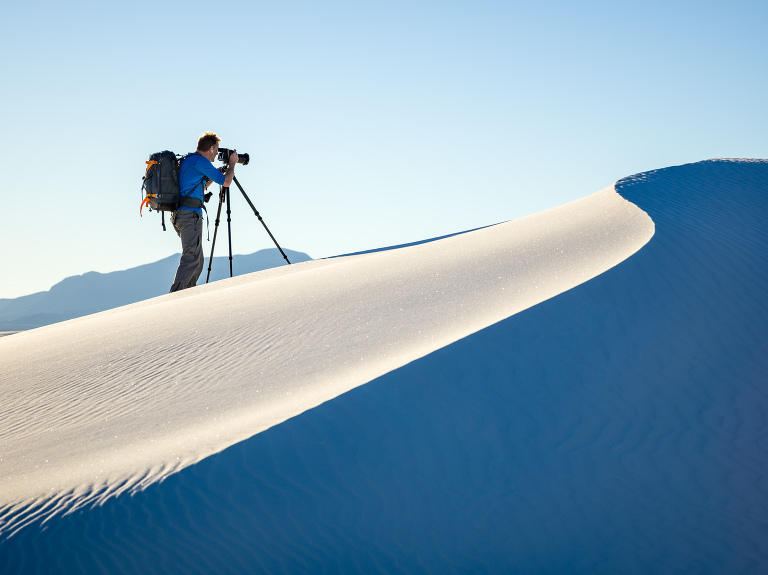 Each year I teach several workshops and give a few seminars on a variety of topics including adventure photography, digital workflow and artificial lighting. Below is a list of the upcoming workshops I will be teaching and seminars I will be giving. As you scroll down you can read descriptions about each of these workshops and find out how to register for each one. In the current climate, with COVID-19 still ravaging much of the world, I am also offering an array of online workshops as well as in-person workshops.
Also, If you are interested in a private one-on-one workshop please contact me and we can discuss options and pricing. I also do one-on-one online consulting and tutoring on a wide variety of photography topics. At some point when it is safe to gather and travel, I hope to see you out there in the field this year.
Best Practices: Protecting, Storing and Archiving your Digital Images – Santa Fe Workshops – March 19, 2022
Adventure Travel Photography – Santa Fe Workshops – April 25-29, 2022
Japan: The Art of Motion – Nobechi Creative Workshops – Japan – May 11-19, 2022 (Pushed back due to Covid)
. . . . . . . . . . . . . . . .
Workshop Testimonials:
"Michael is the best instructor I have taken a workshop from." – Participant, Cutting-Edge Lighting Workshop
"Michael certainly knows his stuff. From Capture to Print: The Complete Digital Photographer's Workflow is delivered in an easy to follow and comprehensive manner that covers many things that you may not expect – such as how to choose proper lighting to view and evaluate your prints or what color shirt to wear when you're correcting images. I really appreciated that this is a pro workflow course delivered by a pro photographer. Michael is also a superb teacher, a superb communicator, who is welcoming and inviting of questions from all his participants. I took this workshop in June of 2020, using Zoom software. I was really amazed by how Michael made it seem like he's been doing these workshops forever this way! Thank you Michael! It was a great pleasure being part of this workshop with so many others amazing photographers and a great pleasure to meet you. I learned much which is valuable to me and enjoyed doing so at the same time.  And just to reiterate, as to the workshop: I'm impressed." – Stephen Starkman, Toronto
"Within the short time I've been studying and practicing photography, I have had teachers who are good educators, but not great photographers, and vice versa, but few who are both. Count yourself in these narrow ranks…I went through 4 years of college and several careers getting less candid advice and encouragement than I got in 4 days with you. For what it is worth, thank you for that." – Brandon McMahon, Adventure Photography Workshop, Spring 2015
"Michael set an incredibly high bar for his workshop. He gave 110%, covered a broad range of topics and did an outstanding job." – Chris Council, Adventure Photography Workshop, Summer 2010
"Thanks for running such a great workshop. I couldn't have chosen better photo shoot locations, and the post-shoot critiques were invaluable. It's the first time I've had my work reviewed, and I learned a ton from each session. While I didn't go into the workshop expecting to pick-up too many marketing and business tips, I've come out of last week inspired to set-up my photo website in earnest." – Jeff Hylok, Adventure Photography Workshop, Summer 2010
"The recent Adobe Lightroom Intensive Workshop in Seattle was excellent. The two-day format was perfect–just enough time to cover all the important features but not so much time as to be draining or get in the way of work. Michael Clark was an outstanding instructor. Not only was he clear, concise, and comprehensive, but his manner was friendly and equable. The fact that he is also a working professional photographer made the instruction all the more relevant. I have used previous versions of Lightroom, but it had been a while and I had recently upgraded. I was able to review some things I knew, learn about new features, and change my perspective on some workflow steps. An absolutely great workshop that I recommend wholeheartedly." – Karen Huntt, Lightroom Workshop, Spring 2011
"Thanks again for such a terrific workshop. I have taken one other two day Lightroom workshop, but your's is the best!" – Vance Thompson, Lightroom Workshop, Spring 2011
"Just wanted you know how much fun I had during the workshop last weekend! I learned a lot a look forward to doing other workshops with you." – Jason Quevedo, Philadelphia Mentor Series Trek, Fall 2009
"Your workshop at Santa Fe was too good and I came away with a lot of knowledge and renewed energy. The level of expertise that you and Michael shared was top-notch and I hope to repeat this experience again. Thanks for such a great workshop!" – Participant in the 2008 Balloon Fiesta workshop taught by Andy Biggs and myself.
"My mind is still spinning and I can't help but smile every time I think of the wonderful experience garnered from our workshop. Between what I learned from the two of you, as well as from my talented classmates – this was a great experience, and I would do it again." – Participant in the 2008 Balloon Fiesta workshop taught by Andy Biggs and myself.
. . . . . . . . . . . . . . . .
Best Practices: Protecting, Storing and Archiving your Digital Images
Online Zoom Workshop
March 19, 2022
Register for Best Practices: Protecting, Storing and Archiving your Digital Images
If you have ever lost digital images due to a hard drive crash, image corruption, theft, or fire, you know how important a robust, well thought out digital storage and backup system is in this age of digital photography. Backing up and archiving digital images can be an overwhelming and daunting task, especially in light of the technology involved. With our images existing mostly as 1's and 0's on hard drives, the loss or corruption of a hard drive can wipe out a lifetime of images and digital content all at once. If you value your images, building a solid storage and archiving solution to ensure the protection of your digital content is critical.
Join Michael Clark for a webinar as he demystifies the complex topic of storing and archiving digital images. Michael presents his strategies for safeguarding his images and covers a wide range of topics including backup strategies, connection speeds, hard drive options, hardware choices and options, RAID options, the costs involved, how to properly and safely archive your images, Cloud storage, backing up your computer, and much more. This program is an A-to-Z comprehensive look at tried-and-true image storage solutions.
Michael discusses in detail his experiences with various storage solutions and the nitty gritty of what works and what doesn't. Whether you have terabytes of images or just want to back up your smartphone, this program gives you an excellent understanding of how to think through your storage needs, the steps required to build a robust storage solution for your digital content, and the tools you need to make smart decisions to protect your content no matter what calamities may come.
A Question-and-Answer session follows the presentation. Questions from the participants will be reviewed and selected during this informal wrap-up conversation.
You can still experience this presentations even if you can't make the live event. The webinar is recorded and made available for two weeks following the live event.
Class Time: This lecture-based webinar will meet 10:00 am – 3:00 pm (Mountain Time) on Saturday, March 19. There will be a number of short breaks over these 5 hours.
For the convenience of participants, recordings of each class session are posted privately for two weeks after the end of each session. Santa Fe Workshops takes the recordings down after two weeks to protect the intellectual property of our instructors.
Price: $260
For more information and to register for this workshop visit the Santa Fe Workshops website.
. . . . . . . . . . . . . . . .
Adventure Travel Photography
April 25 – 29, 2022
Location: Santa Fe Workshops – Santa Fe, New Mexico
Stay Tuned for Registration Information
Adventure travel photography—in its true form—is an adventure in itself, involving breathtaking locations, sometimes extreme conditions, and often working in challenging scenarios. It requires a host of skills, including technical excellence with the camera, familiarity with the environment, and the ability to be always mindful of your goals and your safety.
This workshop concentrates on creating unique images of rock climbing, whitewater kayaking, fly-fishing, cowboys on a working ranch and unique landscape locations. We will also be participants in the adventure while rafting down a mellow section of the Rio Grande River. Using northern New Mexico's incredible landscape as our backdrop, we explore innovative ways to capture the essence of each activity—and have an adventure ourselves. Topics covered in this workshop include research and preparation, composition and camera angles, equipment selection, use of natural light, fill flash, and battery-powered strobes, and autofocus techniques. We will be out on location creating images every day of this workshop and have a lot of fun in the process.
Classroom time includes daily editing, review sessions, and a primer on digital workflow. This workshop will give you the techniques and experience to dive into future adventures with gusto, and also provide an excellent adventure along the way.
Price: TBD
For more information and to register for this workshop visit the Santa Fe Workshops website.
. . . . . . . . . . . . . . . . .
Japan: The Art of Motion
May 11-19, 2021
Location: Multiple Locations in Japan
Register for Japan: The Art of Motion
Not just a travel photo tour, not just a lighting workshop, but a unique opportunity to photograph Japan in Motion: Martial artists, theatre performers, bullet trains and festivals to create a strong, dynamic body of work that will have your friends and colleagues in awe of your photography, while learning invaluable lighting techniques courtesy of Michael, and diving deeply into the beautiful Japanese culture through George.
Japan is a country constantly on the move. With the fastest bullet trains in the world, and sports old and new, there are ample opportunities to create ambitious images of both the modern and ancient Japanese culture in motion. In this photography workshop with Michael Clark and George Nobechi we will push ourselves to create dynamic images that impart motion into the world of still photography. Using advanced lighting techniques*** with both strobes and continuous lights (not to worry if you are new to lights—Michael and George will be there to help you), incorporating motion blur, and featuring incredible athletes and martial artists we will set up a wide variety of scenarios to practice and produce stunning images.
Michael has spent the entirety of his career capturing images of athletes in motion in remote locations for some of the most prestigious clients in the World including Apple, Nike, Nikon, Fujifilm, Red Bull, Nokia, National Geographic, Sports Illustrated and many more. In Japan we will adapt his techniques to a wide variety of traditional sports, performances, culture and events in stunning locations. The aim of this workshop is to craft images that are dramatic, unusual and out of the norm—images that stand out and grab the viewer's attention but are unmistakably Japanese.
We will start with a few days in Tokyo, where we have access to some phenomenal athletes and performing artists in a variety of venues. For the second part of the workshop we will head out into the beautiful Japanese countryside and work with martial artists, dancers and traditional performers. In addition we will have the opportunity to photograph an exhilarating festival, where we will be able to take the techniques we have learned and use them in an uncontrolled environment. Through out the workshop we will have plenty of time to really get creative and explore the possibilities in each location.
Of course, throughout the workshop, Michael will also share his extensive knowledge of digital workflow and show participants how he works up his images to a very high level. Each day will find us on location capturing powerful images in addition to image critiques, discussions on various techniques, and thinking through the types of images we hope to create that day. Michael first visited Japan in May of 2019 and enjoyed the country so much he immediately hatched the idea to coordinate with George on creating this unique workshop.
George, with his extensive knowledge of Japan, and its culture, will be our guide to help us stay true to the traditions and also dial in our experience so that we not only come away with incredible images but also get to experience a side of Japan that is rarely seen by tourists. George will also instruct you in filling out your Japan portfolio with carefully crafted landscapes, environmental portraits and still-life shooting around the main workshop photography led and taught by Michael.
Class size: 6 people (Minimum 5 people required for the class to proceed)
***All lighting equipment will be provided by Elinchrom and Michael Clark will be there to help fine tune and set up the lighting for all participants. 
Cost: TBD
For more information and to register for this workshop visit the Nobechi Creative website.
. . . . . . . . . . . . . . . .
Stay tuned for other workshops coming later this year…