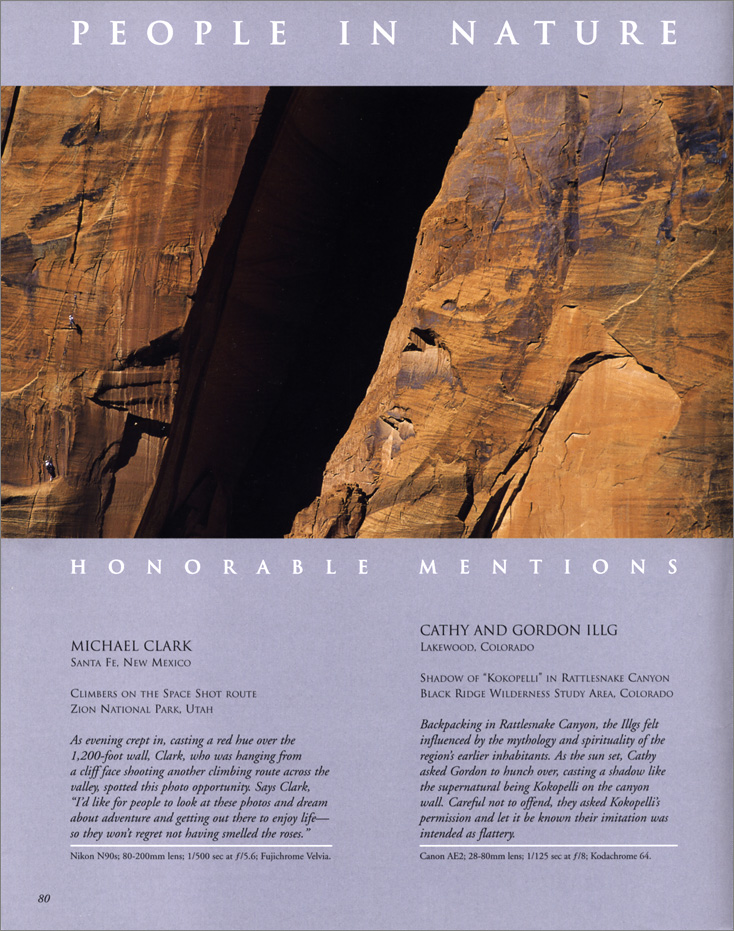 In the 2000 Nature's Best Photography Competition, Michael Clark won an honorable mention in the "People in Nature" category for his image of big-wall rock climbers on a route named "Space Shot" in Zion National Park, Utah. Over 15,000 entries were submitted for the competition and three photos were picked in each of five different categories. This photo was published in the Fall & Winter 2000 issue of Nature's Best Magazine and it was also displayed in the Smithsonian Institute in Washington, D.C. from October 10th to January 1st, 2001.
The caption reads: "As evening crept in, casting a red hue over the 1,200 foot wall, Clark spotted this photo opportunity. Says Clark, 'I'd like people to look at these photos and dream about adventure and getting out there to enjoy life – so they won't regret not having smelled the roses.'
Image Specs: Nikon N90s camera, Nikkor AF 80-200mm f/2.8D lens, 1/500th second at f/5.6, on Fujichrome Velvia Professional film.
This image has also been published numerous times by clients such as Climbing Magazine, Black Diamond and many other national and international clientele. It is available for licensing from my stock agency Getty Images.