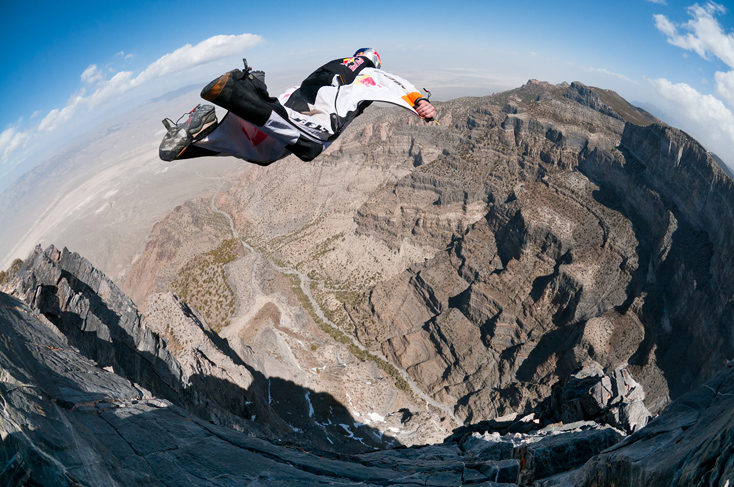 In late May I had the pleasure of working with three members of the Red Bull Air Force team while shooting an assignment for Red Bull. Jon DeVore, Mike Swanson and Miles Daisher were headed to a very remote location in Utah near the Utah/Nevada border to jump off a 3,200-foot cliff. It was my job to shoot still images alongside a video crew from ABC who were doing a Nightline special that just aired a few days ago. Above is an image of Jon Devore jumping off the 3,200-foot cliff face.
As you might imagine, this was a fun assignment. Jon, Mike and Miles were a blast to hang out with and watching them leap off a 3,200-foot cliff and get 40+ seconds of flight time in their wingsuits really made me want to try this wild sport. They made it look easy. But just like any other sport, they have put in their dues with over 15,000 jumps previous to this one. As Miles put it this was a triple black diamond wingsuit jump. They dropped a rock off the top (above) and realized they had exactly six seconds to get enough speed and start flying away from the wall before they would hit the sizable ledge a thousand feet below. On top of that they had to make a left hand turn as soon as they started flying since the canyon they were jumping into was quite narrow. While they had the skills to do this jump comfortably, it was no cake walk.
If you'd like to see the interviews and footage that was shown on Nightline you can view that on www.abc.com. The interviews they did with the crew and their wives are quite interesting and the video footage of these guys leaping off the cliff face takes your breath away. There is also a teaser video that was shot while we were out there which is on the Red Bull Air Force website. Below is an image of Miles Daisher being interviewed by the ABC crew.
It isn't often I meet a bunch of guys having this much fun while making a living. My thanks to the team and to Red Bull for the assignment. I hope to work with these guys again here soon. Of course as you might have guessed there will be an article about this assignment in the upcoming issue of my newsletter later this summer. Stay tuned for that.