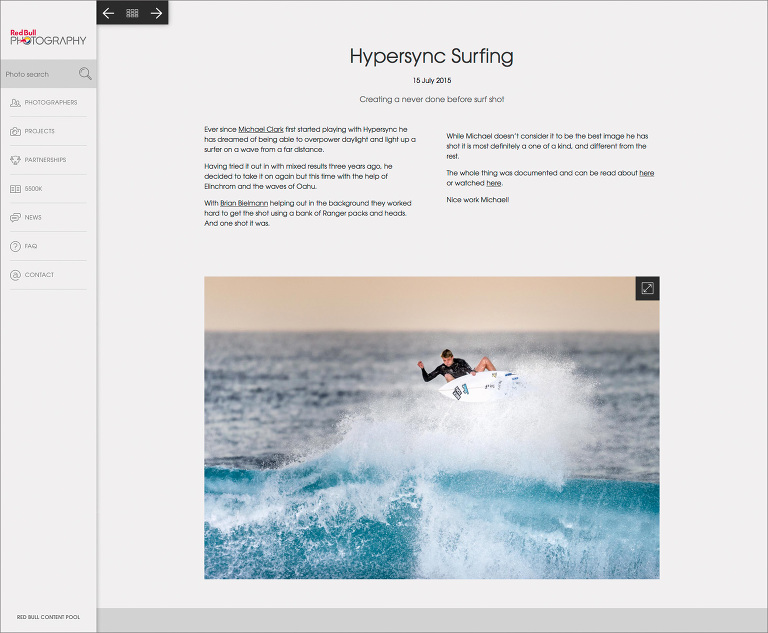 My thanks to Redbullphotography.com for publishing a news piece on the Hypersync Surfing project. This project has already been featured on Elinchrom.com and there was also an in-depth, geek-fest piece on the Photoshelter Blog as well. I am super stoked to work with Hypersync flash techniques as it allows me to create wild images that were very difficult, if not impossible to create previously.
I was just talking with legendary surf photographer Brian Bielmann last week, who helped me out on the Hypersync Surfing project, and we were discussing how many things had to come together to get this shot. The autofocus had to nail it, all of the flashes had to fire, the flashes had to be lined up to hit the surfer who was moving all over the place and I had to anticipate the action, which was tricky because the waves were not so great, and finally Thomas Ihnken, the surfer, had to launch a decent air to make this image happen. That afternoon, Thomas only got a total of three decent airs and we caught one of them. As mentioned in the news piece, this may not be my greatest surf image, but it still boggles my mind how many things had to come together to create this image. For the full story click on the Elinchrom link above.
The Red Bull Photography website has a ton of cool content on it. If you haven't checked it out before, I recommend taking some time to peruse the site and checking out some of the projects, which all have behind the scenes videos where you can see how the images were made.  As shown above, their site is very elegant.