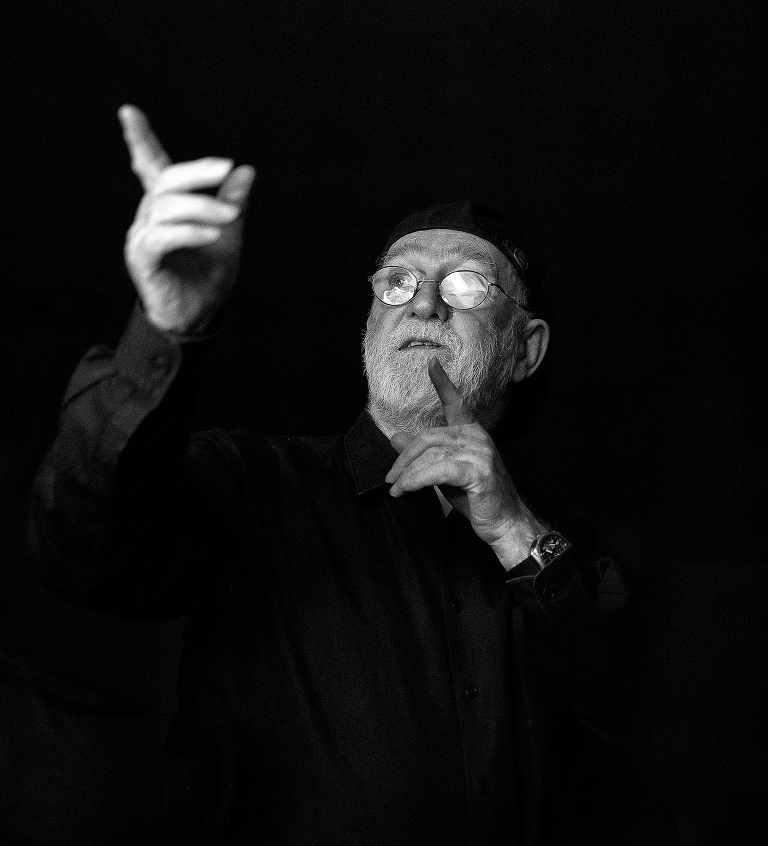 All images kindly provided by Christopher Michels, who was one of many talented photographers in Albert Watson's workshop. In the image above, Albert is discussing a lighting setup on the second day of the workshop. 
In August, I took a photography workshop with the legendary Albert Watson at the Santa Fe Photographic Workshops.  If you are a photographer and don't know of Albert Watson, look him up. You have seen his work before. I guarantee it. He has been called one of the top 20 photographers of all time. That is some pretty rare air. He is also an incredibly personable and genuine person. And, he is one of a handful of photographers I would call a true lighting master. As is evident in his images, he sees light in a way very few photographers do or can. Hence, taking a workshop with Albert was a great honor and a huge learning opportunity.
This was the second photography workshop I have ever taken. It was also the highest level workshop I have ever been a part of. Everyone in the class was either a working pro or an extremely advanced amateur, but most were working pros. Once Albert started showing us his basic lighting techniques, most in the class were completely blown away, myself included. Even my good friend Robert Reck, one of the top architectural photographers on the planet and a fellow participant, was heard muttering, "I can't believe it" after the first lighting demo. Most of Albert's lighting is done with one strobe head and a beauty dish, and the light is then bounced off white and black foam core to create a custom lighting setup for each image. What he was able to create with a very affordable amount of foam core and several flags (used to block the light) was absolutely astounding.
I took this class to help push my portrait photography lighting skills to the next level and also to get a creative boost. In the workshop, we talked about a wide range of subjects and Albert also critiqued our work and websites in front of the whole class. While looking at my images for over an hour he loved a few of my portraits and harshly critiqued quite a few of them as well. The constructive criticism was what I was there for and it will help me work harder to create higher-end portraits.
Above, I am in the hot seat. You might notice my nervous, awkward stare. I was sweating a bit more than normal as Albert critiqued my images. It isn't often that you have a photographer of Albert's stature and experience critiquing your work. He was honest and direct, just what I was looking for. I learned more about my portraiture in this one hour than I have in a long, long time.
During the workshop I took over 28-pages of notes. There were also a ton of pretty remarkable quotes that I wrote down. Below are a few of the best quotes from the week:
"If you learn one thing from me it is to analyze your pictures. You have to get into your own picture and really analyze the image as with a microscope. My one eye is a magnifying glass."
[Sidenote: Albert has been blind in one eye since birth, which allows him to see and analyze images differently than those of us with stereo vision.]
"Good lighting is a matter of you moving the light and using your eyes to adjust the light."
"The final proof is the image hanging on a wall. Do you love it or not?"
"Spend more time on the creative and on the conceptualization of the shoot than on equipment and gear. "
"Never in your life use one of those nasty silver reflectors. Burn them."
"There is a great malaise with a lot of photography now. There is not enough homework done before the shoot and not enough thought put into the image."
"One of the weakest things I see is photographers don't use flags with their lighting."
 "Try over the next year to concentrate on the images and the art, not the gear. Instead of looking at gear reviews spend your time looking at art and taking in as much art as possible to influence you."
"The devil's in the details."
"Make memorable images, not postcards."
"We need to rise above all the millions of cameras and rise above the fray and above the stratosphere." – Albert speaking about creating memorable images that stand out from the crowd.
This workshop also happened to be the first five-day workshop that the Santa Fe Workshops has ever run where the participants did not shoot at all. This was intentional by design. None of us really needed to shoot anything. We were there to learn about Albert, his work and his methods. Hence, taking time to shoot our own images would have limited how much of his craft we could absorb. We could see how how he worked and replicate that process after the workshop if we wanted to create similar looks. For this workshop and the high level participants not having to deal with shooting images was fantastic.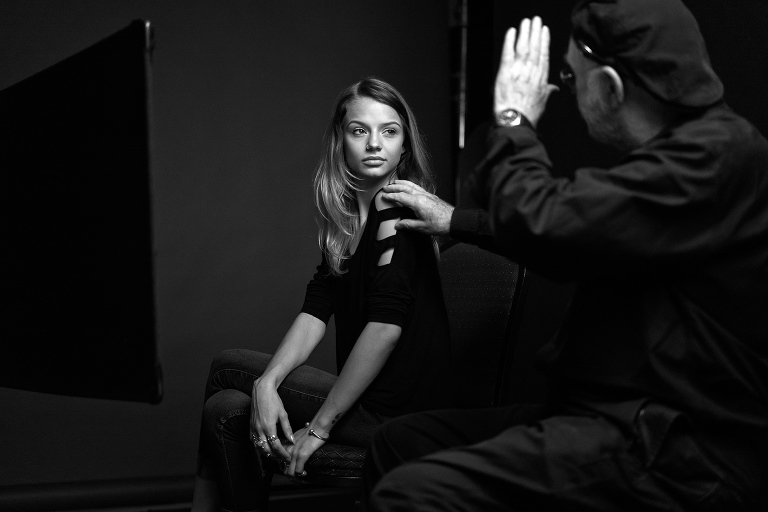 Albert giving direction to one of our models for the afternoon. Unlike most photographers, myself included, Albert gets in close to his subjects and really looks at the way the lighting is falling across their face as his assistant(s) move the light.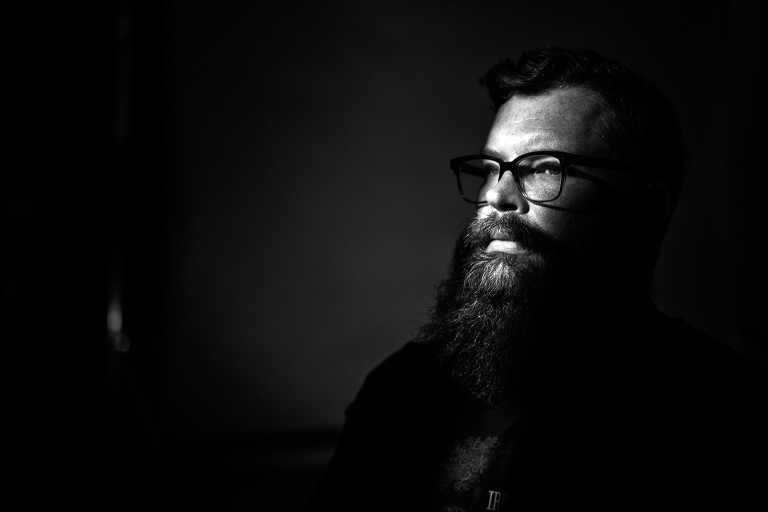 A Portrait of Keith Coleman, Albert's 20-year assistant, who brought with him years and years of knowledge. 
One of my mantras is "Never Stop Learning." If I ever did stop pushing to learn new techniques or expand my skill set I feel that my career would be in steep decline soon thereafter. Improving my portraiture, and my lighting skills, has been a decade-long endeavor so far and will likely continue for many more years to come. One of the big take aways from this workshop was not a photographic technique or any lighting setup per se, but the urging by Albert to think more artistically when creating images. Albert noted that we as photographers get so wrapped up in the technique that we often loose sight of the creative side. Going forward, I really want to push the envelope creatively more than I ever have. What that exactly means is something I am still figuring out. This, my 20th year as a professional photographer, has been quite busy but I have also taken the time to seek out and find inspiration.
This was Albert's second time teaching a 5-day workshop. The last one was eighteen years ago and also at the Santa Fe Workshops. He has taught a one-day seminar in Europe but besides that he hasn't taught any other workshops or seminars. My thanks to Albert Watson for taking time out of his incredibly busy schedule to inspire and challenge us all. Also, my thanks to Reid Callanan, the director of the Santa Fe Workshops for bringing Albert back to Santa Fe.