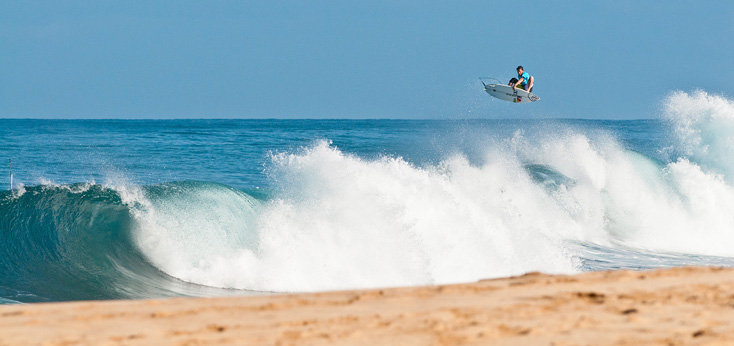 Just thought I'd post an update from the south Pacific. I am back on the north shore shooting surfing yet again – yes, I know it is a rough life. As luck would have it I showed up just in time to shoot the 2010 Billabong Pipeline Masters surfing competition the last few days along side my good friend Brian Bielmann. Above is an image of Dane Reynolds launching a huge air in the quarterfinals of the competition against Taylor Knox. He didn't land it but it makes for a cool image.
Now that the distractions are over I have to get on with my real assignment out here over the course of the next five days. Here's hoping a swell shows up soon because it was dying out today by the end of the competition. Without further ado here are a few other images from the competition.
(Top) A surfer fighting his way into a tube during the Pipeline Masters and (middle) Kelly Slater working his magic during the semifinals. Kelly didn't win this year and was taken out in the semifinals but ended the year winning his 10th World Title on the ASP World Tour. (Bottom) Jeremy Flores, the winner of the Pipeline Masters, got his first world tour win and beat out Kelly Slater in the semifinals before making a last minute comeback against Kieren Perrow in the final.
For a the full story on the Pipeline Masters and images from some other photographers visit the TransWorld Surf website.