2017 has been one of the best years of my career in so many ways. There have been some epically successful assignments and photoshoots as well as some career highlights, like working with CreativeLIVE and doing an image critique with non-other than Chase Jarvis. Perhaps the biggest, and most exciting assignment, I had this year was the Lighting the Spirit assignment with Elinchrom and Red Bull Photography where I shot images with the brand new Elinchrom ELB 1200 battery-powered strobe to help show what it was capable of. The images from that assignment have already won several awards and hopefully will continue to win some more awards in the coming year.
I know that these "Year in Review" blog posts are a dime a dozen – and I have seen a lot of them over the last few weeks – but I hope you find this blog post at least entertaining. If you have been following along this year then you have seen most of these already but there are a few new images here that haven't been distributed far and wide just yet. Hence, without further ado, here are what I consider to be the best images I have created this past year and a few career highlights as well.
Red Bull Air Force
Arizona, USA
Early this year, I was assigned to shot with the Red Bull Air Force at their Annual training camp just south of Phoenix, Arizona. As usual, it is always an amazing experience working with the Red Bull Air Force. Over the course of two days, both the team and I dreamt up a few different complex scenarios like the one below, where two team members jumped off the skid of the Red Bull helicopter, flown by Felix Baumgartner, and over the wing of Kirby Chambliss' plane. To capture this image I was shooting from a third aircraft and the timing was painstakingly worked out between all team members.
In addition to the action, I was keen to shoot new portraits of every team member, even though Red Bull didn't ask for them. In between flights and jumps, I pulled each team member back into Kirby's garage where I had set up a studio backdrop and dialed in the lighting. The portrait of Red Bull Air Force team member Jeffrey Provenzano below is just one of those portraits.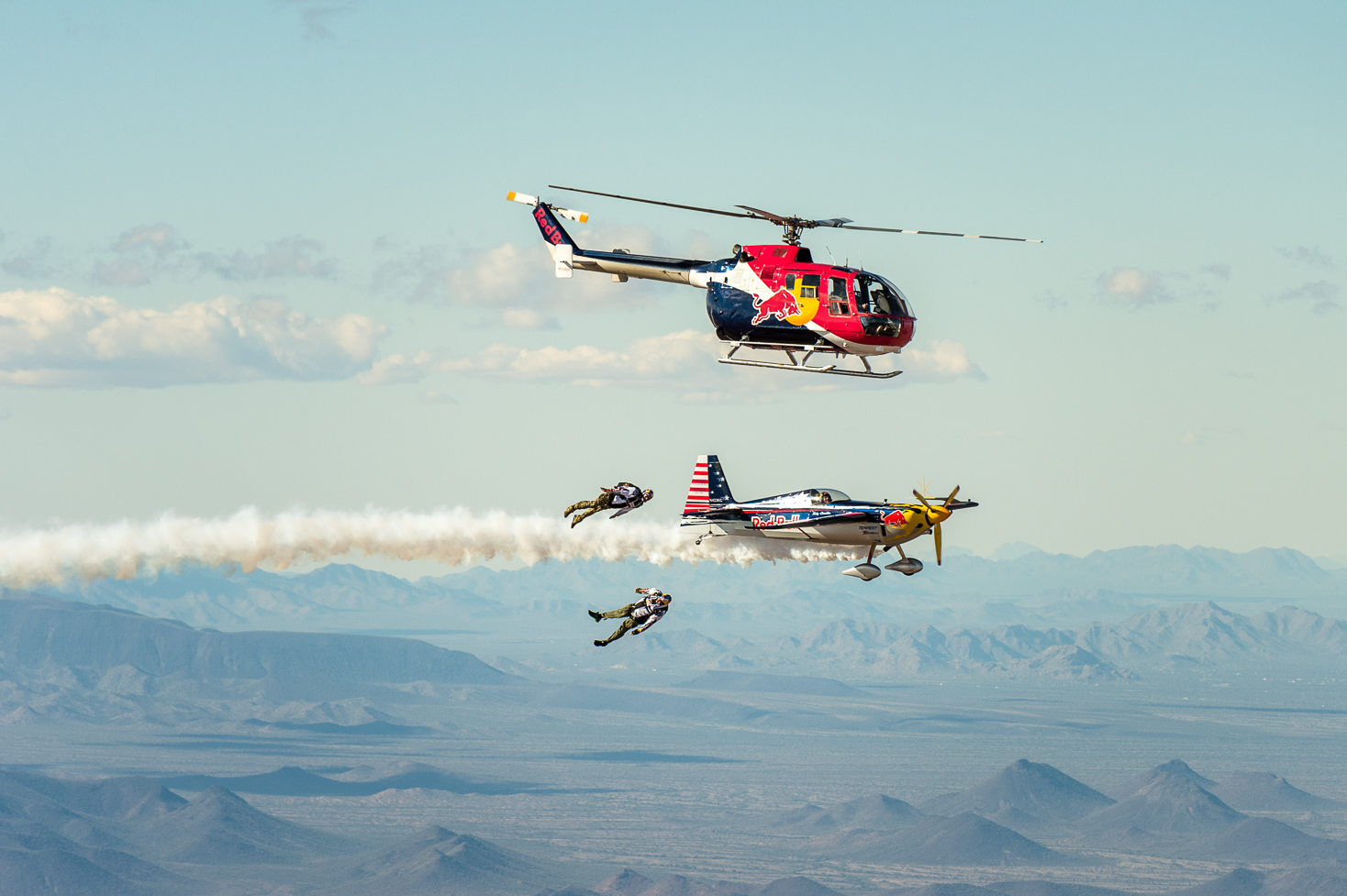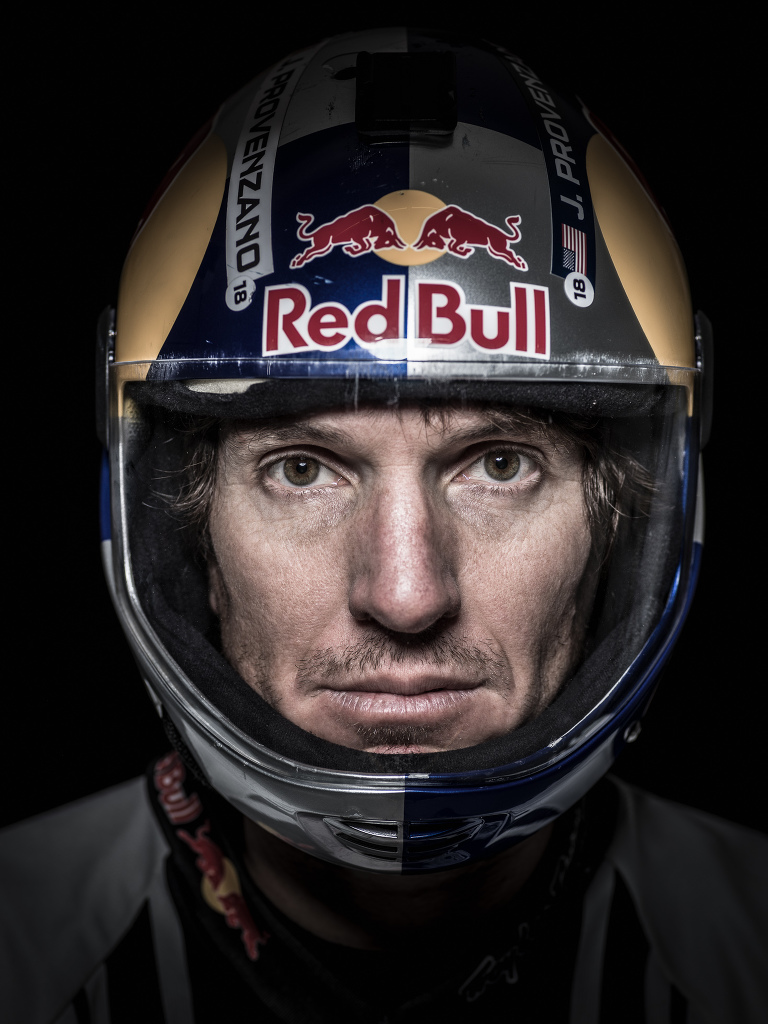 This assignment was also one of the first where I made extensive use of GoPro cameras. When mounting cameras on Kirby's plane or on the Red Bull helicopter, larger DSLRs disturb the airflow too much and down't allow for the extreme acrobatic maneuvers. Hence, the GoPro Hero 5 cameras we had for this assignment, set to intervalometer mode to shoot two still images every second, really helped to create some wild images while mounted on Kirby's plane or Felix's helicopter. Below are two images shot by remote GoPros mounted on Kirby Chambliss's plane when he released smoke while performing radical maneuvers in his stunt plane.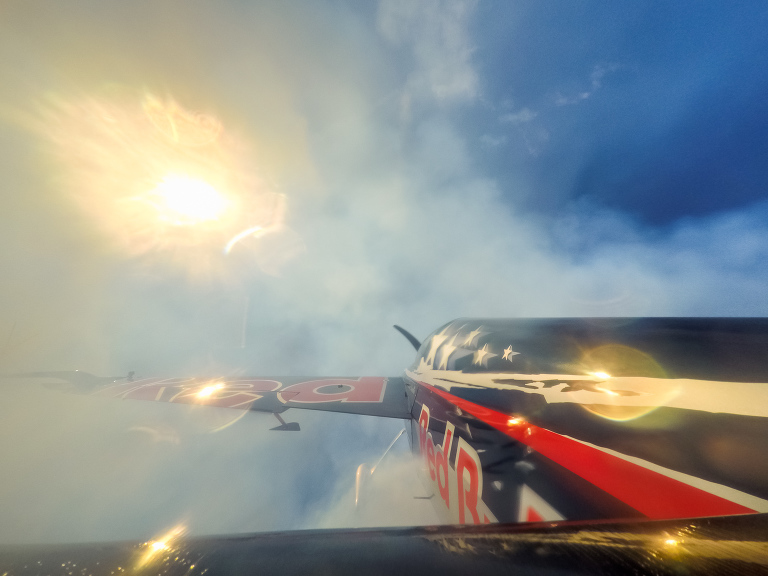 I have to say I was pretty impressed with the still image quality straight out of the GoPro Hero 5. For such a small 12 MP sensor, the images had very little noise and were easy to work up. For this assignment we shot over 15,000 images on the GoPro, which made for a long image editing process, but we also got some images that were very surprising. As always, I look forward to collaborating with the Red Bull Air Force again!
White Sands
White Sands National Monument, New Mexico, USA
Every year, I try to get out and shoot some images just for myself. As a pro, I have to keep the fires stoked and landscapes are a passion of mine. Landscape images are hard to market as a pro but it is a supreme pleasure to just get out and shoot and not have to worry about setting anything up or coordinating the sun and moon to make it all come together. White Sands National Monument has been one of my go to spots for most of my career. I have done dozens of shoots down there – many of them focused on the landscape. In February, I went down with my buddy Richie Graham to shoot landscapes together. It was wicked cold the night we camped out there, but the didn't deter us from getting out early to shoot sunrise. Below are a few images from that trip.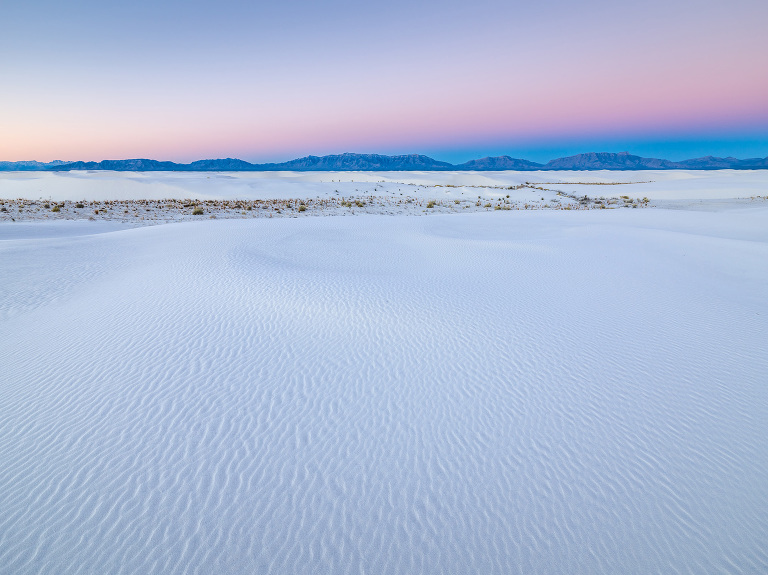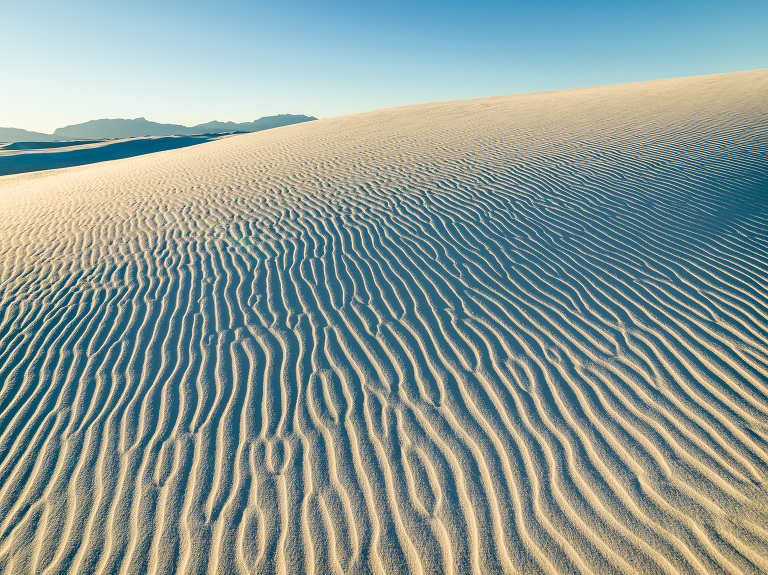 Angel Fire Ski Resort
Angel Fire, New Mexico, USA
In April, I had an assignment to shoot skiing for the Angel Fire Ski Resort in Angel Fire, New Mexico. The plan was to shoot when they had a big dump of fresh snow and it came late this year just a few days before they shut down for the winter. Over two days they got 2.5-feet (0.76 meters) of snow. We had a few different skiers and snowboarders lined up for the shoot but on the first day we went out with Zach Vanderlei in Shane's Glade and used two small Elinchrom ELB 400 battery-powered strobes in Hi-Sync mode to create the image below.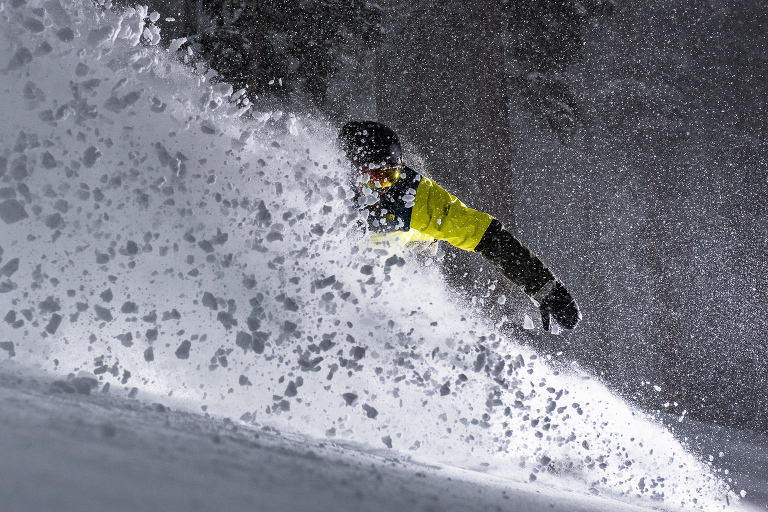 It was snowing so hard, and the snow was so wet, that all of the gear got soaked on our fist morning. My assistant turned the flash head towards me and it was half-filled with wet snow right against the exposed flash tube. We shook it out and kept shooting for a while. I could see that the flash tube was spitting water off with each flash burst. Afterwards, we went back into the resort and laid out all the gear to dry it out. I was wiping off copious amounts of water while on the shoot so I was a little worried I had pushed it too far. Amazingly, the cameras and strobes were just fine and never even blinked at the wet snow.
I love how this image really pops with the artificial lighting. We got some other interesting images but this one was by far my favorite from that assignment. Fingers crossed we get some huge storms this winter here in New Mexico. So far, it is looking like a dry winter in terms of snow conditions.
Lighting the Spirit
Spirit Falls – Little White Salmon River, Washington, USA
The Lighting the Spirit assignment this summer shooting for Elinchrom to launch the new ELB 1200, and also for Red Bull Photography, was one of the best shoots of my entire career. I have written a lot about this shoot already so I won't go on at length here but I have to include a few of my favorite images from this assignment. Below are what I feel are the best five images for that assignment.
To gauge my favorites I put them up as backgrounds on my office computer or make prints and live with them for a while. If I still think they are decent after one month, two months, or even six months later then that tells me a lot. Of these five, the best of the best (to me at least) are the middle three. Feel free to comment on your favorites in the comments below.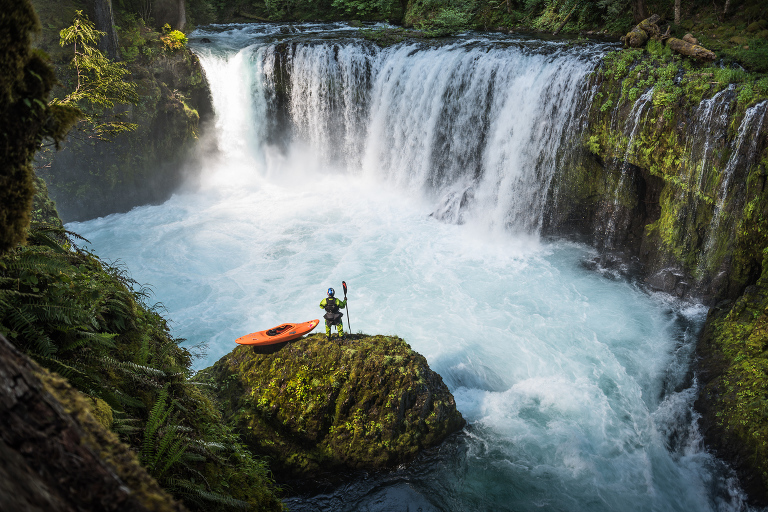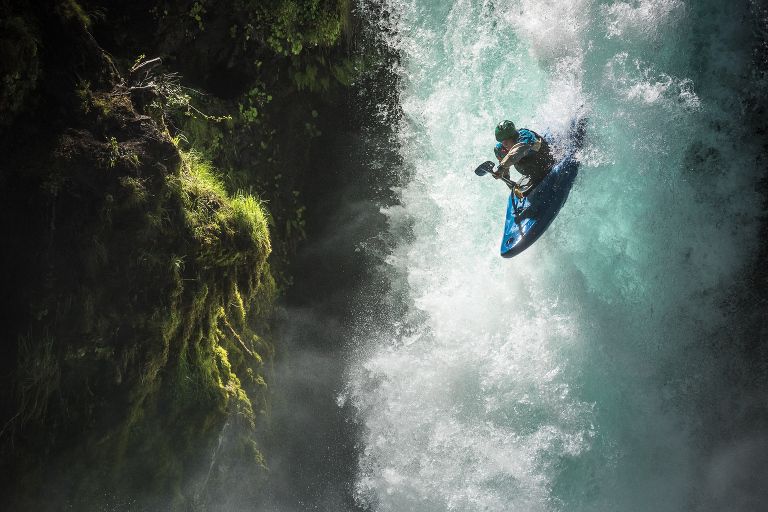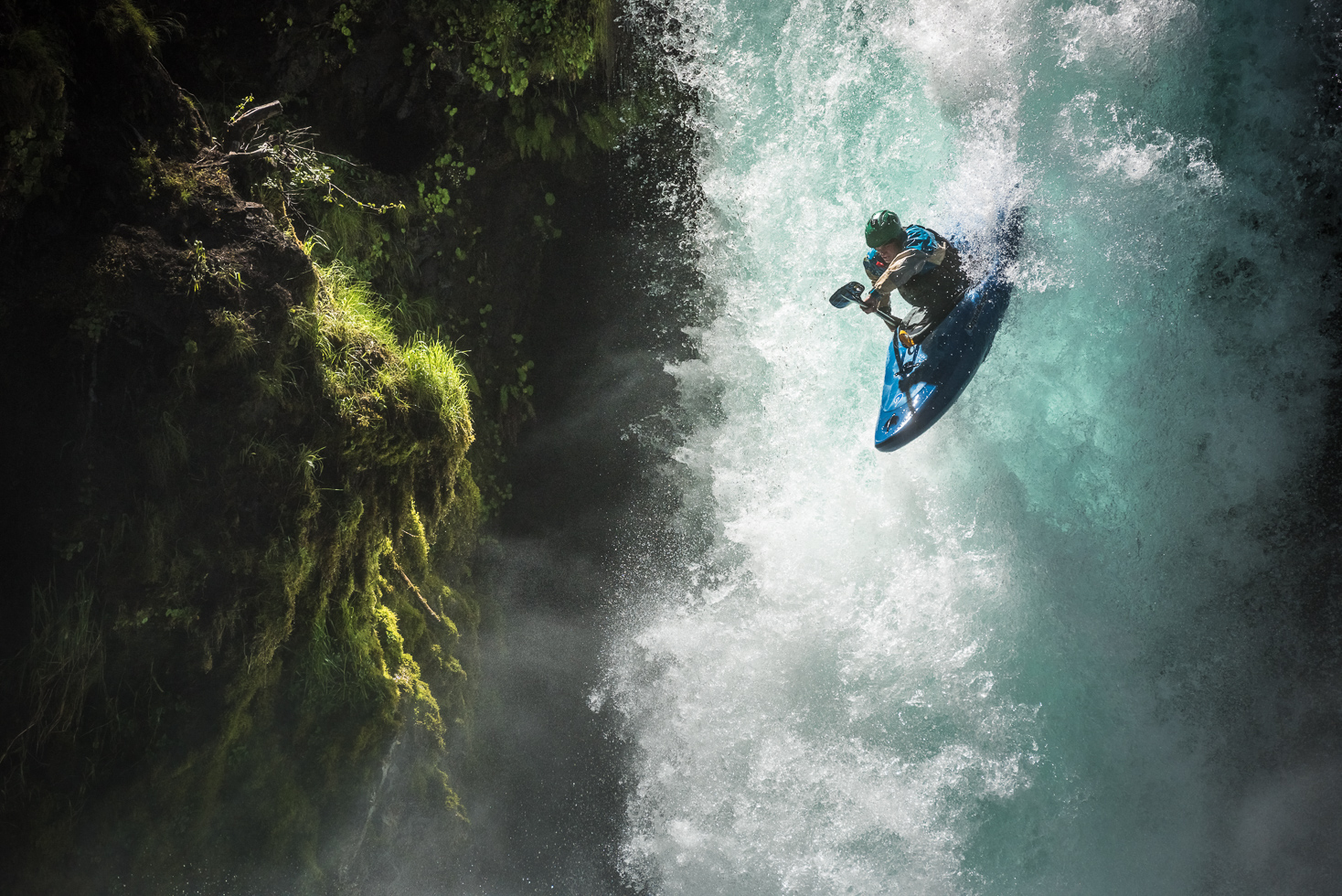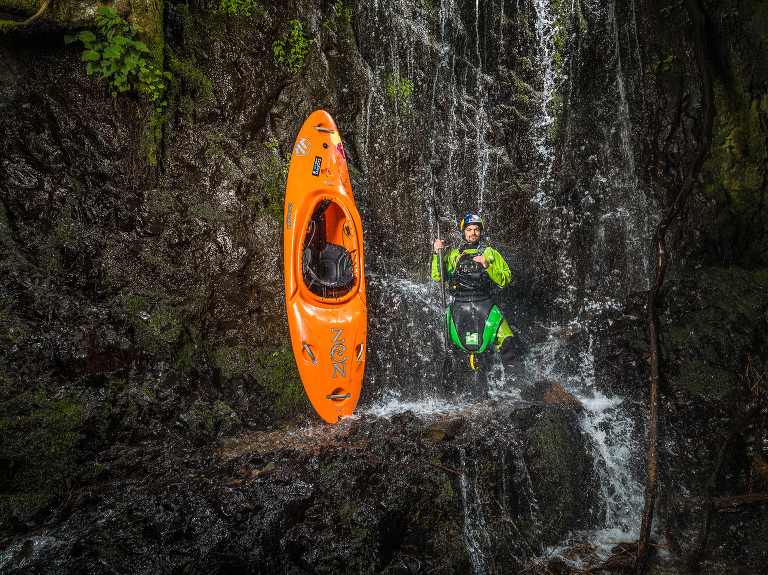 For the full story on this assignment check out my long behind the scenes blog post here.
CreativeLIVE – Red Bull Photography
Smith Rocks – Bend, Oregon, USA
Ever since I saw the first few classes come out of CreativeLIVE I have wanted to teach for them. Doing so has been on my "to do" list each year since 2010. This year, through Red Bull Photography, that goal came to fruition. Even better, we came up with an advanced lighting class that is one of my great passions right now. Looking through these images this year, it might be apparent that a lot of my work has involved artificial lighting and specifically high speed lighting techniques.
Red Bull Photography has been collaborating with CreativeLIVE to create classes that will help Red Bull photographers push their own craft forward. Last year, Corey Rich taught a great class for CreativeLIVE and Red Bull Photography. Hence, it was an honor to be in the mix this year. For this class Red Bull tracked down three stellar athletes for the class including Kai Lightner, Tim Johnson, and Dylan Bowman. We also had Ian Caldwell, The Mayor of Smith Rock, on hand to help out on our shoot in Smith Rock State Park near Bend, Oregon. Below, Kai is hanging off the lip of Chain Reaction (5.12c) and below that Ian is cranking up Rude Boys (5.13c).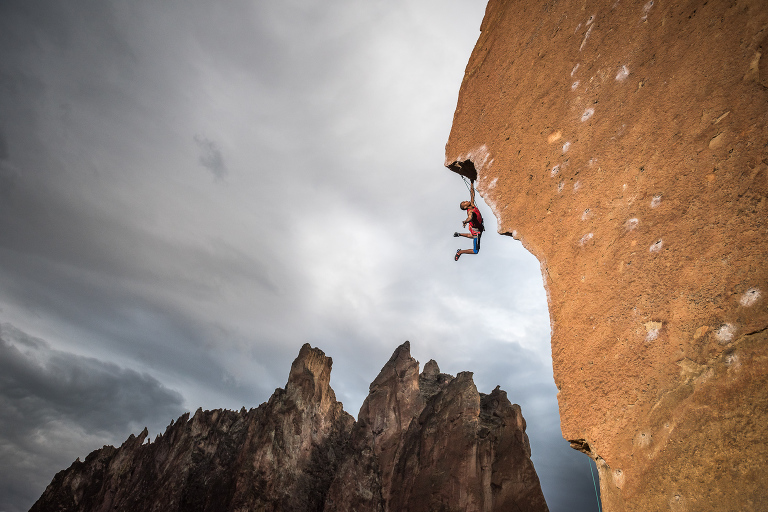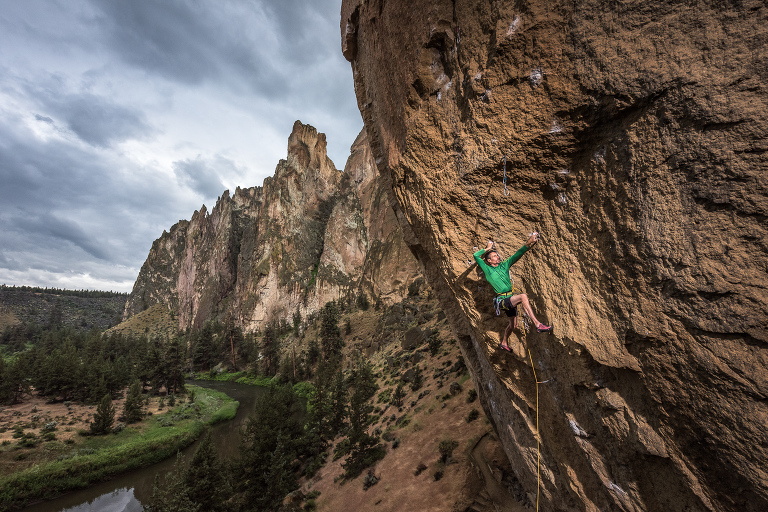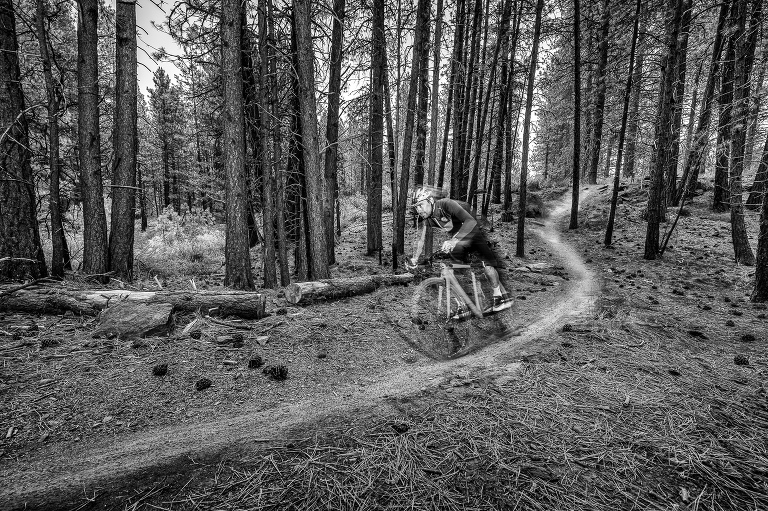 The photo above was one of the first shoots we did with Tim Johnson riding cyclocross on the Lower Storm King trail near Bend, Oregon. Because of the messy background it just felt better as a high-contrast black and white image.
To check out the class, follow this link: Advanced Lighting for Adventure Photography. My thanks to Red Bull Photography for making this happen, and to the stellar crew at CreativeLIVE for all their help and hospitality. Teaching this class was a demanding and intense experience, but it was also a career highlight for sure.
Olympic National Park
2nd Beach, Olympic National Park – Washington, USA

While out in Washington this fall, teaching again at CreativeLIVE during PhotoWEEK, I took a few days after the class to check out some parts of Olympic National Park that I hadn't been to. We were blessed with an incredibly clear morning (for late October) at 2nd Beach out on the coast. During PhotoWEEK, I asked fellow instructor and good friend Ian Shive, who has shot just about all of the National Park extensively, what was the best location in Olympic. Without hesitation he said "2nd Beach." Hence, that is where we went.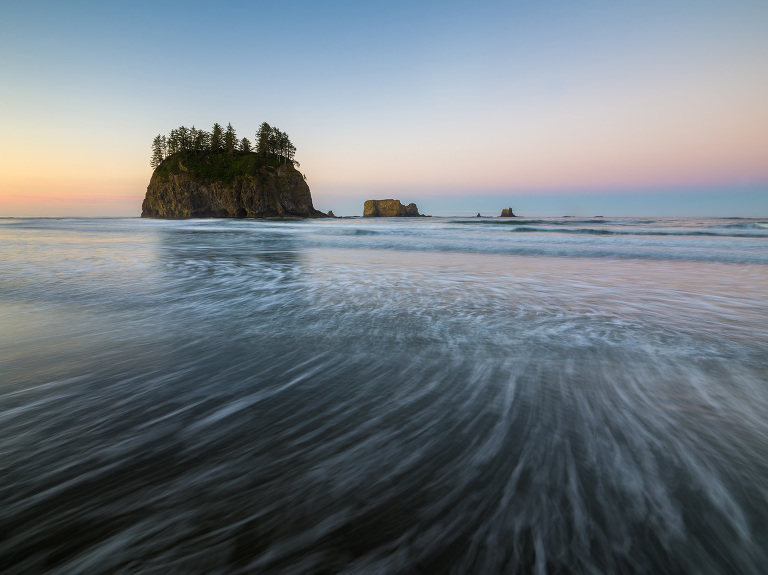 It was a surprisingly long drive from Seattle over to Forks, Washington and then out to 2nd Beach but as you can see above it was well worth it. My girlfriend and I spent a few hours shooting on this morning and this is the best image from that shoot.
National Geographic Exodus Aveiro Photography Fest
Aveiro, Portugal
To cap off this amazing year, I was honored to be a part of the first National Geographic Exodus Aveiro Photography Fest in Aveiro, Portugal in early December. Some of the amazing photographers presenting at the Exodus Aveiro Photography Festival included Reza, Ami Vitale, Pete McBride, Mario Cruz, GMB Akash, Konsta Punkka, and Elia Locardi. The festival was one of the best I have ever been a part of and it was incredibly inspiring to hear each presenter tell their story and share their passion.
Below are a few shots taken by the Exodus Aveiro staff during my speaking session. The audience was packed with over 600 attendees. It felt like a TEDx talk in many ways. In addition to the speaking sessions, there was a gallery exhibit of the ten presenter's images, which is now traveling around Portugal over the next few months. This was my first ever gallery exhibit, and for it to be in Portugal and part of a National Geographic photography festival was pretty special. It was incredibly inspiring and fulfilling to see my images displayed amongst my peers images. I also had a very encouraging conversation with the iconic National Geographic photographer Reza discussing my images, which as you might imagine was a big morale boost. Several of us also taught MasterClass seminars, and as usual, it is always fun to engage with smaller groups and share the craft and how I do things.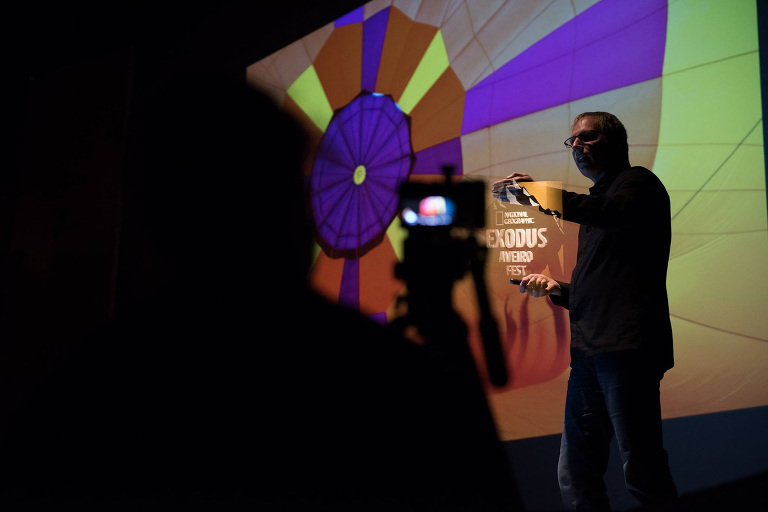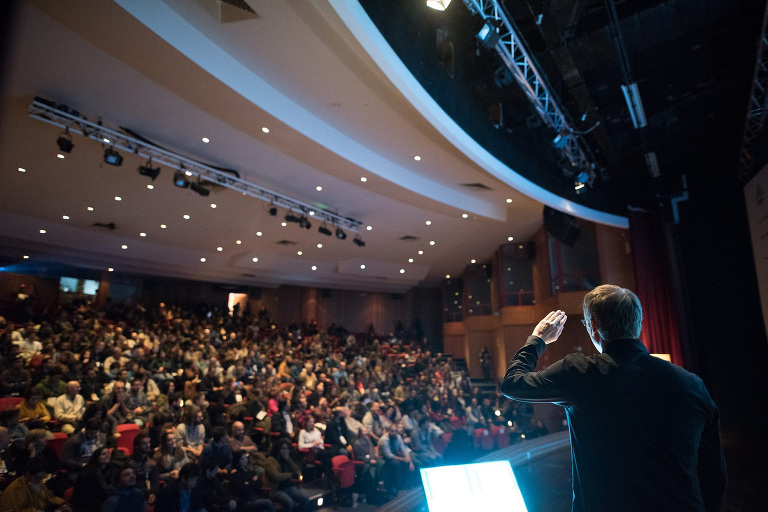 So long 2017. My thanks to Elinchrom, Red Bull, Red Bull Photography, CreativeLIVE, the Exodus Fest staff and crew and all of my other clients this year. As I said in the beginning, it has been an incredible year. Of course, there were a whole truckload of other excellent images from this year, but for some reason these have resonated the most for me. Thanks for taking the time to check out some of this years highlights. Feel free to comment on any of these images and tell me which one you think is the best of the best from this year. Happy New Year to you all. Here's hoping your 2018 is filled with adventurous travels and amazing experiences!