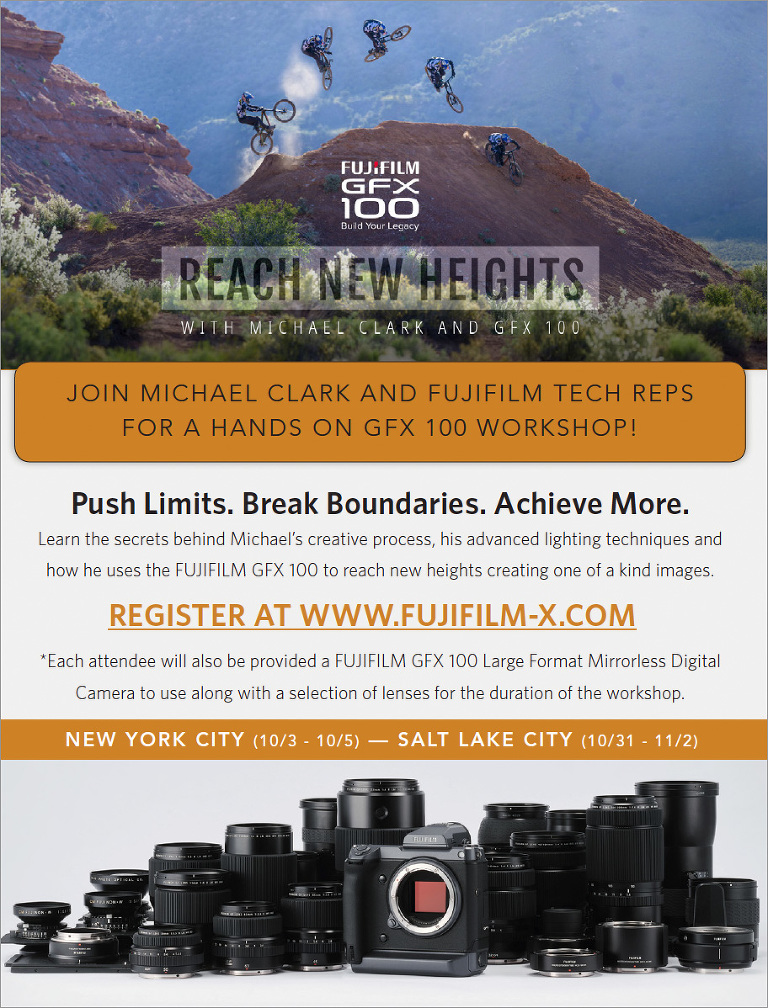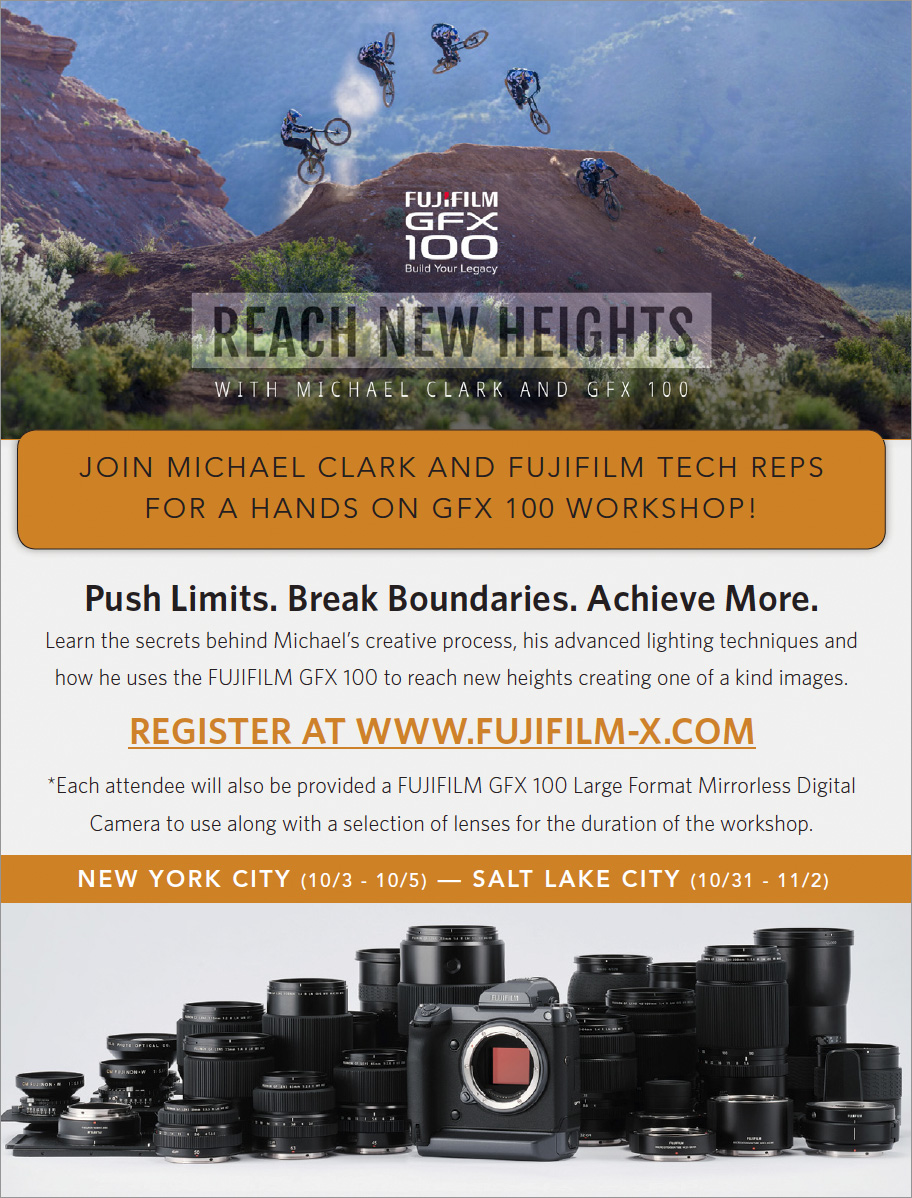 Workshop Locations:
New York City, New York – Foto Care – October 3-5, 2019 
Salt Lake City, Utah – Pictureline – October 31 – November 1, 2019
Instructors: Michael Clark and Justin Stailey 
Register for the FUJIFILM GFX 100 Workshop
With the launch of the FUJIFILM GFX 100 there is certainly an uptick in interest about medium format digital photography and especially so considering this new game-changing camera. Working with Fujifilm USA we have put together a very exciting workshop for those that want to learn more about the GFX 100 and also for those that want to dive into advanced lighting techniques, high-end digital workflow, and overall take their photography up a notch.
Part of the appeal with this workshop is that you will get a GFX 100 to shoot with for the three days of the workshop. We will take you through the camera and help you set it up, teach you how to get the best results from the camera, and go out and shoot with it on three separate photo shoots. For the full itinerary check out the Fujifilm website. In both locations we will have a day in the studio, a day out on location shooting either skate boarding or mountain biking, and another day dedicated to high-end portraiture. Elinchrom will also be providing lighting equipment for us to use.
As usual with my workshops, I will be giving as much as possible to the participants and we will discuss a wide variety of topics related to digital photography. This workshop includes image critiques, a discussion about capturing video with the GFX 100, extensive digital workflow tutorials, advanced lighting techniques, and much more.
Workshop Description:
Push Limits. Break Boundaries. Achieve More. Learn the secrets behind Michael's creative process, his advanced lighting techniques and how he uses the GFX 100 to reach new heights creating one of a kind images. This is a unique 3-day, hands-on workshop with very limited capacity. Each attendee will be issued a personal GFX 100 to use for the duration of the workshop and they will also have access to an assortment of lenses and on-site Fujifilm experts to ensure that every moment is spent learning and capturing incredible imagery.
WHO SHOULD ATTEND:
Advanced Amateurs, Professionals
WHAT YOU SHOULD KNOW:
Working knowledge of artificial lighting, digital workflow and manual mode on digital SLR or mirrorless camera.
WHY THIS WORKSHOP IS SPECIAL:
Each workshop will feature multiple shooting situations with many opportunities for attendees to create their own images. Each attendee will also be provided a FUJIFILM GFX 100 Large Format Mirrorless Digital Camera to use for the duration of the workshop so that they may get first-hand experience in using the latest in imaging technology. Lighting equipment, additional lenses, and on-site technicians will also be available to students for the duration of the event.
WHAT YOU SHOULD BRING:
Each attendee should bring high-speed SD memory cards, a laptop computer, and a notebook.
Cost: $1,500.00
Go to the Fujifilm website for the specifics and to register for the workshop at either location. If you have any questions about the workshop please don't hesitate to contact me.
UPDATE: Foto Care has announced a $300 discount on the GFX 100 workshop in New York City. To get the discount use the Promo Code michaelclark300 when registering at Eventbrite.