Disclaimer: Though I am not sponsored by Eizo (pronounced A-zoh), I was supplied this monitor to test out and review. I have owned an Eizo ColorEdge CG243W for a decade and have been continually impressed by their monitors in terms of their color accuracy, build quality and ColorNavigator software. Note that I was also profiled in an Eizo Case Study a few years ago on the Eizo website.
The brand new Eizo ColorEdge CS2740 monitor is a high-end Adobe RGB monitor designed for photographers, cinematographers, graphic designers, and anyone needing a highly-tuned, color accurate monitor for working up images, color grading motion footage or laying out content for reproduction. After ten years, my older Eizo ColorEdge CG243W is starting to show signs of its demise and it is also not covered with the latest software upgrade to ColorNavigator 7, the latest version of Eizo's color calibration software. Hence, it is time to update my monitor–in fact, it is well past the time I should have upgraded my monitor.
Before we dive in here, I want to add a note about choosing the right monitor for your needs. I consider the monitor you workup images on to be one of the most important–if not the most important–piece of equipment in any digital workflow. I would also say the monitor is more important than what camera and lens were used to capture the image if you really care about the color in your images. Because we work up images by looking at them (on a calibrated and profiled monitor) and we are not adjusting color by the numbers so to speak, having a monitor that can show accurate color from edge-to-edge is critical. I consider an Adobe RGB monitor, as are all of the Eizo ColorEdge monitors, to be a critical piece of kit for any photographer looking to take their images to the highest level. If you have ever taken a workshop with me then you know I am pretty harsh when it comes to monitors. There are very few companies that produce monitors that are up to the task for critical color management–and Eizo's ColorEdge series monitors are hands-down the best on the market.
While looking at new Eizo ColorEdge monitors, I got in touch with Eizo just to check in since they did a case study with me for their website a few years ago. I found out they had a new monitor coming out–the Eizo ColorEdge CS2740. It is a 27-inch 4K UHD monitor and they offered to send me one to test out. Since I was looking for a new monitor, this seemed like a good option. The CS2740 is 3840 x 2160 pixels, on a 26.9-inch diagonal screen with an aspect ratio of 16:9. This makes for a pixel density of 164 pixels-per-inch (ppi), which is at the upper end of what I would want for editing and processing still images. The CS2740 shows 99% of the Adobe RGB color space and as such it is one of the few monitors on the market that shows pretty much the entire Adobe RGB color space. The CS2740 is also Eizo's first monitor that can connect to a computer with the USB Type-C connection. This makes it very easy to connect this to any of the latest Apple computers. Since I already have a DisplayPort cable that I have been using for my older Eizo monitor I connected it to my 2019 MacBook Pro laptop with a DisplayPort cable via a CalDigit TS3 Plus Dock. [Note that a DisplayPort cable comes with this monitor as well.]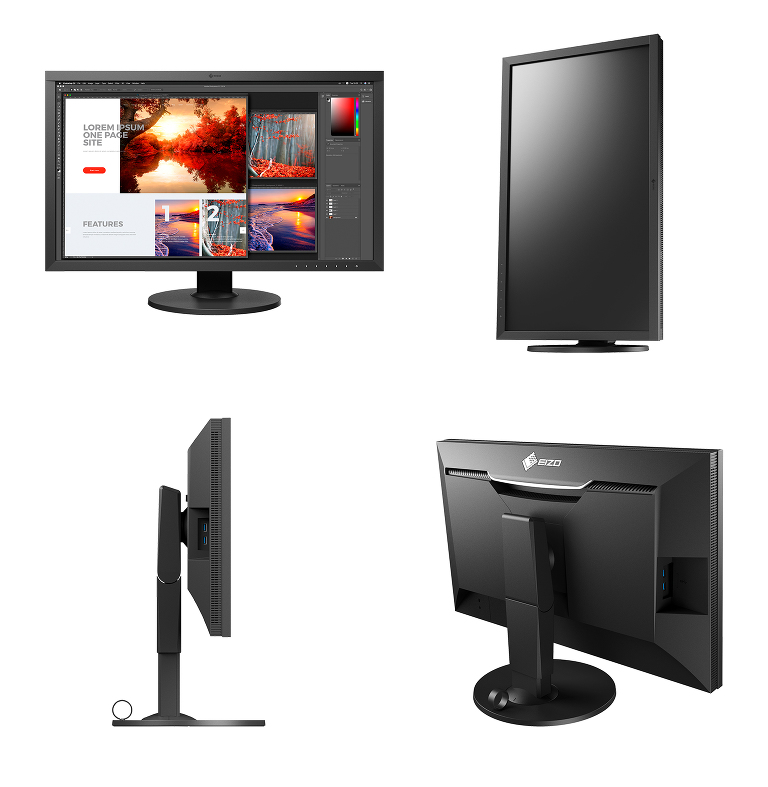 As can be seen above the CS2740 has a stand that is easy to raise, rotate and tilt and the monitor can rotate vertically. It also has an easy to grab handle on the back of the monitor. The frame of the monitor has electrostatic switches on the front bezel that are touch sensitive and make for easy adjustments. This is also a non-glare panel, so reflections are not an issue you will have to worry about.
Eizo ColorEdge monitors are typically a bit more expensive than other lesser monitors, as you would expect for a top-end wide gamut monitor. Amazingly, Eizo's CS range, which sits just below the more expensive CG range, offers a wide variety of options for very reasonable prices. The CS2740 sells for $1,789 USD. The monitor hood for the CS2740 is an additional $189 USD. I would highly recommend purchasing the monitor hood in addition to the monitor. Considering that my older CG243W cost $2,400 when I bought it over ten years ago and is a smaller, lower resolution monitor, the price for the CS2740 seems incredibly reasonable–especially give that the CS2740 is more advanced than my older monitor in just about every way.
Color Accuracy and Neutrality
The entire reason for the extra expense of an Eizo ColorEdge monitor is because they are the most color accurate and neutral monitors on the market. Those looking at these types of monitors are counting on them being uniformly color accurate from edge-to-edge. As shown in the screen shot below, the CS2740 is incredibly uniform in brightness. If the edges of this screenshot look dark for any reason, I can assure you that is your eyes playing tricks on you because of the white background of this blog. I used the eye dropper tool in Photoshop to measure the gray backdrop from edge-to-edge and found it to be perfectly uniform from corner to corner.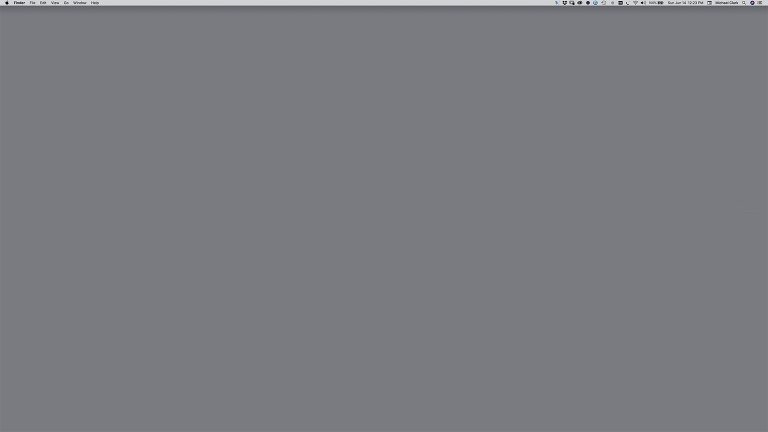 Having worked with this monitor for the last month, and having worked up images and printed them here in my office, I can assure anyone considering this monitor that is has excellent color accuracy once it is calibrated and profiled using the ColorNavigator 7 software that comes with the monitor.
Color Management with ColorNavigator 7
One of the major advantages of Eizo ColorEdge monitors is the ColorNavigator software that works with the monitor. I have been using ColorNavigator 6 for years now and with the new ColorNavigator 7 software it is better than ever. From the Eizo website, "The proprietary software performs hardware calibration by directly utilizing the LUT (look-up-table) of the monitor for higher precision and better gradation characteristics compared to software calibration." Hence, with hardware calibration the CS2740 can can calibrate all of the various settings for sRGB, Adobe RGB, Rec. 709, Print Profiling and more all at the same time. I have never seen a faster, easier calibration process with any other monitor.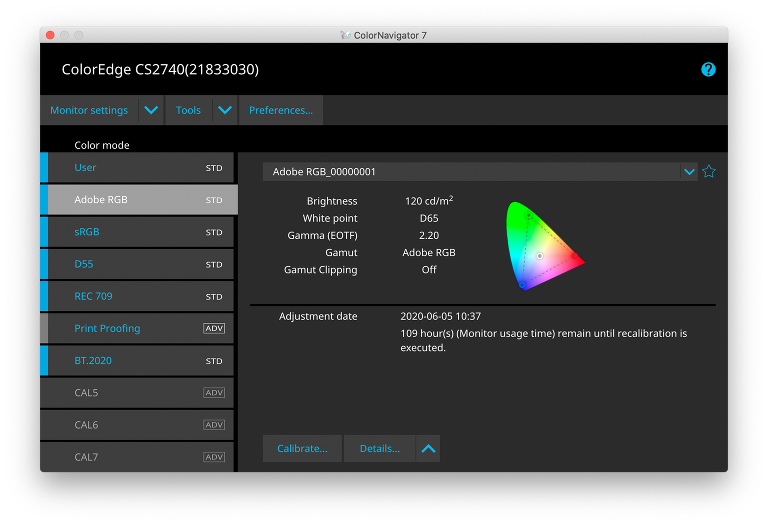 ColorNavigator 7 works with a wide variety of third party monitor calibration devices including most of my X-Rite devices. My newest X-Rite i1 Pro 3 device was not an option–probably because it is brand new and just came to market–but I am sure at some point soon it will be added to the list of approved devices for ColorNavigator 7. The CS2740 does not have a built-in monitor calibration device like the ColorEdge CG series monitors but even so, it is a quick and easy process to calibrate the monitor.
Of note, I calibrate my monitor to the Adobe RGB color space (since this is an Adobe RGB monitor), and my calibration settings are a Gamma of 2.2, a Luminance of 120 candelas per meter squared and a color temperature of 6,500 K. When printing images, I switch the color temperature settings depending on the paper I am printing on to match "paper white," which can range from 5,500 K up to 5,800 K.
4K Monitors and Scaling
If you have never used a 4K monitor, you may be shocked at how tiny text appears when the screen is set to use the native 4K resolution. The CS2740 has a native resolution of 3840 x 2160 pixels. What that means is the monitor has stunning clarity, not unlike the Apple Retina screens but with slightly lower resolution. [Note the Apple Retina monitors have a pixel destiny of 220 pixels per inch.] The CS2740 has a pixel density of 164 pixels per inch, which makes it the highest pixel density on any of the Eizo ColorEdge monitors.
As can be seen below, with the screen set to the full 4K native resolution it is incredibly sharp but the text is quite small. The text can still be read, but it might lead to eye strain if you already have poor eyesight. This mode has the monitor and the image in the highest resolution possible, which is great for looking at images. This is the mode I prefer for editing and working up images in Adobe Lightroom Classic CC and Photoshop CC–even though the text is small.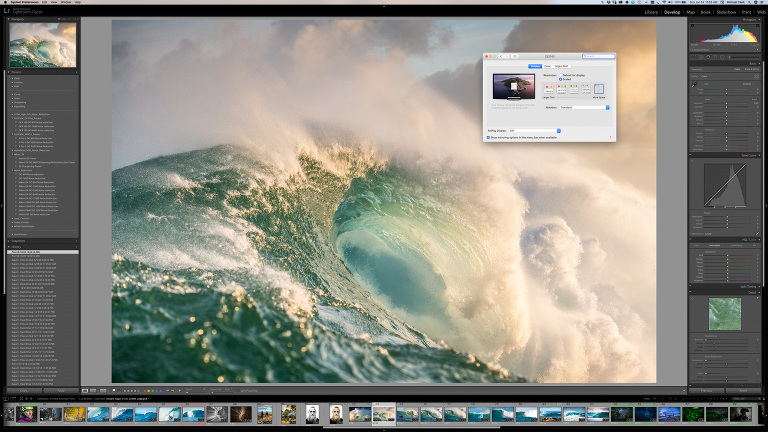 In the Preferences panel, under Displays on an Apple computer, you can adjust the scaling of the image shown on the monitor simply by clicking on "Scaled" and then choosing among the five options as shown above and below. Below is a screenshot showing the middle setting which scales the screen to look the same as it would on a monitor with 3008 x 1692 pixels. Note that the actual number of pixels on the monitor do not change, the scaling just interprets those 3840 x 2160 pixels to look like a monitor with fewer pixels. The actual image and text remains crisp and sharp. When using the monitor for other tasks, not related to still image or video post-production, this middle option is the one I use to check email, browse the web, and do all of my other work. It offers readable text and the benefit of a big workspace that almost feels as if you are working on two monitors.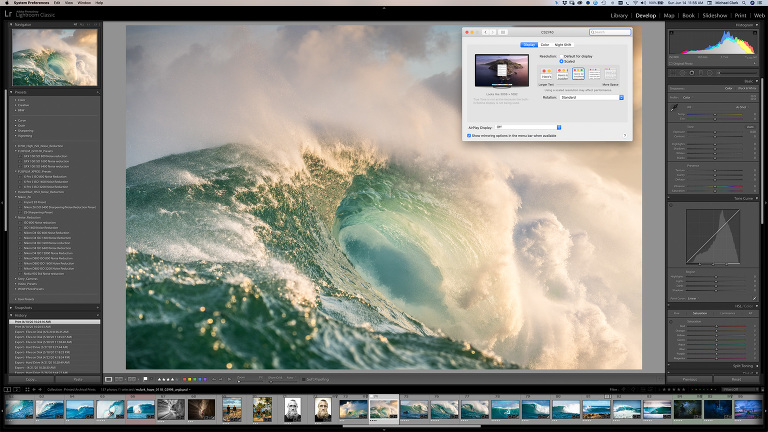 As shown below, the largest scaling option, which mimics a 1920 x 1080 monitor (but with much better resolution), makes the text and the Lightroom interface appear quite large. I pretty much never use this setting but I wanted to present it here to show the power of the scaling options.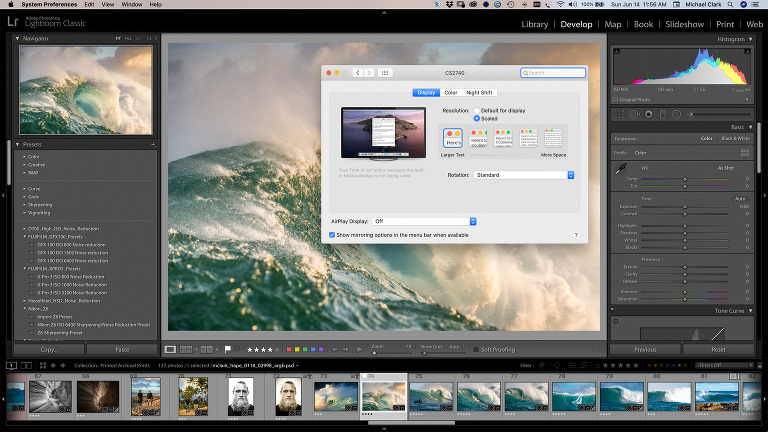 With the Apple Retina monitors on my laptops I have noticed over the years that when culling and editing images, I can't actually 100% tell if an image is truly sharp on those high resolution screens. If an image is really out of focus then that is easy to spot, but if it is just a hair out of focus the resolution of the Apple Retina monitors hides the slight focus issue. Hence, one of the first things I checked on the CS2740 was if I could still see if an image was critically sharp and also tell if an image was just slightly out of focus. I am happy to report that I can certainly tell when an image is critically sharp and also when it is slightly soft. When editing images–and choosing a monitor–this is a critical factor. The CS2740 seems like it is at the upper edge of pixel density for photographers that need to critically examine their images, make sure they are sharp and also see how any additional sharpening affects the image.
Connecting the Monitor to a Computer
The CS2740 has a few different options for connecting the monitor to your computer. Cheif among those options is the venerable DisplayPort, which is how I connected it to my computer. Along with the DisplayPort to calibrate the monitor one is required to connect the included USB cable as well. Most computers do not have a DisplayPort built into the computer. As I said above, I have a CalDigit TS3 Plus dock that has a DisplayPort connection option, which is why that is my normal monitor cable (and because I have had an Eizo monitor before that required a DisplayPort cable).
In addition to the DisplayPort option, the CS2740 is Eizo's first ColorEdge monitor that can connect to a computer via USB-C, which makes this monitor very easy to connect to any of Apple's latest computers. One of the cool features of this monitor is that you can plug-in the monitor and by connecting your computer via USB-C to the monitor it will also power the laptop as well.
Why Eizo?
I realize there are a few other brands out there offering slightly less expensive options that Eizo's ColorEdge series. There are only two other brands that I would mention in the same breath as Eizo's ColorEdge monitors and those are the NEC PA series monitors and the BenQ Adobe RGB monitors. In the first case, the NEC PA series monitors are quite good. I don't have much experience with them but I have heard from several photographers that they can be hard to calibrate–especially with third party monitor calibration devices. When you add in the cost of purchasing the NEC monitor calibration device with the PA series monitor the price comparison with Eizo's offerings are fairly similar. The NEC PA271Q-BK-SV, which is not a 4K monitor, with their monitor calibration device sells for $1,549.00 USD at B&H. That is only a few hundred dollars less than the CS2740, which is a 4K monitor. As NEC does not offer an Adobe RGB monitor with the same specs as the Eizo CS2740 this is an apple-to-oranges comparison.
In the last few years, BenQ has come on the scene and offers what appear to be very similar monitors as Eizo's offerings but at much cheaper prices. For example, the BenQ SW271 has almost identical specs as the Eizo CS2740 and it sells for $1,099, nearly $700 less than the CS2740. BenQ has another even larger 32-inch 4K monitor, the BenQ SW321C, which sells for $1,999.99–only $111 more than the Eizo CS2740. While the BenQ prices are very attractive and the BenQ monitors are vastly superior to most non-Adobe RGB monitors, my experience has been that the BenQ offerings are not nearly as accurate edge-to-edge in terms of brightness and color accuracy as the Eizo ColorEdge monitors. I have also heard recently from several photographers that have purchased a BenQ that they could not calibrate their monitors due to a SNAFU with the latest MacOS operating system and the BenQ software. Hence, if you are looking at this category of monitors–those that show the entire Adobe RGB color space–and are looking to get a monitor that can show the most accurate color from edge-to-edge, I think it is worth the few hundred extra dollars to get the best in class display.
When I consider monitors, I think of it as the price-per-day of looking at that monitor. My Eizo CG243W has lasted me a decade. It still works but I am ready for a new monitor. To calculate the price-per-day, let's just say I was in the office six months each year (I typically travel for assignments anywhere from five to nine months per year) so that makes for approximately 180 days each year in front of the monitor. Over the course of ten years that equals 1,800 days total in front of the monitor. So over the course of 1,800 days the $700 difference in price between the BenQ option here and the Eizo CS2740 comes down to $0.39 per day. Is it worth it to pay an extra 39 cents per day to have a higher-end, more color accurate monitor? That would be a resounding yes for me. If you need a monitor like this with the best possible color accuracy and just can't afford anything above $1,000 USD then I would direct you to the Eizo ColorEdge CS2420, which goes for $849. That monitor is more color accurate than any of the BenQ offerings and is a very affordable Adobe RGB monitor.
Those looking at these types of monitors know it isn't how great the monitor looks that differentiates these high-end monitors. We can not differentiate the minute differences in brightness and color accuracy with our eyes that are needed for a top-end monitor to work up images on. All of these monitors from Eizo, NEC and BenQ "look" great but it is the technical details and the level of color accuracy that matters–and that is where Eizo rises above the pack.
I want to reiterate here that I am not sponsored by Eizo. Even though they have loaned me these monitors to test out, I will have to pay for a new monitor. I have come to trust my Eizo displays more than any other monitor on the market. When making fine art prints, I rarely have to make more than one print and that is mainly due to my Eizo monitor and the excellent ColorNavigator software.
Wrapping Up
In the course of reviewing the Eizo ColorEdge CS2740 I have learned a lot about 4K monitors and it has also realigned some of my preconceptions. The thought of it being a "lower-end" CS ColorEdge monitor instead of the "higher-end" CG ColorEdge monitors has pretty much been eliminated. What I have come to realize is that the CG ColorEdge series is not that much different from the CS series. The CG series just has the built-in colorimeter to calibrate the monitor on the spot without the need for an external calibration device like my venerable X-Rite i1 Photo Pro 3 device. Of course it is very nice to have the built-in calibration device as found in the CG series monitors, but if you already own a monitor calibration device (as you should) then it is a non-issue.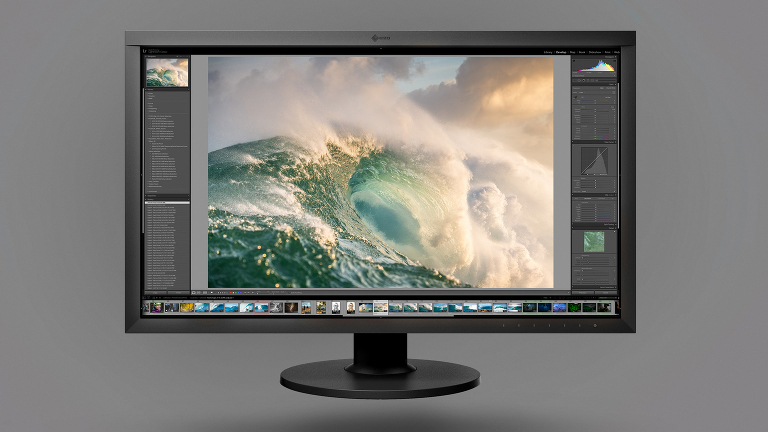 After working with the CS2740 for the past month, I can say that it is a massive upgrade from my old ColorEdge CG243W. Images look incredible on this monitor, especially the 102 MP images created by my FUJIFILM GFX 100. I was blown away at how sharp my images looked fullscreen on this monitor when working them up in Lightroom. I didn't even need to zoom into 100% to tell if they were tack sharp and I was able to see details in the images that I couldn't see on my old monitor.
For the price, the CS2740 is a stellar deal and it is just about the perfect monitor. If Eizo had a 4K 27-inch monitor with the built-in calibration device that would be even better–and I suspect they may be working on that. If you are looking for a 27-inch 4K top-end Adobe RGB monitor then the CS2740 is the best one on the market and at just under $1800 USD it is a great price for a monitor that sets the standard in the industry.
I'd say the only monitor better than the CS2740 is the 32-inch Eizo ColorEdge CG319X, which is their premiere top-end Adobe RGB 4K monitor–and it costs nearly $6,000 USD. In addition to testing out the CS2740, Eizo also sent me their top-of-the-line ColorEdge CG319X monitor as well to check out. The 31.1-inch CG319X is a massive monitor–and one I have been drooling over for years. Look for my review of the CG319X coming soon.
My thanks to Eizo for letting me test drive the new ColorEdge CS2740. For more information on the Eizo ColorEdge CS2740 visit the Eizo website.