Disclaimer: Though I am not sponsored by Eizo, I was supplied this monitor to test out and review. I have owned an Eizo ColorEdge CG243W for a decade and have been continually impressed by Eizo's monitors in terms of their color accuracy, build quality and the ColorNavigator software. I have found Eizo monitors to be the most color accurate and reliable monitors on the market for photographers looking to take their color management to the highest possible level. I was supplied the CG319X along with the slightly smaller CS2740 to test out. You can find the review of the Eizo ColorEdge CS2740 here on the blog. Note that I was also profiled in an Eizo Case Study a few years ago on the Eizo website.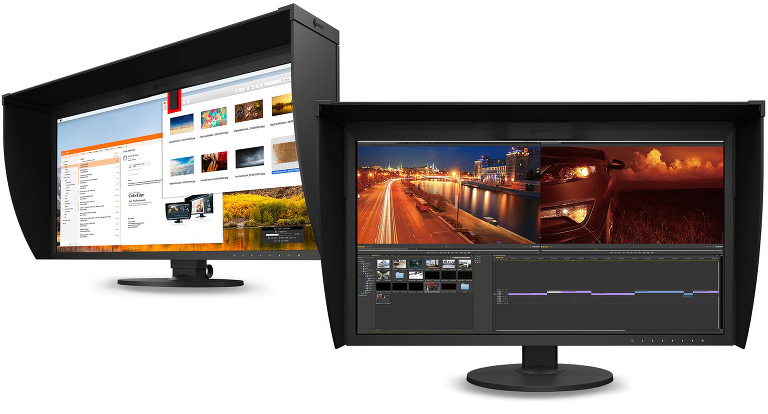 The Eizo ColorEdge CG319X is the holy grail of Adobe RGB color accurate monitors. After working with the Eizo ColorEdge CS2740 (which I was also testing) for a week, I traded it out for the GC319X. The CS2740 was so good I was asking myself, "How much better can the CG319X be?" When I turned on the CG319X, I wasn't prepared for just how much better my images looked on this giant monitor. Viewing my images full screen in Lightroom made them look like they were hanging on a gallery wall. Zooming into 100% the images made them look larger than life. The images already looked incredible on the CS2740, but the CG319X took that even further. My images looked magnificent!
In short, the CG319X is the most incredible monitor I have ever seen!!! I pulled up image after image and this is the first monitor that really shows the 102 MP images from my GFX 100 as it seems they should be displayed. I stared at the screen mouth agape for several seconds looking at a few 102 MP images full screen at 100%. I was seeing details in my images I have never seen before—and I didn't think that was possible.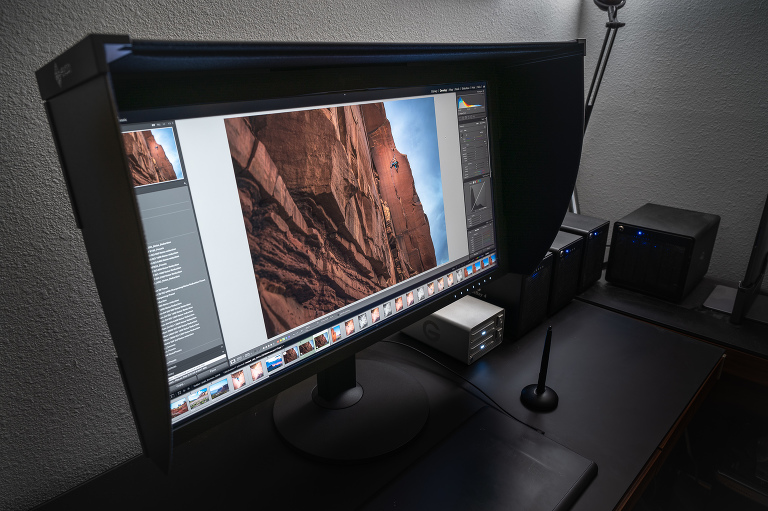 As shown above the CG319X is a huge monitor. With a 31.1-inch (78.9 cm) diagonal display, it takes up some serious desk space. The CG319X has a DCI 4K native resolution of 4096 x 2160 pixels with 17:9 aspect ratio. What that means is the monitor has incredible clarity, not unlike the Apple Retina screens but with slightly lower resolution. [Note the Apple Retina monitors have a pixel destiny of 220 pixels per inch.] The CG319X has a pixel density of 149 pixels per inch, which makes it one of the higher pixel densities on any of the Eizo ColorEdge monitors.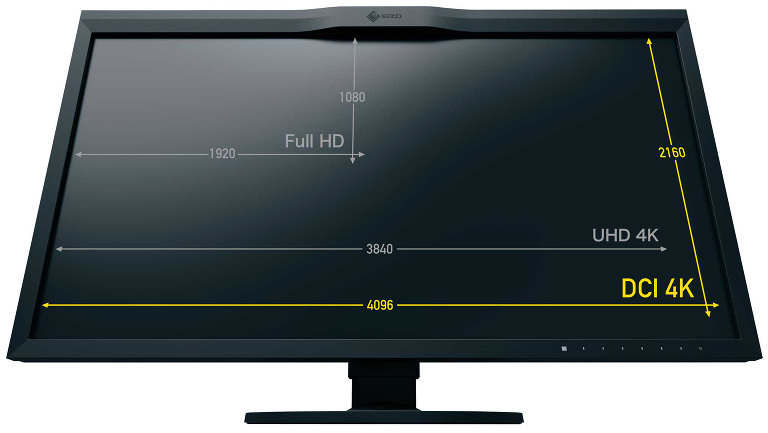 Having such a huge number of pixels makes it feel like you really have two monitors in front of you, especially if you have the monitor set to its native resolution. I find that I have to physically turn my head to look at either edge of the monitor, but that has more to do with the depth of my desk than the monitor.
10-Bit Color
The CG319X also displays 10-Bit color, which means that it can display a significantly wider range of tones than most monitors that display only 8-bit color. What this means is that tonal transitions are much smoother and the images displayed on the monitor are closer to how they would appear in an actual print, which would show the full 14-Bit or 16-Bit color captured by the camera.
Of note, not every computer can output 10-bit color to the monitor. Most high-end PCs will be fine in this regard, but only the latest Apple computers will be able to output 10-Bit color to an external monitor. To see if your computer is outputting 10-Bit color to your external monitor go to the System Report (as shown below) and check the Graphics/Displays section. If your computer and external monitor are capable of showing 10-Bit color then under the Framebuffer Depth it will say "30-Bit Color."
To make sure Adobe Photoshop is displaying images with 10-Bit color go to Preferences > Performance and select the Advanced Settings button (circled in red below) and then choose "30 Bit Display" as shown below. This will make sure that all images viewed in Adobe Photoshop CC are displayed with 10-Bit color. Note that the 30 Bit Display simply means 10-Bit in each of the RGB color channels [10-Bit Red + 10-Bit Blue + 10-Bit Green = 30 Bit Color].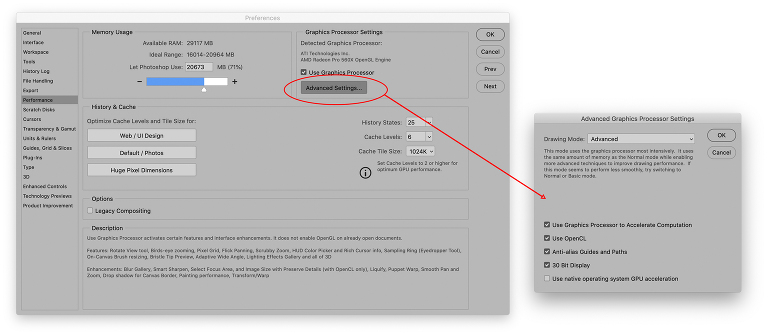 As a side note here, all of the Eizo ColorEdge monitors display 10-Bit color so the CG319X is not unique in this feature. I just thought I would point this out here in the review as I did not discuss it in my review of the Eizo ColorEdge CS2740.
4K MONITORS AND SCALING
As with the Eizo CS2740, if you have never used a 4K monitor, you may be shocked at how tiny text appears when the screen is set to use the native 4K resolution. As can be seen below, with the screen set to the full 4K native resolution it is incredibly sharp but the text is quite small. The text can still be read, but it might lead to eye strain, especially if you already have poor eyesight. This native resolution mode has the monitor and the image in the highest resolution possible, which is great for looking at images. This is the mode I prefer for editing and working up images in Adobe Lightroom Classic CC and Photoshop CC–even though the text is small.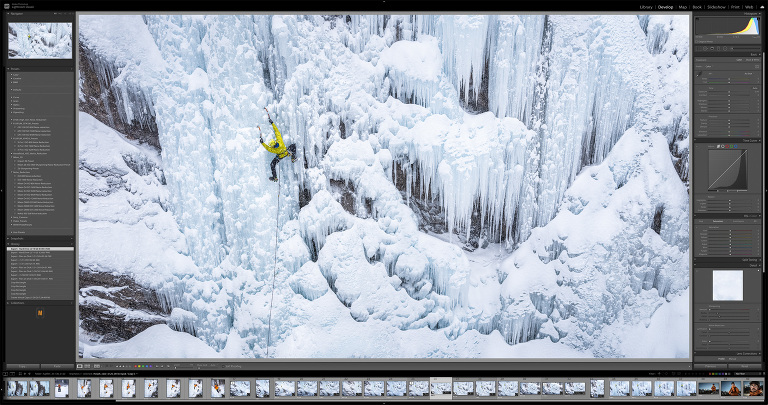 In the Preferences panel, under Displays on an Apple computer, you can adjust the scaling of the image shown on the monitor simply by clicking on "Scaled" and then choosing among the five options as shown above and below. Note that the actual number of pixels on the monitor do not change, the scaling just interprets those pixels to look like a monitor with fewer pixels. The actual image and text remains crisp and sharp. When using the monitor for other tasks, not related to still image or video post-production, this middle option (i.e. equivalent to approximately 3840 x 2160 pixels) is the one I use to check email, browse the web, and do all of my other work. It offers readable text and the benefit of a big workspace that almost feels as if you are working on two monitors.
With the Apple Retina monitors on my laptops I have noticed over the years that when culling and editing images, I can't actually 100% tell if an image is truly sharp on those high resolution screens. If an image is really out of focus then that is easy to spot, but if it is just a hair out of focus the resolution of the Apple Retina monitors hides the slight focus issue. Hence, one of the first things I checked on the CG319X was if I could still tell if an image was critically sharp and also if an image was just slightly out of focus. I am happy to report that I can certainly tell when an image is critically sharp and also when it is slightly soft. When editing images–and choosing a monitor–this is a critical factor. The CG319X, with 149 pixels per inch, seems like it has the perfect pixel density for photographers that need to critically examine their images, make sure they are sharp and also see how any additional sharpening affects the image. 
Monitor Stand Adjustments
The Eizo CG319X is a beast of a monitor. Thankfully, the back of the monitor has a built-in carrying handle to lift it and the stand that it comes on is very easy to adjust. You can easily rotate the monitor thanks to the rotating base (shown below) and also raise and lower the monitor with one hand.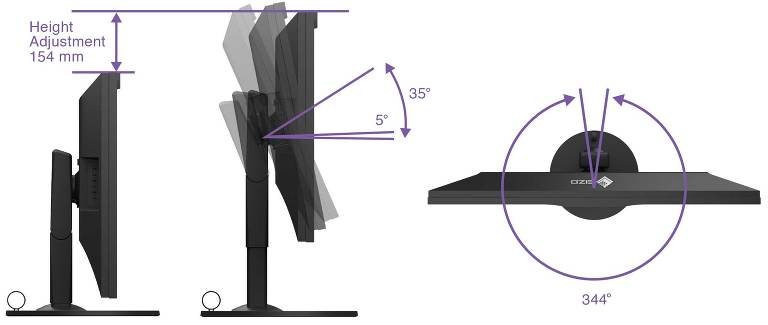 The monitor comes with a hood that snaps on magnetically making it very easy to attach or remove as the situation requires. This new monitor hood design is vastly superior to the hood that came with my Eizo CG243W. And because the CG319X has a built in monitor calibration device there is no need for the monitor hood to have a slot that allows a monitor calibration device to be slung over the top of the monitor making for a very clean design.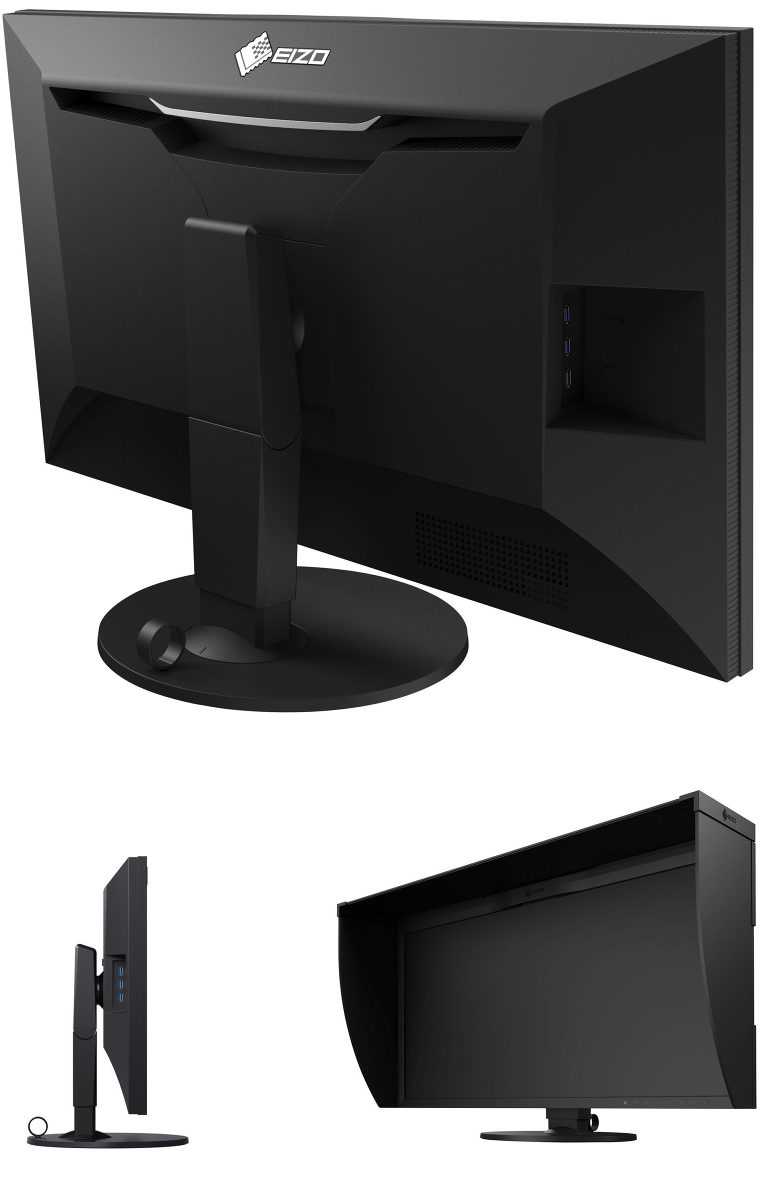 On the front bezel the monitor has a series of six glowing touch sensitive buttons that allow you to change the monitor settings easily. I found these buttons and their associated menus to be very intuitive–and a massive improvement from my older Eizo ColorEdge monitor.
COLOR MANAGEMENT WITH COLORNAVIGATOR 7
One of the major advantages of Eizo ColorEdge monitors is the ColorNavigator software that works with the monitor. I have been using ColorNavigator 6 for years now and with the new ColorNavigator 7 software it is better than ever. From the Eizo website, "The proprietary software performs hardware calibration by directly utilizing the LUT (look-up-table) of the monitor for higher precision and better gradation characteristics compared to software calibration." Hence, with hardware calibration the CG319X can can calibrate all of the various settings for sRGB, Adobe RGB, Rec. 709, Print Profiling and more all at the same time. I have never seen a faster, easier calibration process with any other monitor.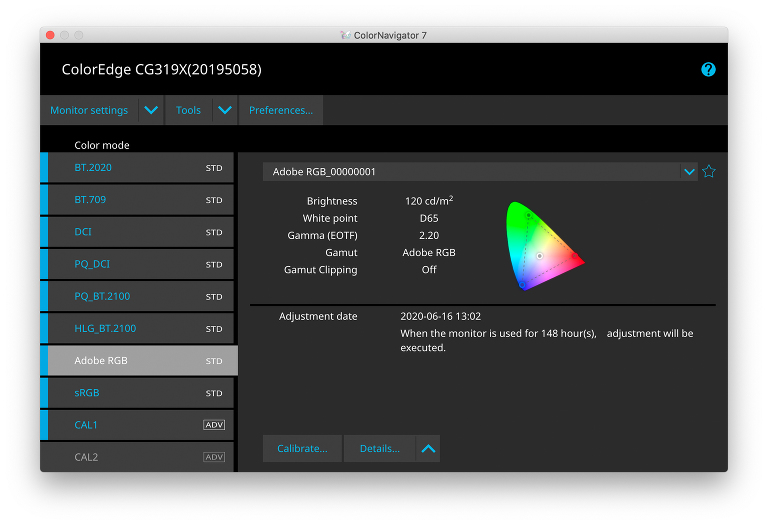 Of note, I calibrate my monitor to the Adobe RGB color space (since this is an Adobe RGB monitor), and my calibration settings are a Gamma of 2.2, a Luminance of 120 candelas per meter squared and a color temperature of 6,500 K. When printing images, I switch the color temperature settings depending on the paper I am printing on to match "paper white."
The CG319X has a built-in monitor calibration device that slides out and calibrates the monitor for you. As shown below, when you open up the ColorNavigator 7 software that comes with the monitor and select "Calibrate" the screen turns black and the built-in sensor rotates out and runs through a series of colors and tones to calibrate the monitor. All in all, because it is a hardware calibration it takes only a minute or two to calibrate the monitor, which is a lot faster than using an external monitor calibration device and software to calibrate the monitor.
In addition to the easy calibration process, it is also possible to schedule calibrations whenever you want (as long as the monitor is on). This is an amazingly easy way to make sure your monitor is always calibrated and ready to go. Typically before calibration most monitors need at least 30 minutes to stabilize but with the CG319X it is up and ready to calibrate in an incredible 3 minutes. This is just another time saver that helps keep the monitor calibrated. Lastly, switching color modes is as easy and pushing a button on the front of the monitor and you can easily switch between Adobe RGB, sRGB or Rec. 709 (or any other option) without having to recalibrate the monitor. Hence, if I am working up video I can easily switch to the Rec. 709 color space and jump into Adobe Premiere Pro CC to start editing and color grading my motion footage.
HDR
The CG319X is also one of the few Eizo monitors that has the ability to display video in HDR (High Dynamic Range). Eizo has a whole section of their website dedicated to explaining what HDR is and I encourage you to check that out if this is something of interest. Essentially, HDR creates a wider range of tones from dark to light that can be displayed on the monitor. This is not to be confused with HDR photography, which is a way of combining different exposures.
From the website, "The ColorEdge CG319X is equipped with HLG (hybrid log-gamma) and the PQ (perceptual quantization) curve for displaying and editing HDR (high dynamic range) video content. The optimized gamma curves render images to appear more true to how the human eye perceives the real world compared to SDR (standard dynamic range). This ensures professional creators can reliably display HDR content for editing and color grading. HDR has drawn attention as a next-generation high-quality imaging technology, and content produced in HDR is now available through video streaming services like Netflix and on UHD Blu-ray discs." Below is a chart outlining the specs for HDR.

At this point there are not that many monitors that can display content in HDR. There are some TVs out there that have this capability but it is still relatively new. As technology marches on I have a feeling the number of displays that offer an HDR mode will increase and this may become the new normal. HDR is a new video specification and color space. For still photographers HDR displays create a new paradigm, which might force us to re-process images so they can be displayed properly on HDR monitors. As the general public is not quite there yet with HDR this is not a huge concern for still photographers but something we will have to watch out for as this new display specification becomes more common.
Who is this Monitor for?
The Eizo CG319X is an epic monitor for working up still images, but with that said Eizo has a plethora of other ColorEdge monitors that are equally capable for still photographers–like the CG279X and the CS2740. The CG319X obviously offers more screen real-estate, which is very nice to have. But where the CG319X really shines is in video post-production. Working with this monitor for the last month I have worked up some video clips in Adobe Premiere Pro CC, and the large DCI 4K screen really helps to see all of the adjustments and the footage itself in all it's glory–as long as you have a computer that can play back the full resolution footage in real time. The CG319X is used by a number of high-end post-production houses including Netflix and Skydance Media, which goes to show who this monitor is aimed at. Skydance Media produced the latest Terminator movie using the Eizo HDR monitors as shown in the YouTube video below.
Top end Hollywood level color accurate reference monitors, like Eizo's own ColorEdge PROMINENCE CG3146 cost upwards of $30,000 USD. In comparison the CG319X is a bargain offering many of the same features as these ultra-expensive options. With a price tag just shy of $6,000 USD, there are not many still photographers that will even consider this monitor but those that will know who they are–and are at the top-end of the industry pushing the quality of their images to the bleeding edge. As with expensive medium format cameras that capture incredible resolution, like my venerable FUJIFILM GFX 100, working those images up on a top-end display like this helps to craft the best possible final image.
Why does this monitor cost so much?
I realize there are a few other brands out there offering slightly less expensive options that Eizo's ColorEdge series with nearly identical specifications. There are only two other brands that I would mention in the same breath as Eizo's ColorEdge monitors and those are the NEC PA series monitors and the BenQ Adobe RGB monitors. In the first case, the NEC PA series monitors are quite good. I don't have much experience with them but I have heard from several photographers that they can be hard to calibrate–especially with third party monitor calibration devices. In the last few years, BenQ has come on the scene and offers what appear to be very similar monitors as Eizo's offerings but at much cheaper prices. While the BenQ prices are very attractive and the BenQ monitors are vastly superior to most non-Adobe RGB monitors, my experience has been that the BenQ offerings are not nearly as accurate edge-to-edge in terms of brightness and color accuracy as the Eizo ColorEdge monitors.
In comparison, the 32-inch 4K BenQ SW321C sells for $1,999.99–one-third the price of the Eizo CG319X. NEC also has their venerable PA series monitors and the 31.1-inch NEC MultiSync PA311D sells for $3,249– just over half the price of the Eizo CG319X. Both of these are respectable monitors but the Eizo is still the most color accurate of the bunch from corner-to-corner. But at twice the price of the NEC option and three times the price of the BenQ what is the deal? Why is the CG319X so much more expensive? The answer lies in the color accuracy of the monitor. With every percentage point of color accuracy the effort and technology required to get to that higher level of accuracy increases exponentially and hence the cost also rises exponentially. For example getting to 95% color accuracy is not crazy expensive, but increasing the color accuracy to 97% or 98% increases the cost of that monitor significantly. Hence, the Eizo CG319X is the cream of the crop, with incredible color accuracy from corner-to-corner, which is perhaps two percent better than the NEC PA311D and four to five percent better than the BenQ SW321C. Whether or not you are willing to pay for those extra few percentage points in color accuracy is up to you and your needs. The CG319X is the Ferrari of color accurate monitors, and comes with a Ferrari price.
Wrapping Up
Over the last month, having tested out the Eizo ColorEdge CS2740 and the CG319X, I have really been able to compare these two top-end color acurate 4K monitors head-to-head. The CS2740, as discussed in my prior review is a stellar monitor and an excellent deal, especially given its level of color accuracy. As I said at the beginning of this review for the CG319X, it is the top of the high-end in terms of color accurate monitors for still photographers. It is also a dream monitor for those producing top-end motion projects.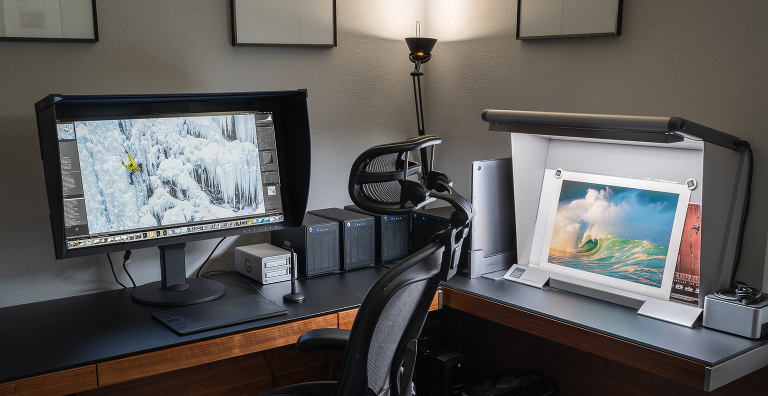 I have been drooling over this monitor for years, and now that I have actually been able to try it out there is no going back. This gorgeous monitor was so nice that I opted to buy it instead of sending it back to Eizo. I suppose that is the ultimate recommendation I can give. I liked it so much I kept it.
My thanks to Eizo for letting me test drive the new ColorEdge CG319X. For more information on the Eizo ColorEdge CG319X visit the Eizo website.