There is no doubt in anyone's mind that 2020 has been a crappy year. When Covid-19 came on strong in China in early January this year, it was certainly something to watch but it was so far away that it did not seem like a big threat at that time. By late January or early February, I was growing more and more concerned. The rate of spread worldwide was growing much faster than anyone had anticipated. I was still flying all over the place shooting assignments and giving talks for various clients, but all the while I was hoping we were not on the verge of a pandemic.
In mid-February, I was in the grocery store filing up a giant cart because for anyone who could do math (and extrapolate on the exponential growth of the virus), the writing was on the wall that the world would have to shut down and shelter in place sometime soon to avert catastrophe. Sadly, here in the USA, we didn't shut it down soon enough and have dealt with the virus extremely poorly. Countries like Mongolia, New Zealand, and Taiwan have shown the world what good governance looks like. The USA has been a total shit-show since the start of this pandemic and remains so even now.
On top of the pandemic, we here in the USA have been watching our democracy melt down since the very beginning of 2020. I don't often get political here on the blog (in fact this may be a first) but politics in the USA have been all consuming, and dire to say the least. The last four years I have been on the Trump apology tour when traveling internationally. As I write this our democracy is not yet out of the woods and won't be for quite some time to come even though Biden won the election. The dark politics hanging over our country, mixed in with a pandemic, thousands of people in dire straits, and rapidly worsening global climate change have all conspired to make 2020 one of the most anxiety ridden years in my lifetime.
On the flip side, the fact that we have come up with a viable vaccine in such a short time is absolutely remarkable. Hopefully by mid-2021 we will be somewhat back to normal. For me personally, I have to say that it has been a blessing to spend so much time at home. I haven't spent this much time in one place since I was in University twenty-five years ago. Our dog, a husky mix named Yuki, actually thinks I live here now. The last few years she had this quizzical look on her face everytime I came home asking, "Who is this guy who shows up every few weeks and stays with us for a couple of days and then takes off again?" 2020 also makes the first year in my 25 year career where I have not travelled internationally. Hell, I have only left the state of New Mexico a handful of times this year and most of those trips were before the pandemic got rolling here in the USA.
On the photography front, as with all of my peers, work shut down in mid-March and through the summer there were basically no assignments at all. This fall, I did start to get assignments here in New Mexico with New Mexico Tourism and a few others that took me out of the state. But once the Covid numbers started to climb once again we were in lockdown. Luckily, I have been blessed with a financial cushion (i.e. savings) so the lack of assignments isn't the end of the world. During the lockdown, I have also taken advantage of Zoom and taught several online workshops–which surprisingly paid out quite well.
In terms of images, there won't be a ton of work from 2020 that I can share here. Below are a few images from assignments early in the year and a few other portfolio shoots. Honestly, I have not created that many images this year. All of the above has conspired to put photography in the backseat. I have talked to quite a few of my photographer friends who also just didn't have the inspiration to get out and shoot much this year. I haven't lost any of my passion for photography but it is quite clear that a lot of my passion is rooted in adventure travel and exploring new and exciting areas with world-class athletes.
I know that these "Year in Review" blog posts are a dime a dozen – and I have seen a lot of them over the last few weeks – but I hope you find this blog post at least entertaining. Without further ado, here are what I consider to be the best images I have created this past year.
Note: There are a several images from my biggest assignment of the year that happened this fall that I cannot share yet. Those images are still under embargo. Stay tuned to see those and hear about my most exciting assignment of 2020.
Ouray Ice Park
Ouray, Colorado — USA
In January 2020, I had a great one-day assignment shooting for FUJIFILM North America with their new GF 45-100mm large format lens. For this assignment I worked with Marcus Garcia and Hayden Carpenter. The day of the shoot turned out to be a wild, stormy day with sideways snow flurries and full-on conditions. The storm made for exciting shooting conditions and a lot of wet snow on all of our gear. Regardless, we still camera away with some cool images. The top image here, just below this paragraph is certainly one of the best images I have captured this year.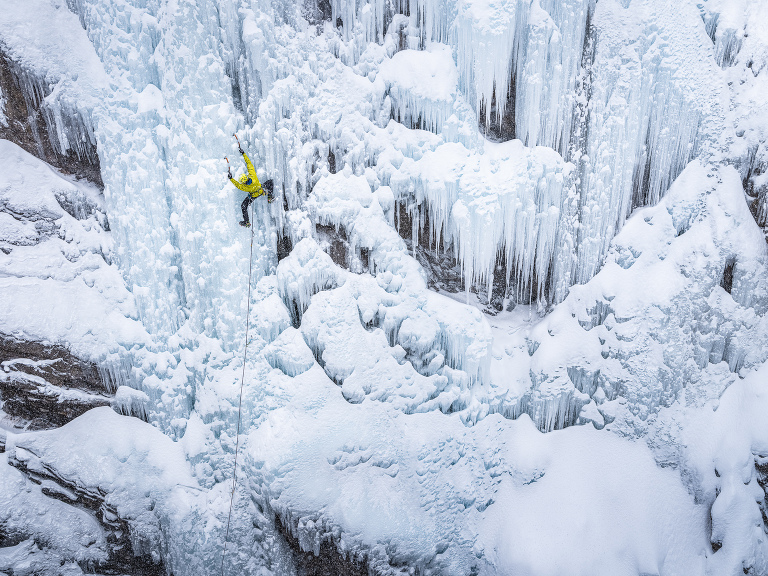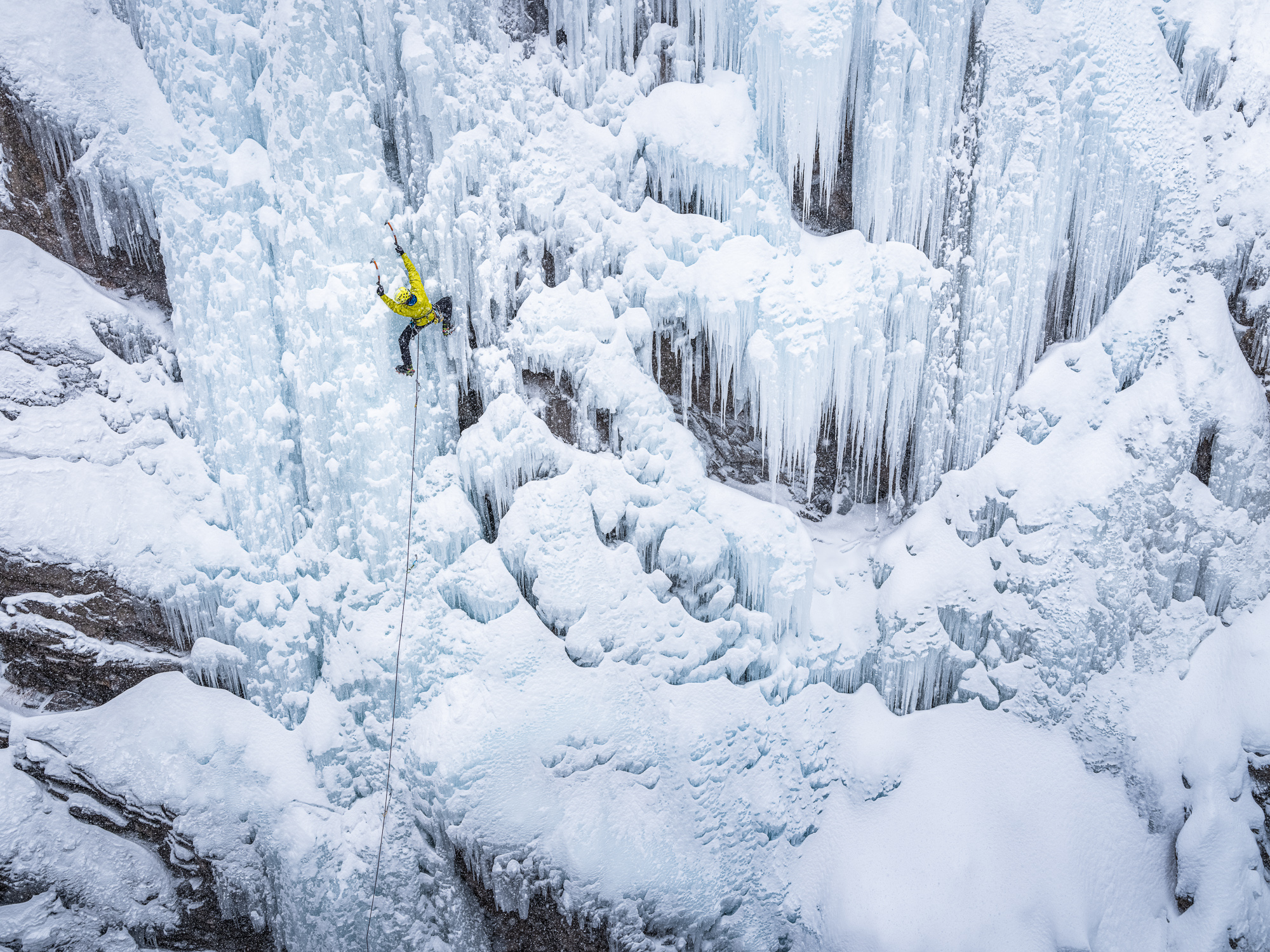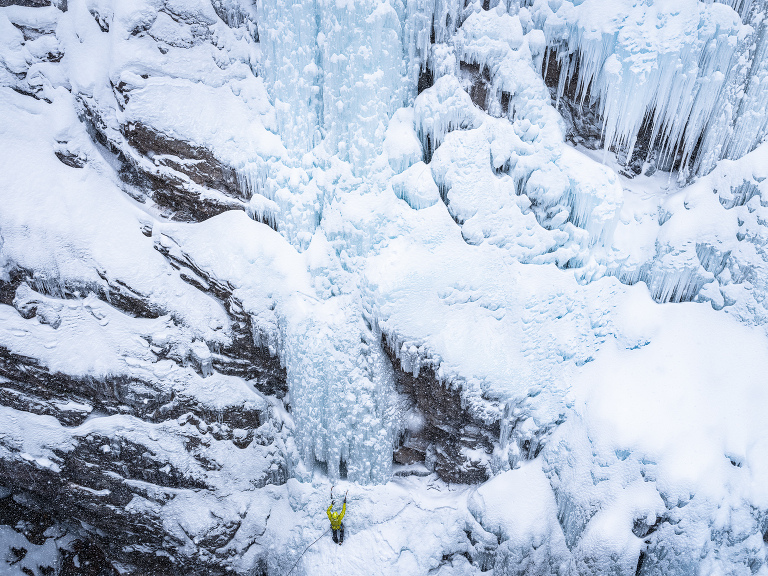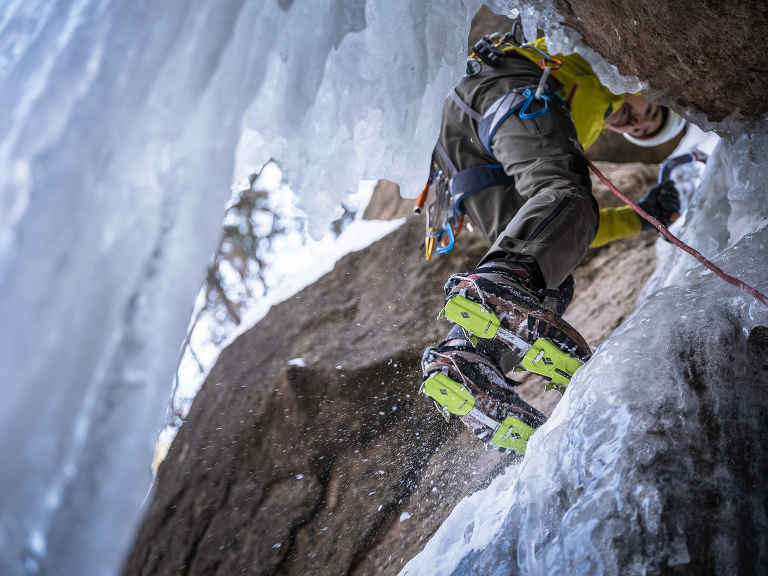 For more on this assignment, and to read my review of the FUJIFILM GF45-100mm lens check out my Spring 2020 Newsletter.
Reimer's Ranch
Austin, Texas — USA
In late February, I was one of several Red Bull photographers to teach a photography workshop in Austin, Texas for Red Bull, which was attended by some of Red Bull's up and coming photographers. Since I used to live in Austin, and attended University there, it was great to get back there and hang out in a city close to my heart. As part of the workshop, we went to Reimer's Ranch, which is one of the areas where I learned to climb. I have spent hundreds of days rock climbing out at Reimer's back when I lived there–and it was a ton of fun to get back there and see some of my favorite climbs. For this day, we had Claire Buhrfeind, a world-class Red Bull sponsored rock climber, with us. One of the classic areas at Reimer's is the Sex Cave and since it has a great shooting position right next to the climb we had Claire crank up a wicked steep route named Liposuction (5.12a).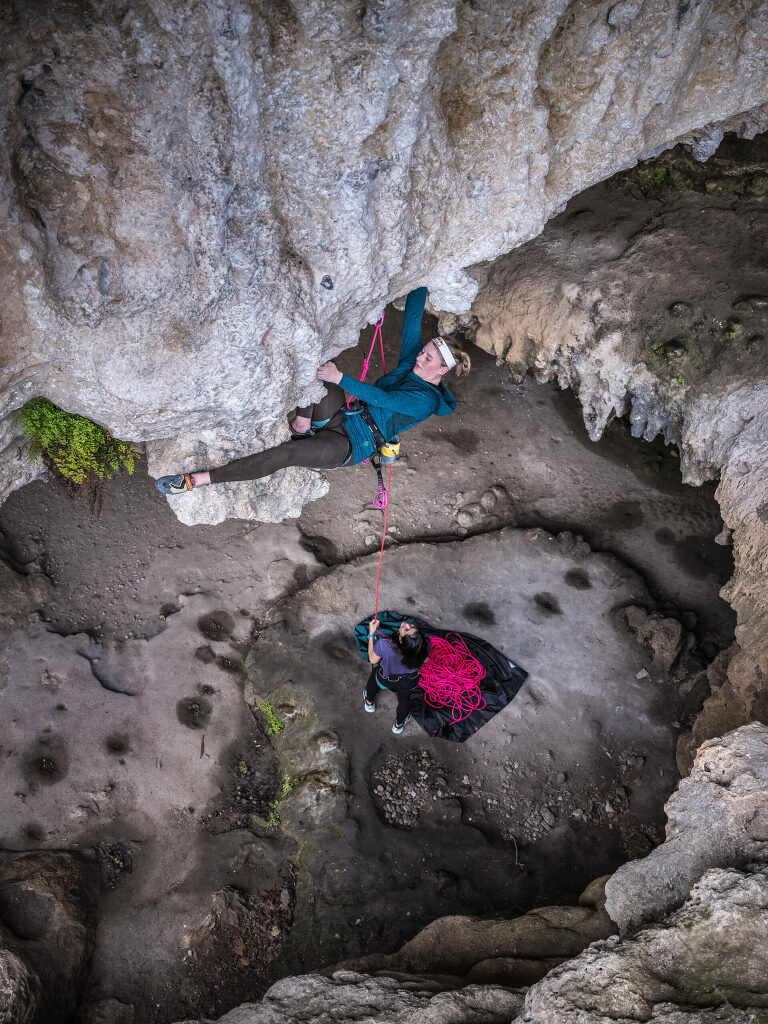 The image above of Claire on Liposuction isn't necessarily Earth-shattering but it is still a cool climbing image. Since I was teaching and we were crunched for time it wasn't possible to craft an image with my normal lighting techniques. Regardless, it was a blast to hang out with some of my peers, including my good buddy Lucas Gilman, and also hang out with the incredible photographers taking the workshop. This was also my last workshop before the lockdown in March. I flew home the day after creating this image, and then New Mexico locked down the day after I got home.
Daniel Coriz — Motocross
Santa Fe MX track, Santa Fe, New Mexico — USA
In July, after the Covid number settled down here in New Mexico, I set up a personal shoot with Daniel Coriz at the Santa Fe Motocross track. The track is literally five minutes from my house, and I have had in mind a certain image for years now using two strobes to light up the rider. Daniel was up for the shoot and we spent just a few hours out at the track creating a variety of images. As can be seen below, I wanted to light up a lot of flying dirt using a light trap (i.e. two lights on either side of the subject pointing at each other).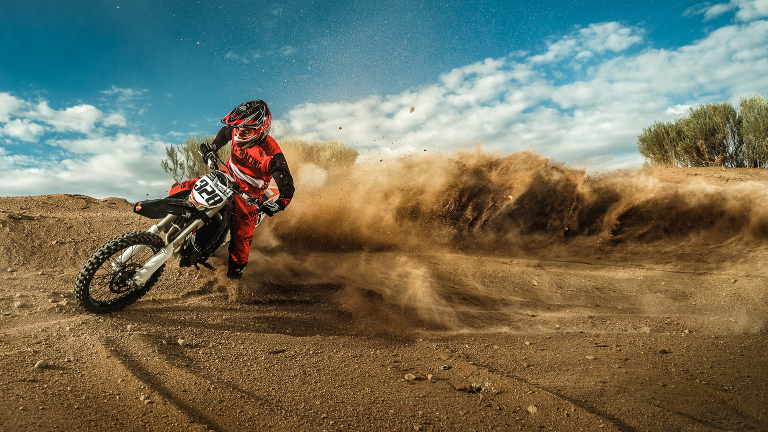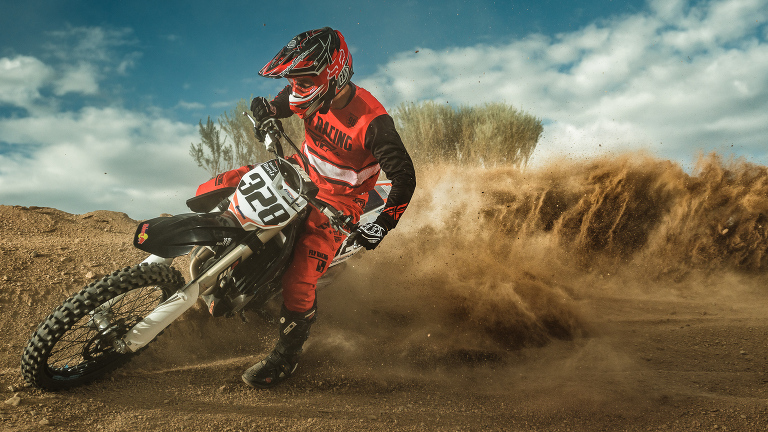 For this shoot it was one of the first times I shot raw + jpeg with the FUJIFILM GFX100. I opted for the wild "Classic Chrome" Film Simulation mode to see how that wold look. In the past, I typically just captured raw images and dialed in the color after the fact. For this shoot, I used the jpegs as a reference and worked up the raw image files with an eye towards the cool "Classic Chrome" Film Simulation. Up until this shoot, I am normally trying to remove any color cast from my images. Since this shoot I have played around a lot with adding color casts to images to create a new look. This is partially just trying to be creative but it is also a result of the new Color Grading tools in the latest version of Lightroom Classic CC.
San Francisco de Asis Mission Church
Taos, New Mexico — USA
Earlier this fall, I shot quite a few days on assignment for New Mexico Tourism. For those assignments I was traveling all over the state going to new locations I had never been to before. The first assignment I had for NM Tourism was up in Taos. Living in Santa Fe, only an hour or so away from Taos, I know that town fairly well. The evening I drove up I made sure to make some time to go to the San Francisco de Asis Mission Church just south of town. I have photographed the church before, which was made famous by Ansel Adams in one of his most iconic images, but since he captured that image more than sixty years ago, there have been a lot of homes built all around the church making capturing interesting images a lot harder. On this evening, I elected to isolate the iconic architecture and eliminate the clutter around the church. The resulting image seemed to work better in black and white as shown below.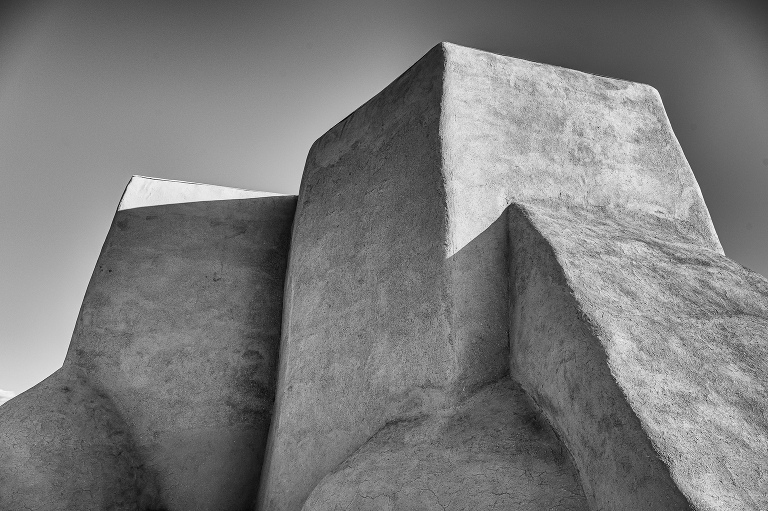 Evenings with the Masters
George Nobechi – Nobechi Creative
One of the major highlights of this year was being a part of the Evening with the Masters program that George Nobechi cooked up early on in March. Being the genius that he is, he saw that we were all going to have a lot of time on our hands this year and through incredibly hard work he got together a group of legendary photographers including Sam Abell, Gerd Ludwig, Greg Gorman, Stephen Wilkes, Nevada Wier, Jamey Stillings, Amy Toensing, Arno Rafael Minkkinen, Arthur Meyerson, Erika Larsen, Ibarionex Perello, Kate Breakey, Keith Carter, Laura Valenti, and the co-creator of Photoshop Russell Brown. I was very lucky indeed to count myself among this group of presenters.
The idea behind this series of presentations was that the photographers would give their presentation for free. All the money the participants paid to tune in went to charity. At the beginning, I thought it was a novel idea not knowing what it would grow to become. Over the course of 17 weeks, making up most of the spring and summer, every Wednesday night there was a social hour get together and then a masterful presentation on the career arc of some of the best photographers to ever pick up a camera. It was a true honor to be a part of this and all kudos to George Nobechi, who had the vision and put in a ton of hard work (for free mind you) to put this all together.
Honestly, some of the folks who presented are my heroes in the photography industry. Just to be on a Zoom call with them (as shown above) was enough to give me butterflies. The fact that I got to have in-depth conversations with many of them beyond the presentations was a serious honor. I even took screenshots of some of the presentations as I couldn't believe my good fortune to be sitting in on these talks, much less giving one. What started out as a rather small group of people at around 75 participants by the end expanded to nearly 300 participants–many of whom were world-renown photographers, art directors and luminaries of the photo industry. In the end, George raised over $50,000 for a wide variety of charities–and in the midst of the worst pandemic in a century. Luckily for readers of this post, George is setting up the second season of Evening with the Masters. Head to Nobechi Creative to see how you can tune in and help support a wide variety of charities.
Just before the USA largely shut down, in mid-February, Katie, Yuki and I headed up to Ouray, Colorado for a change of scenery, some ice climbing and some cross-country skiing. Looking back that little trip was a total blast. Yuki, our husky, went crazy for the cold temperatures and the deep snow. I am very much looking forward to stabbing some ice here soon once the Covid case counts come down from their crazy levels right now.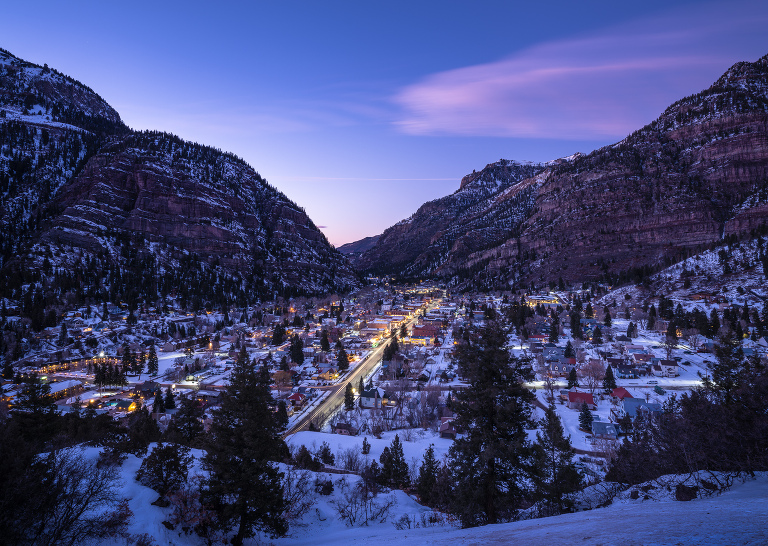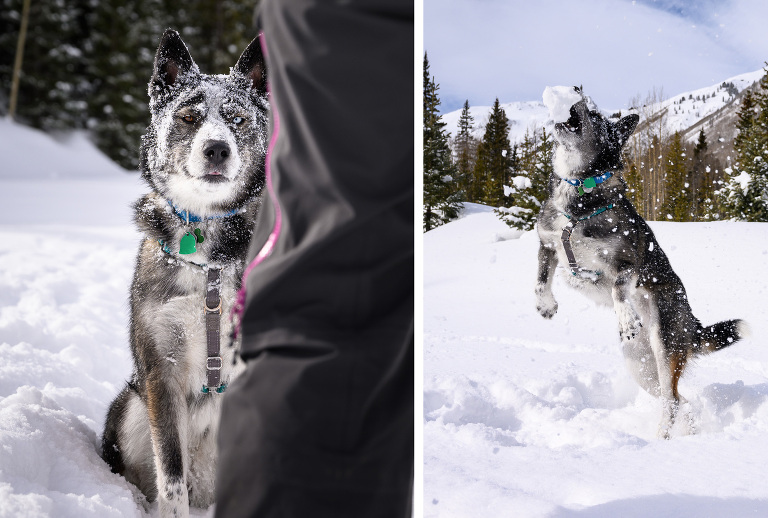 So long 2020. My thanks to Red Bull, Fujifilm, New Mexico Tourism, National Geographic and all of my other clients with whom I worked this year. Thank you also to those select clients that have helped me get through the year as well with assignments and speaking engagements I could do from home.
Thank you for taking the time to check out some of this years highlights. Feel free to comment on any of these images and tell me which one you think is the best of the best from this year. Happy Holidays and a Happy New Year to you all. Here's hoping your 2021 gets back to normal and is again filled with adventurous travels and amazing experiences!