Disclaimer: While I am not one of Fujifilm's X-Photographers, I was paid to work with the FUJIFILM GFX 100 II on an assignment in the summer of 2023 as part of the launch for this camera. My project has not yet launched fully on the Fujifilm website and YouTube channels so I will share more images and content from the project here in the next week or so. I want my readers to be aware of my connection with Fujifilm up front. With that in mind, also know that the original GFX 100 and GFX 100S have been my main cameras since 2019 and the GFX 100 II will be a very welcome addition. As such, I am certainly biased. I am always looking for the best image quality and the best camera for my needs. For those that need or want this caliber of camera, I highly suggest trying it out to see if it will work for you and your needs.
Having worked with the the FUJIFILM GFX100 II on assignment for the launch of this camera, I thought I would share my thoughts on the camera even though I was obviously working with a prototype pre-production camera. The camera I worked with was handmade in Japan, expressly for the purposes of creating images to promote the production camera that was officially announced yesterday. 
Once the camera is available as a full production camera—and I have had some time to work with the full production camera—I will come back and update this preview making it a full review. As this is my third time in the last five years working with pre-production GFX cameras for the launch (GFX 100, GFX 100S and now the GFX 100 II) I have quite a bit of confidence that the production cameras will perform significantly better than the camera I worked with to create the whitewater kayaking images for this launch. Let's get to the specifics. 
Ergonomics
In my opinion, the new GFX 100 II is a stunningly beautiful camera. It has beautiful lines and the layout of the buttons and dials is just about perfect. I cannot find any fault with the ergonomics or the layout of the camera. It feels like the GFX 100 II body was milled out of a solid piece of metal and can survive just about any abuse. It is amazingly solid feeling. I would say that the GFX 100 II has the best ergonomics of any GFX camera made to date—and I say that after carefully considering all the other previous cameras.
The camera body weighs in at 1,050 grams (2.31 pounds) and seems like the most robust GFX camera they have ever made. The top plate is angled back making it very aesthetic and easy to read from the top. The rubber on the camera body has a new and unique texture that feels secure and nice in the hands. The larger screen on the top right shows everything you need to know at a glance and also has icons that signify what the three custom function buttons are just behind the shutter release. 
In terms of the handling, it has a wonderful grip—my favorite so far among all the GFX cameras. The buttons are beautifully made and feel quite a bit higher class than those on previous GFX cameras. I also love that the camera strap attachment is flush with the camera so nothing sticks out and your strap just goes right through the slots. It was explained to me that this is a big deal since space is at a premium inside the camera body. The battery door and card slot door are very similar to the GFX 100S though the GFX 100 II uses both the CFExpress Type B and SD memory cards. I would prefer if it had two CFExpress Type B memory card slots but I totally understand why Fujifilm went this route.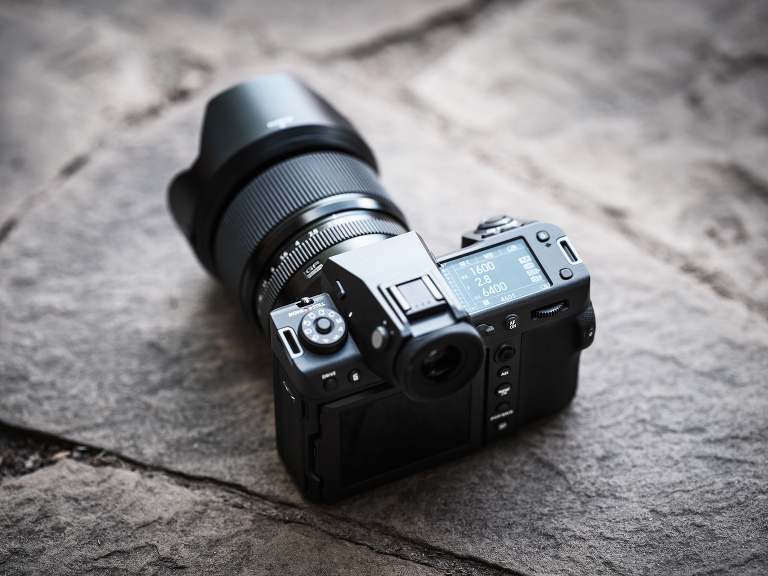 The viewfinder, as with the previous GFX 100, is removable. I have to say the new viewfinder looks very svelte and stylish. It fits the camera body really well and seems so well fitted that you forget it can actually come off the camera body. Well done Fujifilm. The camera body has a full HD port and a USB-C charging port as well. It also has a microphone, remote jack and an ethernet port on the left side of the camera body. I am guessing you can connect headphones to the USB-C port with an adapter or via the battery grip. 
I did not get the grip when I worked with the camera but I have seen it at the launch event and it looks very well thought out and the ergonomics felt great to me. I am glad to see that Fujifilm left the grip as an optional accessory and didn't build it in. This is not a super lightweight camera but I appreciate the ability to take the body without the extra grip for when I want to go a little lighter (and especially when I have to hike with the camera). 
Autofocus
Let's dive into the topic I am sure everyone wants to know about. The autofocus on the previous GFX 100 and GFX 100s was the best ever seen in any medium format cameras to date. I can happily report that the autofocus in the new GFX 100 II is far advanced beyond those previous versions. I can say that in my short time with the camera, it is the only medium format camera I have ever seen that can reliably and accurately track a moving subject with the autofocus. That is not to say that it is on par with the smaller FUJIFILM XH2s or the Nikon Z9, Canon R3 or R5, or the Sony A1. Those are in a different league. But, it seemed quite capable tracking the kayakers which is no small feat. On this assignment with the pre-production camera I had a grand total of a dozen or so out-of-focus images out of more than 3,200 shot over the four days. That is pretty incredible. 
It isn't just that the tracking autofocus capabilities are vastly improved, the subject detection capabilities of this camera are superb and are also massively improved. Even with the kayakers relatively small in the frame as shown below, I switched into the face detection mode after they had run the waterfall, and it picked up their heads instantly and tracked them all over the frame as I recomposed and fired away at 8 fps. There was a lot of moving water in the background—a wall of whitewater—and the subject detection stayed right on their heads the whole time with no hesitation. I was very, very impressed. And there were zero out of focus shots out of the hundred or more frames I shot of them paddling to shore.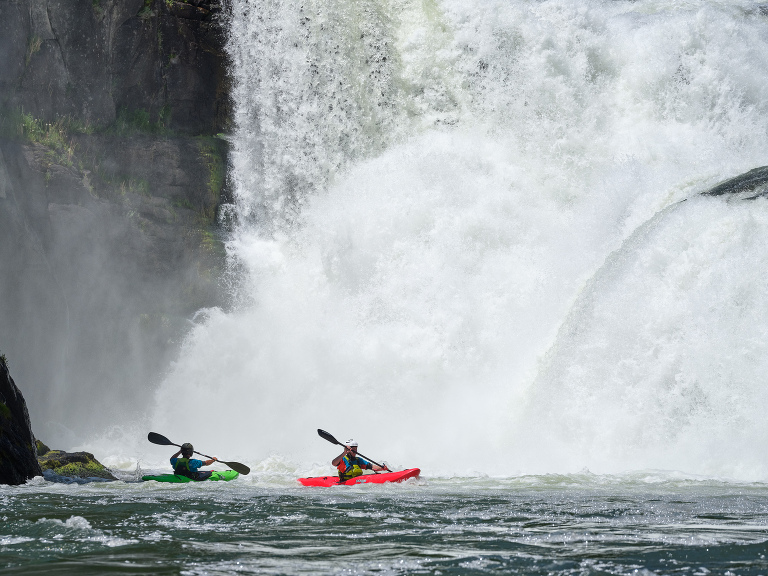 In terms of the autofocus when creating portraits, normally on the GFX 100 and 100s, I would use the eye detection but always stay in AF-S mode. I found that to be the better choice with a higher hit rate for static portraits. With the GFX 100 II I chose to test it out and see how it did in AF-C mode at f/1.7 on the GF 80mm F/1.7 lens. There were definitely a few shots where it caught the eyelash and not the eye, but that subject did have a pronounced eyebrow and deep-set eyes. All in all, it did way better than the older GFX cameras and very few images were not 100% tack sharp on the eyes. I will have to do more testing but even in this short time with the camera it is markedly improved. 
Even the "auto" autofocus mode—where the camera selects the subject—seems quite improved. I never really used this with the original 100 or the 100S but gave it a try on the GFX 100 II and was quite impressed. Given how well it worked I might use this a bit more often, especially for far off subjects in a similar plane of focus as were the kayakers when they descended the waterfall. Another cool new autofocus feature is you can create your own customized autofocus Zones. Any size autofocus zone you want can be created and tailored to your subject. There are so many options already on Fujifilm's cameras (in terms of AF modes) that I didn't try this out but I thought I would mention it here. 
The truth is, I gave it a pretty intense round of autofocus tests on this launch assignment but I have to do more testing and have more time with the full production camera to really make an assessment of the autofocus capabilities when it comes to tracking moving subjects. But, my initial impressions are that it is massively improved from all previous GFX cameras and light-years beyond any other medium format cameras on the market. Hasselblad and Phase One's autofocus capabilities are in the stone age in comparison.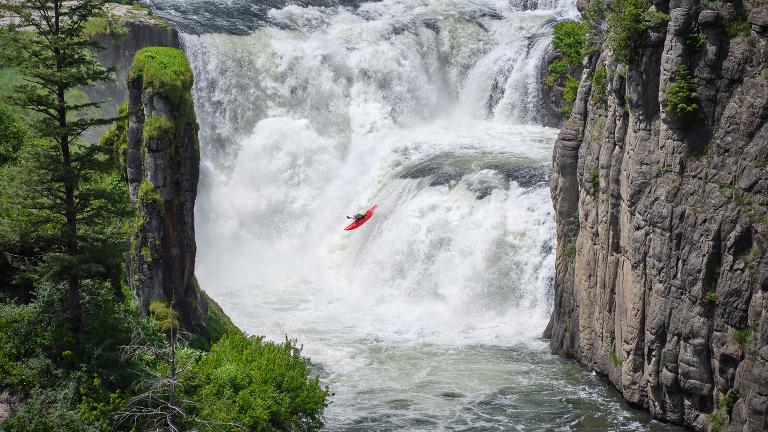 All of this autofocus goodness also works in the video modes as well. I did not test that out but I am sure there will be others who have done so if not already, relatively soon. I know in the video world that using autofocus when capturing motion footage is not the norm, but as cameras get better and better it will become the norm soon. 
The reality is that everything is faster with this camera, and the autofocus is just part of that massive overhaul of the original GFX 100. It is very apparent that Fujifilm has learned a lot with the X-H2s and the X-H2 in terms of how to dial in the autofocus algorithm and of course maximizing the new processing chips. That has been carried over into the GFX 100 II. I would say this is the first medium format action camera. And with eight frames-per-second, I will be able to photograph a lot more action with this camera than I have been able to with the previous generation GFX cameras. 
Frame Rate and Buffer
One of the big headlines for this camera is that it can fire at 8 frames per second (fps) in mechanical shutter mode and up to 8.8 fps in electronic mode (albeit in a cropped configuration). For me, an action camera has to have at least 8 fps. That has been the minimum standard in my mind for years. I have worked with less, but 8 fps seems to be the threshold for a serious action camera. Hence, I was very glad to see this spec in the pre-production information several months before the assignment. I also gave input a few years in advance that at least 8 fps would be really exciting, but I don't know if that was really relayed to the engineers. I am sure they had a lot of input from many different photographers on that aspect of the camera in the past.
The fact that we can have a 102 MP camera firing away at 8 frames per second in raw is pretty darn exciting—and absolutely mind blowing. I have to say I am more impressed with this than a 50 MP camera shooting at 20 fps in raw. I know the new CFExpress memory cards are a huge part of this but they are not the whole story. The readout speed of the sensor has been massively improved to allow this, the shutter has been reinforced so it doesn't blow up, and the camera's processor is much faster to help transfer all that date efficiently to the memory card. The entire data relay chain has been souped up far better than I could have ev­er hoped for. Shown below is a series of images captured at 8 fps.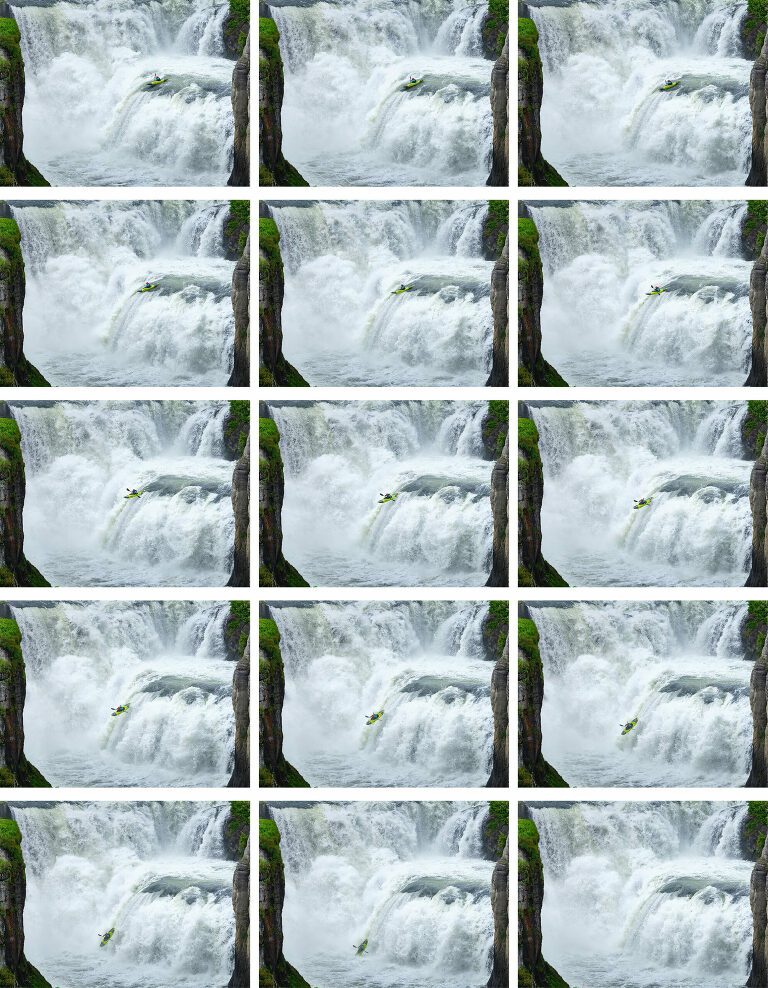 When I first got the GFX 100 II, the first test I ran was a buffer test as that would be critical to this assignment and photographing high-end, fast-paced action. I put in my Sony G Series CFExpress Type B card (their fasted card) and mashed down on the shutter release. I fully expected to get maybe 25 to 35 shots before hitting the buffer, but I was blow away when I got over 100 frames before it slowed down—and then it only slowed down to 5 or 6 fps. As this was a pre-production camera I have since learned at the launch that the buffer for the production camera allows for over 300 images (shooting in RAW Lossless Compressed) at eight frames per second which is absolutely astounding. In RAW compressed you can get up to 325 images at 8 fps before the buffer kicks in and slows the camera down to a slightly slower frame rate–and remember these are all 102 MP 14-bit image files. In Jpeg mode at 8 fps you can get over 1,000 frames before hitting the buffer. And at 5 fps in Lossless Compressed Raw or Jpeg there essentially isn't a buffer as it is endless. 
The buffer along with the frame rate means this camera is a serious action rig. Of course, this also means you will be generating an incredible amount of data and will have to have very fast hard drives to efficiently download and back up the files. Working with this camera at 8 fps is not unlike working with a RED Digital Cinema camera in terms of data. All those megapixels add up fast. 
Heck, even my decently fast M1 Apple Macbook Pro took a little longer than usual to render previews for the GFX 100 II images because there were so many of them—and perhaps because I was working with a beta-version of Capture One that could actually open the raw files. We will see how it goes when the production camera gets here but this combination of speed and resolution will tax even the best computers so buyers be aware. It isn't that the files are any larger than the older GFX 102 MP images but just that you can capture so many images so quickly which can overwhelm a computer when importing and slow the workflow down a bit. The new M2 Macs are looking like a pretty solid for those that need an upgrade.
Image Quality
The GFX 100 II has a new and improved sensor, but it is still the same 102 MP resolution as the older GFX 100 and GFX 100S. A few years ago some of the engineers and top execs at Fujifilm asked me (and I am sure many other photographers) what I would want in a new, updated GFX 100. Would you prefer more megapixels? Or would you prefer a faster frame rate and the same resolution? They also asked about other things that needed to be improved—and I responded that I would personally prefer a faster camera with the same resolution and improved autofocus. Well, we got that faster camera with improved autofocus, but they didn't stop there. 
With the new GFX 100 II sensor Fujifilm has increased the dynamic range in 16-bit mode by 30%. That is a pretty huge percentage. I tested that out with the portraits where the subject was standing in the shade and the bright, fully lit waterfall was in the background. While it was hard to assess how much of an improvement there actually is in terms of the sensors dynamic range, I can say that the it handled that situation with ease. 
The GFX 100 II also has a lower base ISO—ISO 80. I test this out and shot many of the portraits at this lower ISO. I haven't done enough testing to know how much of an improvement this is from the base ISO 100 in the older cameras—the new camera will have slightly less shot noise I am guessing. But also, this allows you to drop down to ISO 40 in the low mode, which is very useful for creating motion blur images and using strobes outdoors.
I have also been told that Fujifilm improved the quality of the 16-bit files more than just the dynamic range. They note that the new sensor can reproduce tough tones better than older GFX cameras. I am guessing these tough tones are neon colors, which are a problem for all digital cameras, and perhaps other more subtle tones that I am not fully aware of. I didn't test this out but thought I would mention it here so readers are aware of all the work Fujifilm has done to upgrade the sensor. Also, they have tweaked the micro lenses to increase sharpness in the corners as well.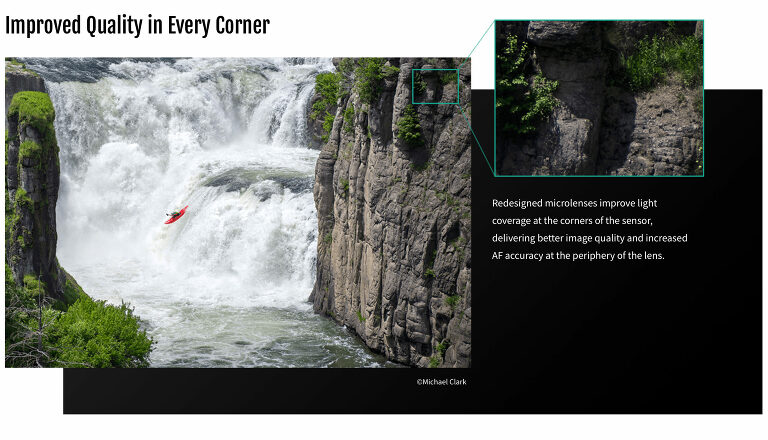 Otherwise, as far as I can tell, the image quality is still phenomenal—as it has been with the other 102 MP GFX sensors. The new and improved In-Body Image Stabilization (IBIS), which stabilizes the camera sensor, also helps to get sharp images at even lower shutter speeds than I was able to work with on the older models. There is now up to 8 stops of IBIS depending on which lens you use. We will discuss the IBIS more below. But suffice it to say that the GFX 100 II is not only the most advanced medium format camera on the market but the most usable in terms of performance and image quality. Sure, there are larger, higher resolution image sensors in a few other cameras (that cost more than even a luxury car) but those cameras pretty much have to be on a tripod and have such poor autofocus as to be unusable for anything but still life, landscape photography and studio portraits. 
On occasion, when I am teaching a photography workshop and I am tethered to a computer creating a studio portrait, I warn everyone, "Be aware, once you see this image quality you cannot unsee it." Most photographers have no clue how incredible the images are coming out of the GFX cameras. They are definitely a serious step up from 35mm "full frame" cameras—and that is the entire reason I started using them. 
Viewfinder
In addition to all the other upgrades, that Fujifilm left no stone unturned with the GFX 100 II and that also extends to the electronic viewfinder. The new 9.44 million dot electronic viewfinder (EVF) is absolutely gorgeous. I have never seen a viewfinder that is this big and looks so crisp in any other camera. Granted I have not looked through every EVF out there, but I have looked through a few other 9.44 MP EVFs and they didn't look this good.
I never found it to lag behind the moving subject and there are also modes to put it into 120 Hz (fps) and additionally 240 Hz (fps) if needed. In addition, there is also a 5 fps Blackout Free burst shooting mode when using the electronic shutter if you need the ultimate viewfinder experience to capture the action. When capturing images at 8 fps I didn't see a noticeable drop in the EVFs resolution. Though at 8 fps it might be hard to really see since the camera is firing so quickly.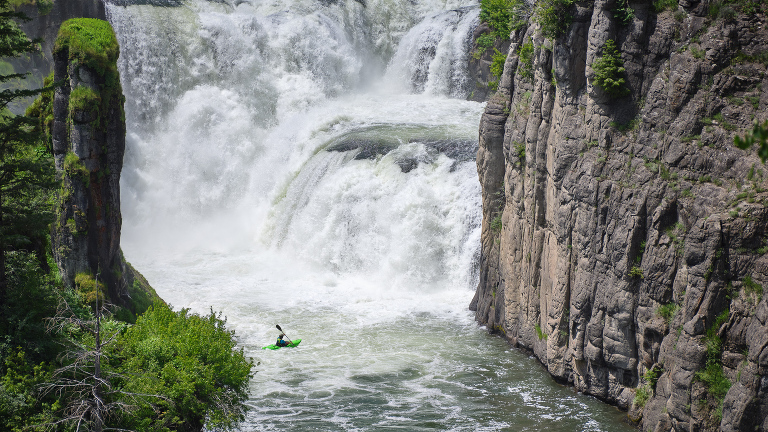 What I did notice is that when zooming into 100% on the images in playback mode the detail was ridiculous. Reviewing images in the EVF, it felt like you could just keep zooming in farther and farther without limits. Suffice it to say that the EVF is spectacular. Similarly, the rear LCD screen is gorgeous as well. This might be the first EVF I have seen that approaches the "real world" quality of looking through an optical viewfinder.
Video
In addition to all the advances regarding still photography, Fujifilm has gone to great lengths to improve the video in the GFX 100 II as well. I did not get to test any of those features out when working with the GFX 100 II but I thought I would mention them here. My assignment for the launch was purely a stills photography project. There were other cinematographers who were assigned video projects. 
The GFX 100 II can capture video at up to 4K 60p with no crop, and up to 8K 30p with a 1.44x crop. Additionally, you can go up to 120p in full HD as well. Hence, the camera has quite a few more frame rate and resolution options than the older GFX cameras. Other new features are extended dynamic range, up to 14+ stops, when using F-Log2, ProRes and Blackmagic Raw recording via the HDMI, SSD recording straight to an external hard drive via the USB-C port, and it now can accept the Fujifilm cooling fan that works with the X-H2 and X-H2s as well. 
Perhaps even more important is that the Fujifilm engineers have really concentrated on the sensor scan speeds so that there is a lot less rolling shutter effect. The read out speed of the sensor is an incredibly impressive (for a medium format sensor) at only 15 milliseconds. By comparison, the Fujifilm X-H2s, with a much smaller sensor, has a sensor scan speed of 11.4 milliseconds and the Panasonic GH6 has a sensor scan time of 17.8 milliseconds. On the full frame side of things the Nikon Z9, which currently has the fastest sensor readout of any camera on the market, has a sensor scan speed of 3.7 milliseconds. The GFX 100 II has a sensor scan speed comparable to the Canon R5, which is quite impressive given it is 1.7 times larger than a 35mm sensor. While the GFX 100 II sensor scan speed isn't the fastest ever, it is incredibly fast for a medium format sensor. 
Lastly, perhaps the best new video feature is that you can view the waveforms in the EVF or on the back LCD. I know for most cinematographers that is critical. They have also added a Focus Map function as well. I am not sure exactly how that works or what it looks like since the camera already has focus peaking built in for manual focus. And of course, if you have cell service or internet access the GFX 100 II can also push video (and stills) straight to the cloud via Frame.io. 
Wrapping Up
If you have made it this far, then you can probably guess that my assessment of the new GFX 100 II is quite favorable—and that is a bit of an understatement. Honestly, the GFX 100 II really spoiled me in the few weeks I worked with the camera. It is an incredibly improved camera compared to any of the other GFX cameras. This is the most exciting camera I have seen in a long time. Fujifilm really perfected the GFX system with this camera and in my mind–and for my use case–this is the best camera Fujifilm has ever released.
The new GFX 100 II is also the camera I have been looking for (in the medium format space) for a long, long, long time—since I started using medium format cameras over 20 years ago. I have a feeling that my older GFX cameras will be relegated to the backup category for the most part once I get my hands on the new camera. I cannot wait to get the new GFX 100 II.
For my current work, I have a wide variety of cameras that I use depending on the assignment including everything from GoPros up to the GFX cameras. I often take both full frame (35mm) and medium format cameras on the same assignment and use them both where appropriate. What Fujifilm have created with the GFX 100 II is a medium format camera that can really hold its own in a wide array of genres compared to a lot of the full frame contenders. Sure, it doesn't capture images at 20- or 30-fps. For most people that won't matter. With my fast full frame cameras I am often trying to dial them back from 20 fps down to a more reasonable 10 fps or even lower. Hence, I can live with 8 fps even as an action photographer in many situations. With the fast autofocus and tracking capabilities of the GFX 100 II, and the new faster lenses Fujifilm have released (the 55mm f/1.7, 80mm f/1.7 and the 110mm f/2) they also have a wide variety of lenses for low light situations—expanding when and where the GFX cameras can be used even further. The GF 80mm f/1.7 has quickly become one of my favorite lenses in the GFX system. It hits a sweet spot in terms of focal length and maximum aperture—and it is wicked sharp as well. The new GF 55mm f/1.7 looks like another stellar lens.

For years now I have been talking to quite a few folks at Fujifilm about a the possibilities of a longer telephoto than the current 250mm lens. Something like a GF 500mm f/5.6 that could also work with the 1.4x teleconverter they already make would be really useful. So when I found out that it was on the new lens road map (as shown above) I just about fell out of my chair at the launch. This new lens is just about as exciting as the new camera and I cannot wait to work with this lens. I have been told that it will not be that much larger than the GF250mm lens which is quite something. With the GFX 100 II and this forthcoming lens they now have a bonified action and wildlife camera so adding a longer telephoto makes a lot of sense to draw those photographers into the system. I would love to see Fujifilm continue expanding the lens selection in the future, as they no doubt will. Another fast and even wider prime would be one of my top requests—something like a 30mm f/1.7.
Going forward, the GFX 100 II will certainly be my main camera—and I will likely be able to use it for the vast majority of my action and adventure photography assignment work. The only reason at this point to use my smaller format cameras will either be if I need a specific lens not available in the GFX lineup or if I need crazy fast frame rates for when something will only be happening once. Kudos to Fujifilm for coming up with a stellar new camera. The GFX 100 II is going to make some serious waves in the camera industry—and I can't wait to photograph surfing with this near-perfect camera. 
For more information pleas visit Fujifilm-x.com. My sincere thanks to Fujifilm for allowing me to be a small part of the launch of this camera and for brining me to Stockholm to be there when they announced it to the world.