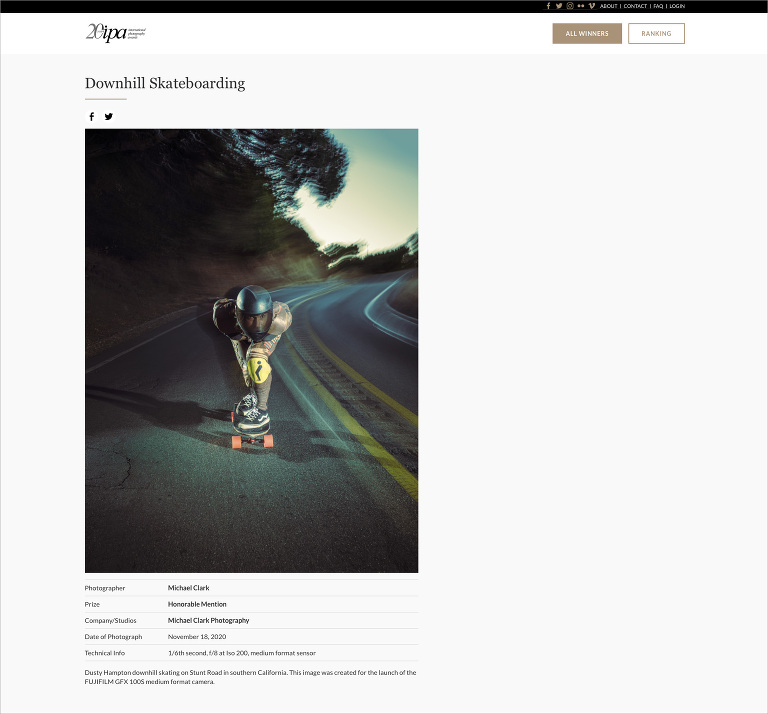 In the 2023 International Photography Awards, two of my images were awarded with Honorable Mentions. The first image, shown above, was featured in the Professional Advertising (Brand Campaign) category. This downhill skateboarding image was created for the launch of the FUJIFILM GFX100S camera back in 2021. This image has won a few different awards so it was great to see it be chosen again in the 2023 IPA competition.
The second image, shown below, was featured in the Professional Advertising (Other) category. This image was created for New Mexico Tourism down in White Sands National Park and has also won a few awards since it was created. Notably it was also featured in the 2022 Communication Arts Photo Annual.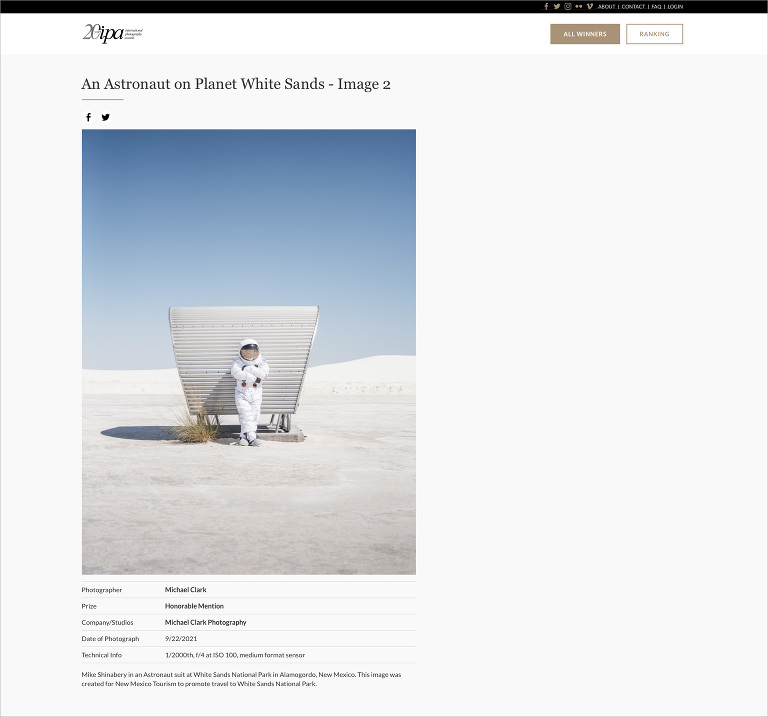 Interestingly, both of these images were created with the FUJIFILM GFX100S medium format digital camera, which has become my man working camera until it was superseded by the GFX100 II just a few days ago. It is great to see both of these images get some recognition.
To give some context about the International Photogarphy Awards here is some information from the IPA website, "The International Photography Awards™ conducts an annual competition for professional, amateur, and student photographers on a global scale, creating one of the most ambitious and comprehensive photo competitions in the photography world today.
The category winners in both professional and amateur levels, compete for IPA's top two awards, which are announced at the annual Lucie Awards Gala. The main professional prize is International Photographer of the Year, selected from the 11 professional category winners and earning the coveted Lucie Trophy and a cash prize of $12,000.
IPA is a sister-effort of the Lucie Foundation, 501(c) 3 non-profit, charitable foundation whose mission is to honor master photographers, discover and cultivate emerging talent, and promote the appreciation of photography worldwide. The annual programming of the Lucie Foundation is funded largely though the International Photography Awards, including the signature event, the Lucie Awards."
My thanks to the IPA awards and the judges for choosing a few of my images. I am already thinking about images to submit for the 2024 IPA competition.