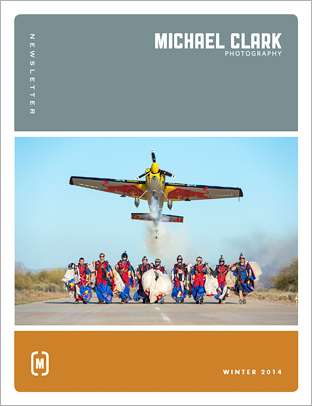 The Winter 2014 issue of the Michael Clark Photography Newsletter is now available for download. If you'd like to sign up for the Newsletter just drop me an email and I'll add you to the mailing list.
This issue is the largest I have ever produced and includes an editorial about the Red Bull Air Force team, a review of the Nikon 1 AW1 hybrid waterproof camera, a review of the Sensor Gel Stick, a behind the scenes article detailing a recent assignment shooting with the Red Bull Air Force, an article that details my latest fine art print project, an editorial entitled "On Being an Artist," and much more.
The Michael Clark Photography Newsletter goes out to over 6,000 thousand photo editors, photographers and photo enthusiasts around the world. You can download the Winter 2014 issue on my website at:
http://www.michaelclarkphoto.com/winter_2014.pdf
If you'd like to check out back issues of the newsletter they are available here.
Please note that the newsletter is best viewed in the latest Adobe Acrobat reader which is available for free at www.adobe.com.