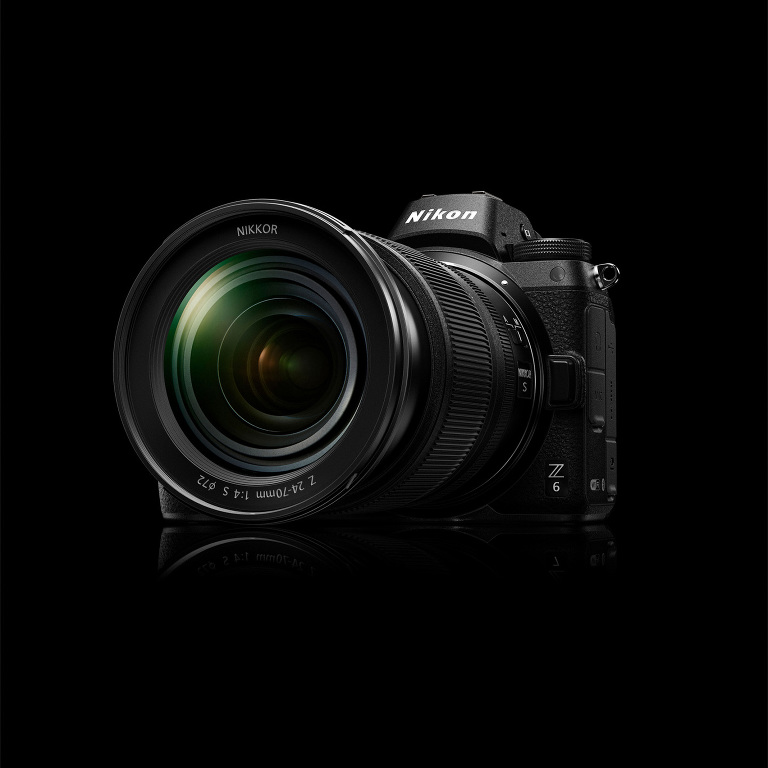 In just about every aspect, the Nikon Z6 is identical to the Z7 save for the sensor, which in the case of the Z6 is a 24.5 MP sensor instead of the Z7's 45.7 MP sensor. Hence, for this review, I am not going to rehash everything discussed in my Nikon Z7 review. I will instead concentrate on how the Z6 is different than the Z7 and why for me it was the better choice given that I already have two stellar Nikon D850 camera bodies. I encourage folks that have not read my Nikon Z7 review to check it out as pretty much everything I said in that review is applicable to the Z6 as well.
In my Nikon Z7 review from a few months ago, I said that "I can see a lot of Nikon photographers adding a Z6 to their kit just for the video features alone. I will certainly be considering that here in the next few months when the Z6 is released." Only a month later, I did just that. Since I already have two Nikon D850 camera bodies, adding a Z7 didn't make sense. The Z6 seemed like a better option, mostly because it has better video capabilities. In reality, the Z6 just seems like a better value proposition and it allows me to jump into the Nikon mirrorless system and start acquiring Z-series lenses.
In this review, I honestly can't really compare the Z6 to the Sony A7 III or the Canon EOS R because I have not tried them out. Because I have so much Nikon glass–and because I have so much familiarity with the Nikon system–it really just isn't a wise option to switch up systems at this point. Luckily, Nikon again came through with a stellar camera, especially since it is their first foray into full-frame mirrorless. [Though to be honest, Nikon has been making mirrorless cameras for a decade or so starting way back when with the Nikon 1 system.]
Image Quality
The Z6 is the first camera I have bought in a long time that has an anti-aliasing filter in front of the sensor, which slightly blurs the image to avoid creating digital artifacts in the image. My main cameras the last six years or more have been the D800, D810 and D850 alongside my Hasselblad H5D, with the D800 being the only one of those that incorporated an anti-aliasing filter. Hence, it has been a while since I have looked at images from a camera with an anti-aliasing filter and the images from the Z6 seem a little softer than those from my other cameras, but that might also be because it has much lower resolution as well.
In my experience so far, the image quality from the Z6 is very good. It is not as stellar as the Z7, which has nearly twice the resolution and seems significantly sharper. I have found that turning the in-body-image-stabilization (IBIS) on and off, depending on your shutter speed, has a much bigger impact on image quality than it seemed to have with the Z7. In my testing, if I am shooting at or below 1/400th second I turn on the IBIS and if I am above 1/400th second I turn it off. Luckily it is relatively easy to turn the IBIS on or off without even moving your eye from the viewfinder. The Z6 image quality (from raw image files) also varies greatly depending on how closely you monitor several key settings in Lightroom, which I will discuss in more detail below.
24.5 megapixels is nothing to sneeze at. While it isn't as profound as my D850 or the Z7, one can certainly make sizable prints from 24 MP images. Prints up to 30×45-inches are quite sharp even on close inspection. When resolution matters, and it often does for my work, I will reach for my trusty D850, but for those times when I need a lightweight camera and can get away with a lower resolution the Z6 is a great alternative.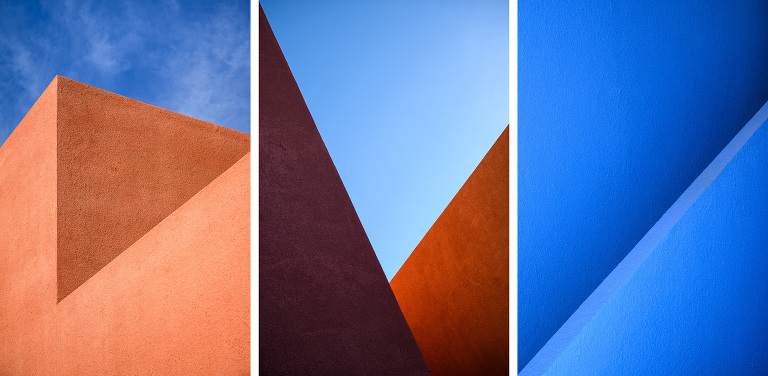 I don't photograph a lot of architecture, but recently a good friend of mine, Charlie Pinder–the former Director of Photography for Red Bull Photography–was in town and his passion is architecture. Hence, the above images are from some fun days cruising around Santa Fe, New Mexico exploring some of the more modern buildings. It turns out this was a great test to see how the Z6 handled a wide range of scenarios and to test out its dynamic range.
We also ventured out to one of Georgia O'Keefe's favorite spots, Plaza Blanca (near Abiquiu, NM) and shot some landscapes as seen below. The black and white image below is a good example showing the amazing dynamic range of Nikon's cameras. For this image I exposed for the much brighter sky and let the landscape below go into deep dark shadows. When I pulled up the exposure slider and and opened up the shadows I was able to balance out the tones in the image with very little noise penalty. As with my D850 and the Z7, the Z6 has a very wide dynamic range.
Speaking of noise, the Z6 does extremely well all the way up to ISO 12,800. I wouldn't hesitate to go to ISO 6400 and when I did the noise was not bad at all. I won't bore you with image samples at High ISO. If you want to see how it stacks up visit DPreview's excellent noise comparison tool. According to DPreview, the Z6 seems to have a fairly strong anti-aliasing filter, which explains my findings that the images appear a bit softer than I am used to and require just an extra kiss of sharpening in Lightroom to get the best image quality.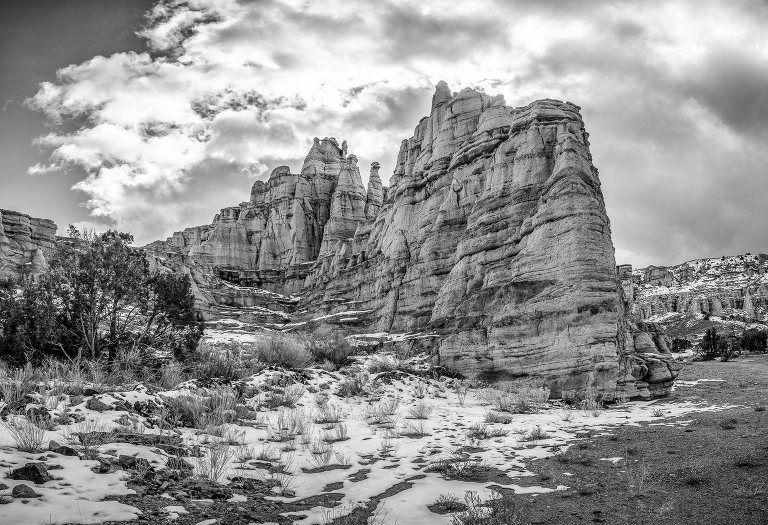 Overall, there are some quirks to getting the best image quality out of the Z6, but they are not difficult to master. I want to make sure the reader understands that the image quality issues I had with the camera–aside from figuring out when to use the IBIS–are mostly with Adobe's software, not the camera. Let's dive into dealing with the raw images in Lightroom.
Nikon Z6 Built-In Profile and Adobe Lightroom Classic CC
As noted above, I have found some strange behavior when viewing my Nikon Z6 images in Lightroom and Adobe Camera Raw. First off, the Z6 profile that Adobe built is rather poor in terms of the default sharpening settings. All of my Z6 raw images appeared just a bit soft when viewed in Lightroom and ACR. Just to be clear, this is an issue with Lightroom and Adobe Camera Raw, not with the camera. If images are opened in Nikon's Capture NX-D software they appear as you would expect. For a few days I was quite displeased with the camera and considered returning it thinking that the camera was a dud or Nikon severely missed the boat with this camera–then I noticed the default sharpening settings in Lightroom's Develop module looked a little odd. A radius of 2.0 is huge and I would never use a radius that large in Photoshop's Smart Sharpening or Unsharp Mask dialogs. Once I reconfigured the sharpening settings (as shown below) all of my Z6 images instantly snapped into focus, as can be seen in the image previews in the Detail dialogs below, and are now very sharp.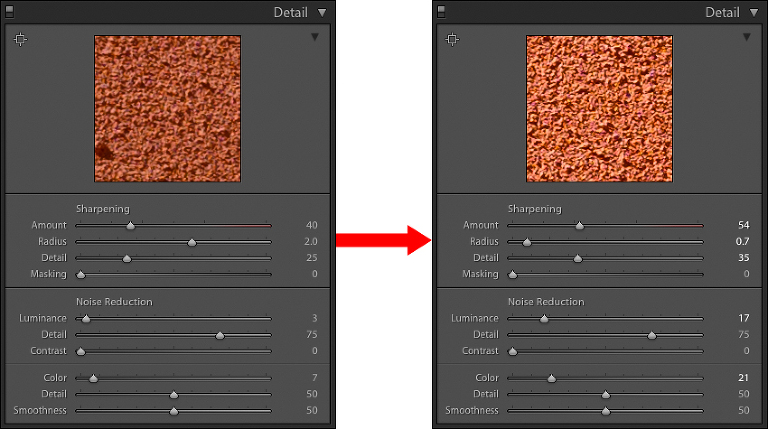 While working with many different types of images from the Z6 in Lightroom, I have found that the amount of sharpening–in this case "Capture Sharpening" for raw images–varies widely depending on the subject and how textured that subject happens to be as well as how large it is in the frame. So, basically when working with the Z6 you will have to pay attention to how much sharpening is applied when processing the raw images. [Note: if you only capture jpeg images then this can be overcome by applying the right amount of sharpening in-camera.] Hopefully Adobe can correct this issue in the Z6 camera profile or ignore the EXIF data from the camera and give us the true unadulterated raw image files to work with.
The Nikon Z6 raw image files come into Lightroom with built-in profiles which are then rendered in the Develop Module. There have been some white balance issues (see Adobe's Help page here) and a few other bugs associated with the Nikon Z6 profile in Lightroom. I did not see any white balance issues when processing images from the Z7 so it appears that Adobe rushed out the Z6 profile, which is quite unfortunate. I am sure they will fix it with the next software update for Lightroom, but until then be sure to adjust the sharpening and noise reduction sliders as needed to get the best results.
Additionally, because Lightroom is reading the EXIF data and using Nikon's built-in camera profile for the Z6 it does not allow you to actually use a specific profile correction for each lens by checking the box next to "Enable Profile Corrections" in the Lens Corrections dialog. When you do click that box, the make of the camera simply shows up as "Built-In" signaling that there is no Adobe profile for this and it is relying on Nikon's own lens profiles. As an example the vignetting is removed according to the camera's built-in profile, not using Adobe's lens profile correction feature. And from what I am seeing, the Nikon profile is removing some of the vignetting but not all of it, which creates a tough situation where you have to go into the "Manual" section of the Lens Corrections dialog in Lightroom's Develop module and manually remove it. I hope Lightroom can fix this and ignore Nikon's built-in camera profile because this sets up a painful process to work up Nikon Z6 images.
Handling
The ergonomics of the Z6 are identical to the Z7, which is to say they are excellent. Interestingly, I did notice that the camera seems to start up significantly faster than the Z7 when I tested it a few months back–though perhaps this was fixed in the latest firmware update a while back on the Z7. With the Z7 I missed quite a few shots waiting for the camera to initialize and come to life. The Z6 seems to boot up nearly instantly, which is much nicer for trying to capture those off the cuff images that just happen in front of you. I could just have the camera on all the time when shooting but it doesn't seem much different to turn it on versus waking it up from sleep. It still isn't as instantaneous as my D850 but it is decently fast.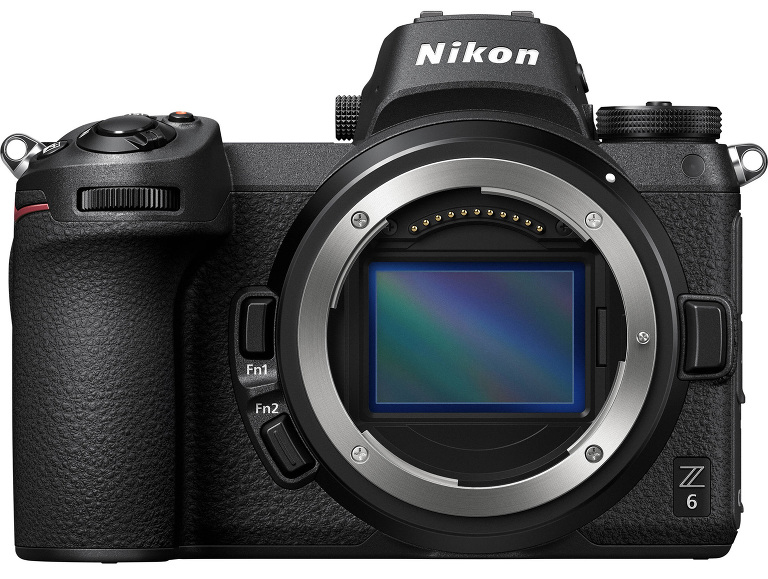 Now that I have used both the Z7 and the Z6 for a longer time, I am also noticing just how well the ergonomics and handling of this camera have been designed. With one button push, using the top button next to the lens mount (Fn1), I can rotate the rear dial and adjust the white balance without having to take my eye away from the viewfinder. Also, because of the EVF, as I change white balance settings I can see exactly how the image will be affected. And if I am even more concerned about accurate white balance, with both eyes open I can do a real world comparison to see if the color I am seeing with my left eye, which is looking at the real world, matches up with the color I am seeing with my right eye through the EVF.
Pushing the "i" button on the back of the camera with my eye in the EVF, I can very quickly turn the IBIS on or off as needed depending on my shutter speed. In fact, there are very few things you can't accomplish with your eye firmly planted in the viewfinder. All in all, I continue to be impressed by the Z6 and the pains that Nikon has taken to make sure the ergonomics work for a wide variety of photographic situations. Honestly, the Z6 (and Z7 for that matter) feel about the same size as my legendary Nikon FM2 film camera except it has a much nicer grip, which the older film camera lacks.

My now ancient Nikon FM2 film camera (left), which I started out with over three decades ago, is just a hair smaller than the new Nikon Z6 as shown above. The Z6 is 12.7 millimeters taller than the FM2 and 7.6 millimeters shorter (width) than the FM2, making them roughly similar in size. Hence, now we are back to the smaller size of 35mm film cameras before the big pro camera bodies took over in the 90s. I realize for most people this comparison is irrelevant, but for those of us that shot film like I did for the first half of my career it is interesting to see we have come full circle in terms of camera size. Of course, the Z6 is a much more advanced camera than the FM2. I could not have even dreamed of such a camera when the FM2 came out way back in 1982.
Autofocus
Another area where the Z6 interface seems a bit faster is with moving the autofocus points. I am not sure if this is just because there are fewer AF points or it is a fact of the Z6 being a faster frame rate camera. Either way, moving and changing focus points is much quicker than in the Z7, and this is a welcome change considering that the AF points stretch out over nearly the entire viewfinder. In addition to the ease of moving AF points, it feels like the AF tracking is a bit more accurate and snappier than the Z7's AF tracking abilities.
Below are a series of images I captured of my friend Charlie Pinder skiing straight towards the camera at 9 fps and pretty much every single image is sharp. To be clear, the AF tracking capabilities of the Z6 are still no where near as capable as those in my trusty Nikon D850 or the AF capabilities of the Sony A9 (especially with the new and forthcoming firmware upgrade). Hopefully Nikon can improve this functionality with a firmware update, but I was happily surprised at how well it did in my testing–as can be seen below.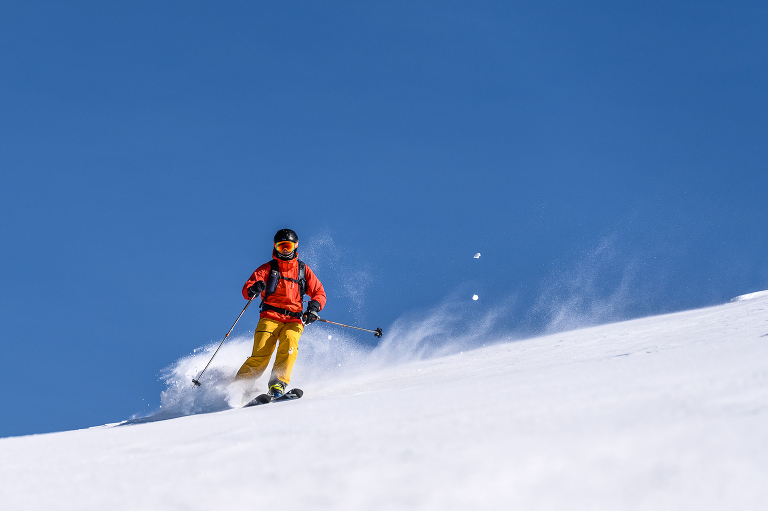 I am happy to report that the Z6 works flawlessly with the FTZ adapter and all of my Nikkor F-mount lenses just as with the Z7. The adapter is easy to use and opens up a huge bevy of lenses (that I already own) for use with the Z6. Without the adapter, this system would be severely hampered. For those assignments where I want to travel just a hair lighter, I can see leaving one of my D850 bodies at home and taking the Z6 (and the FTZ adapter) as a backup to my main D850 workhorse.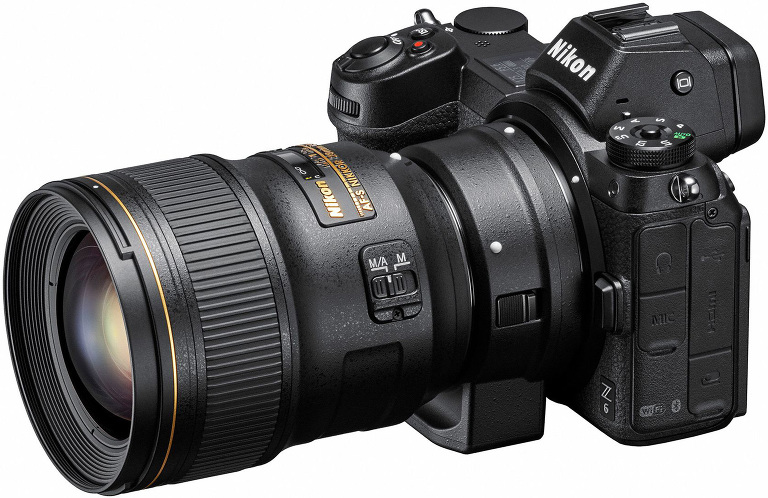 In terms of customization, it very easy to change focusing modes on the Z6 by depressing the bottom front button near the lens mount (Fn2) and rotating either the rear dial or the front dial to adjust the focusing mode and AF point options. For my hands, these buttons are placed in a very easy to reach position–though I realize that may not be the case for everyone.
Video
I have done some testing of the video capabilities and must say I am quite impressed. The 4K footage coming out of the Z6 is as good or better than any other Nikon that I have seen. At high ISOs there is very little noise. The image quality is sharp and clean. Even wide open using the 24-70mm f/4 S lens, the AF tracking in video mode was bang on and tracked moving subjects or camera movements with ease. It did better than I could do focus pulling in manual mode. I have not done an entire video project with the camera as of yet, but I can easily see this rig, paired with an Atomos Ninja V external recorder to access the forthcoming raw video output, replacing the larger Red Digital Cinema Cameras we often work with when we are trying to go lighter. At the very least, the Z6 will give us an extra camera that can output fantastic video for use alongside the much more expensive Red Epic and Gemini cameras that we work with.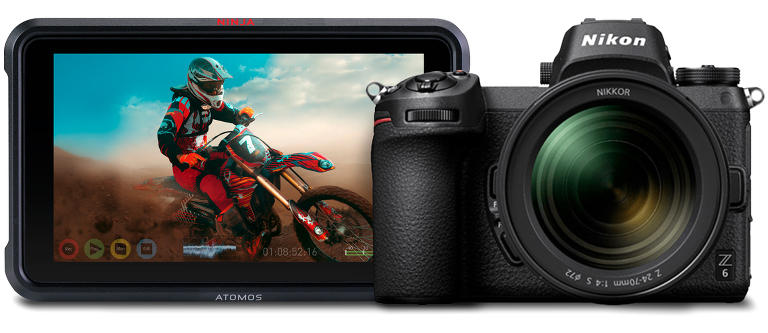 While this section is short, this will be one area that I plan to do a lot more testing. Stay tuned for a more in-depth blog post on the video capabilities of the Z6.
Firmware Updates
At the 2019 CES show that took place in January a few weeks ago, Nikon announced that they would be adding a few new features to the Z6 and Z7 via a firmware update. Namely, those new features are Eye AF, ProRes RAW video output to an Atomos Ninja V external recorder, and an update to allow for CFexpress cards to be used in both cameras. Nikon is not normally a company to make such impressive firmware updates like this so it was quite a surprise. When I heard about the raw video output–in full 4K mind you–I was floored. Nikon will be the first camera manufacturer to have a still and video camera (in the same body) that can output both raw stills and raw video.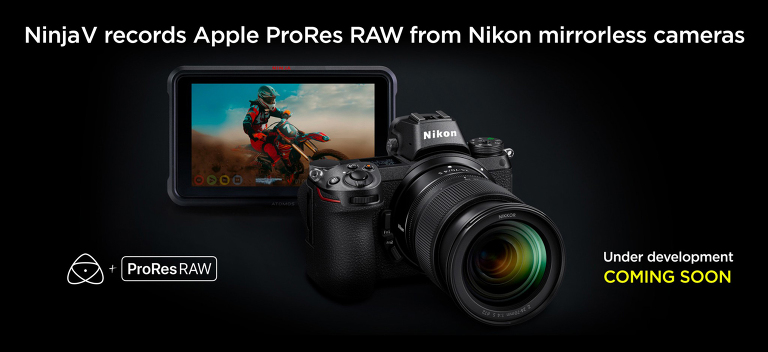 The Eye AF feature will also be a great addition. I know Sony users swear by this feature so we will have to wait and see how it stacks up to Sony's Eye AF. The ability to use CFexpress cards is also a huge leap forward for those looking to shoot fast action as it will massively expand the buffer and could even allow for internal raw video recording if Nikon wants to go that route.
This firmware update goes to show just how much Nikon believes in these cameras and how much effort they are putting into them to push these mirrorless bodies as far as possible. Who knows, perhaps Nikon can add more advanced AF modes to improve the AF tracking as well. If they did that then the Z series cameras would be pretty much the complete package.
New Lenses
Along with the CES firmware update announcement, Nikon also announced the new Nikkor Z 14-30mm f/4 S Lens (shown below), which is very similar to the 24-70 f/4 S lens. Already, there are many groaning about the f/4 maximum aperture of this new lens but for those looking to go light and fast this is a great new addition to the lens lineup. If it is as sharp as the 24-70 f/4 S lens, which I have no doubt it will be, then it will be a great lens for landscapes, action sports and a lot of what I capture. Looking at my Lightroom catalog and filtering for my Nikkor 14-24mm f/2.8 lens, I saw that in all the years I have owned the 14-24 I have only shot at apertures below f/4 (f/2.8, f/3.2, and  f/3.5) 15% of the time. Hence, an f/4 aperture for me is not the end of the world, especially since the Z6 is a low light monster in terms of low noise.
And not to be forgotten, Nikon will soon be releasing the Nikkor Z 58mm f/0.95 S Noct lens. I realize it is manual focus, and a serious specialty lens, but man this is going to be a fun lens to shoot with–especially with focus peaking. I imagine it is going to be a hot rental item. I am certainly keen to try it out.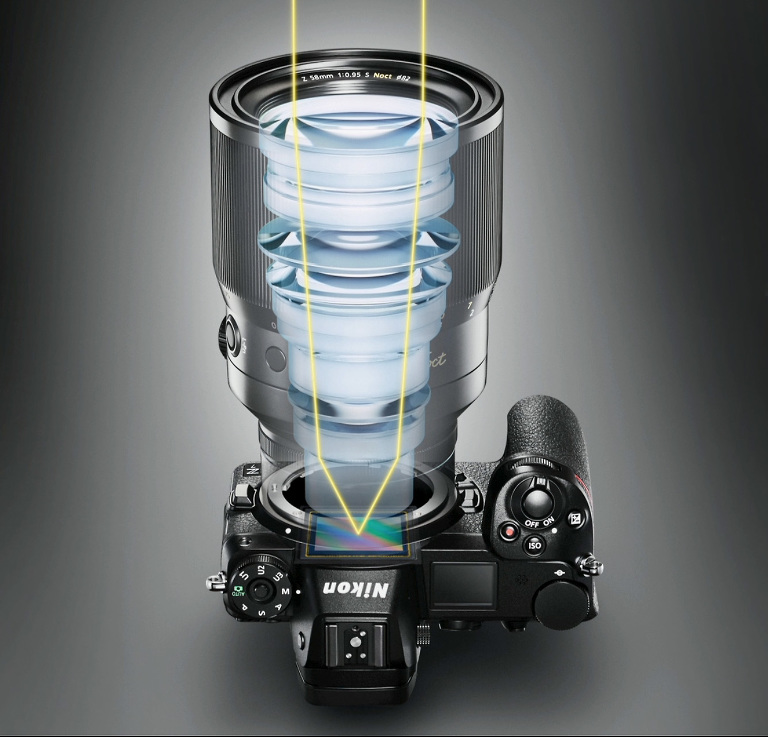 In all honesty, a huge part of why I bought the Z6 is to start building up a Nikon mirrorless (full frame) lens collection. Seeing how good the Z6 and Z7 camera bodies are I am not sure I will ever buy another DSLR or even any more DSLR lenses–though that new Nikkor 500mm f/5.6 PF lens is quite exciting. The future is mirrorless, and if Nikon can solve their AF tracking issues and get the AF up to par with the D850 and D5, then I can very well imagine selling off my DSLRs and committing to mirrorless cameras. I imagine this conversion to mirrorless is going to happen much sooner than a lot of us would guess–within the next few years.
Conclusion
In conclusion, just as with the Z7, the Z6 is a great new addition to the Nikon lineup and a stellar offering for photographers looking to jump into mirrorless. If you are a Nikon shooter, then the Z6 is a natural fit–especially if you are doing a lot of video. Seeing that this is Nikon's first attempt at a full-frame mirrorless camera, they got a lot right with the Z series cameras. The ergonomics, EVF and overall feel of the camera is stellar. The weather sealing also seems top-notch. I shot with the Z6 in rain, snow and very cold conditions and it never missed a beat. The battery lasted just as long as I found with the Z7, which is to say I consistently got more than 1,000 shots per fully charged battery and even up to 1,500 images per fully charged battery in extremely cold weather.
The more I shoot with the Z6 the more I want to shoot with it. Going back to my D850 is going to be tough–though I still love its image quality. I will miss the Z6 EVF, the live histogram and the stellar IBIS that allows me to shoot handheld at 1/8th second (as shown in the image below) and still get sharp images. I never thought I would say that I will miss an EVF but for the first time ever I am saying it here. I have been an optical viewfinder guy forever so this is a huge statement.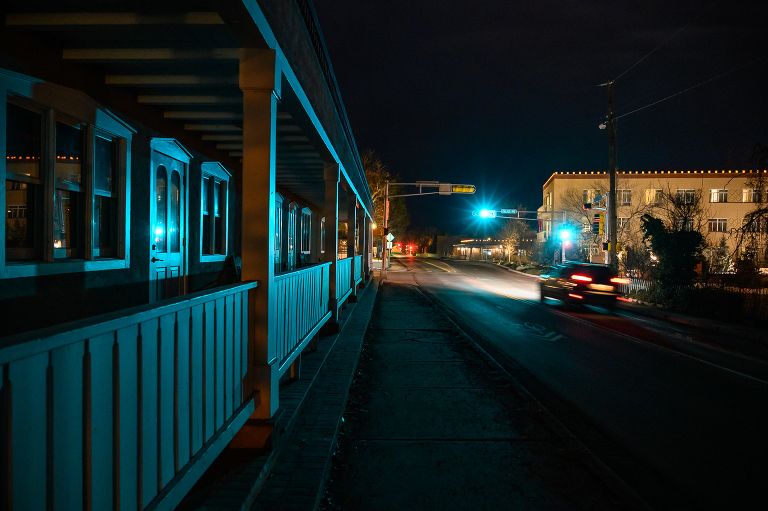 I am very eager to see Nikon release new lenses for the Z series cameras. Right now I only have the 24-70mm f/4 S lens. I am eagerly awaiting the 70-200mm f/2.8 S and the 14-30mm f/4 S lenses to round out the kit with native Z-mount glass. I am dreaming of the day when I can go all mirrorless and still have wicked fast autofocus to shoot fast action. I can imagine having a few Nikon Z9 60-plus MP camera bodies in my bag along with a full bevy of Z-mount lenses and perhaps a 100 MP Hasselblad X2D and a lens or two with me–all of which weighs in at under 20 pounds total. We will get there someday…it might just take few years but we are well on our way.
At only 1,996.95 USD for the Z6 camera body it compares quite favorably to the Sony A7 III. While the Sony might have a leg up with faster AF and Eye AF modes, the Z6 has far superior ergonomics and an EVF that is much better than any other camera on the market. With all of the new mirrorless cameras announced over the last six months it is a very exciting time to be a photographer. There are so many great cameras on the market right now, it is quite a difficult decision for those looking to get a new camera. If you have the money, the Z6 is an excellent mirrorless camera.
My thanks to B&H Photo Video for loaning me the Z6 along with the 24-70mm f/4 S and the FTZ adapter. As of now, I have purchased the Z6 kit so it won't be going back to B&H. That I kept this kit, and didn't send it back, is the best indication of my thoughts on this camera. It will be going with me on most assignments now–right along with my Nikon D850 camera bodies. If you have recently purchased a Nikon Z-series mirrorless camera please share any tips or techniques in the comments below–and your thoughts on the system. Until next time…