2019 has been a phenomenal year. I have had some very successful assignments and photo shoots as well as several career highlights this year, like my assignment to launch the highly regarded FUJIFILM GFX 100, working on the Red Bull Supermoon project with the Red Bull Air Force and getting an assignment to document the Red Bull Rampage to name a few. This year saw a wide variety of assignments, everything from big wave surfing to studio portraits to huge advertising gigs. This year assignments had me traveling for nine months of the year. It was by a big factor the best year of my career both financially and creatively.
I know that these "Year in Review" blog posts are a dime a dozen – and I have seen a lot of them over the last few weeks – but I hope you find this blog post at least entertaining. If you have been following along this year then you have seen most of these already but there are a few new images here that I haven't shared anywhere. Hence, without further ado, here are what I consider to be the best images I have created this past year and a few career highlights as well.
Yellowstone National Park
Yellowstone National Park, Wyoming — USA
For the last several years, I have had the opportunity to travel with some good friends to fairly remote locations specifically just to have fun photographing landscapes, wildlife and various adventures without the pressure or demands of a specific assignment. Several of these adventures have been with my good friend Richie Graham, who is an amazing photographer using his skills and influence to make a difference for the environment. Earlier this year in late January, while driving back from an assignment Richie and I were talking and he told me about an adventure he had planned in Yellowstone. Richie graciously let me tag along and in several days we both created an incredible array of images–both of the wildlife and the landscape. Below are just a few of my favorites from that trip.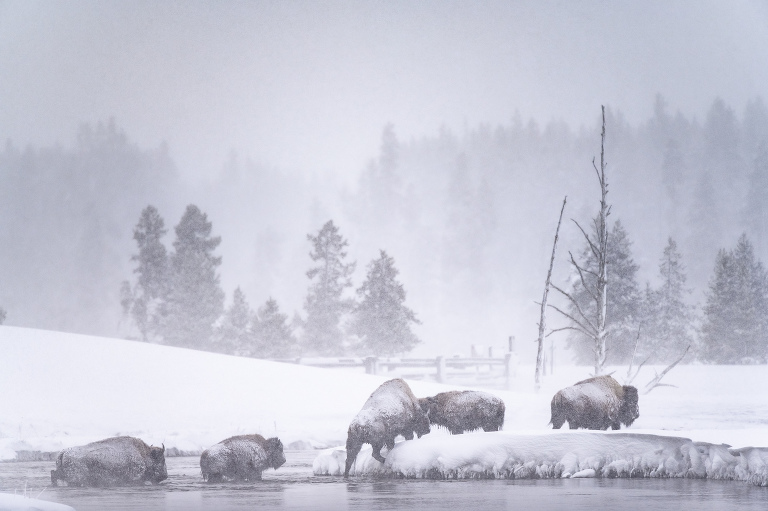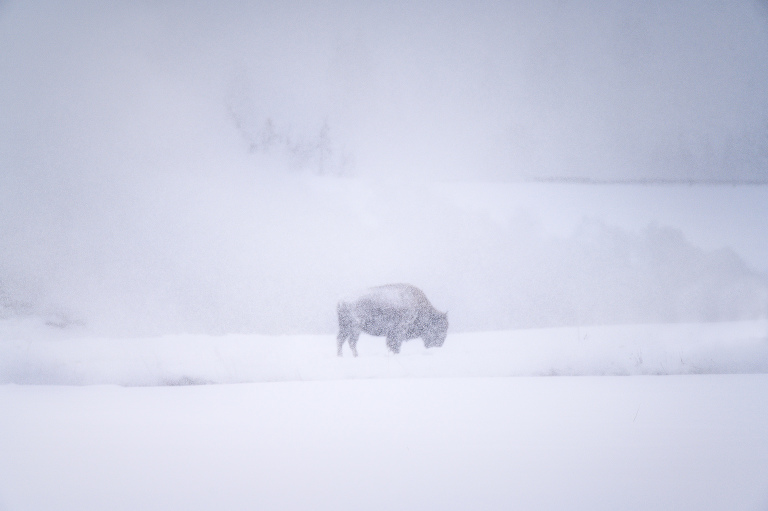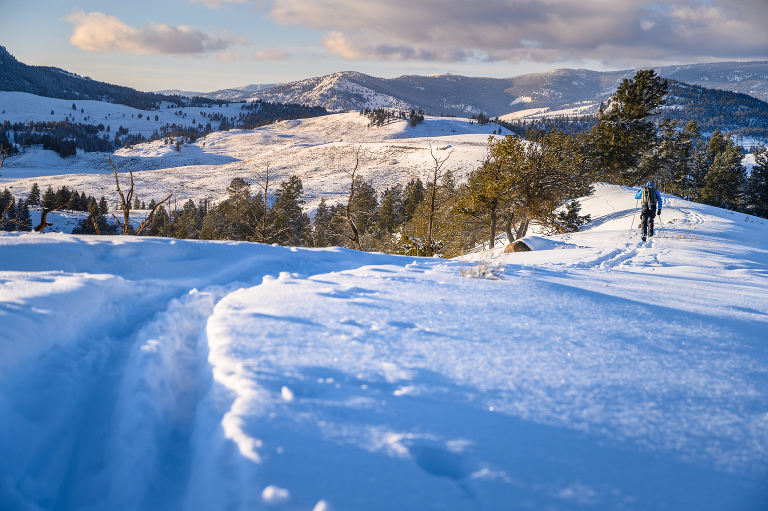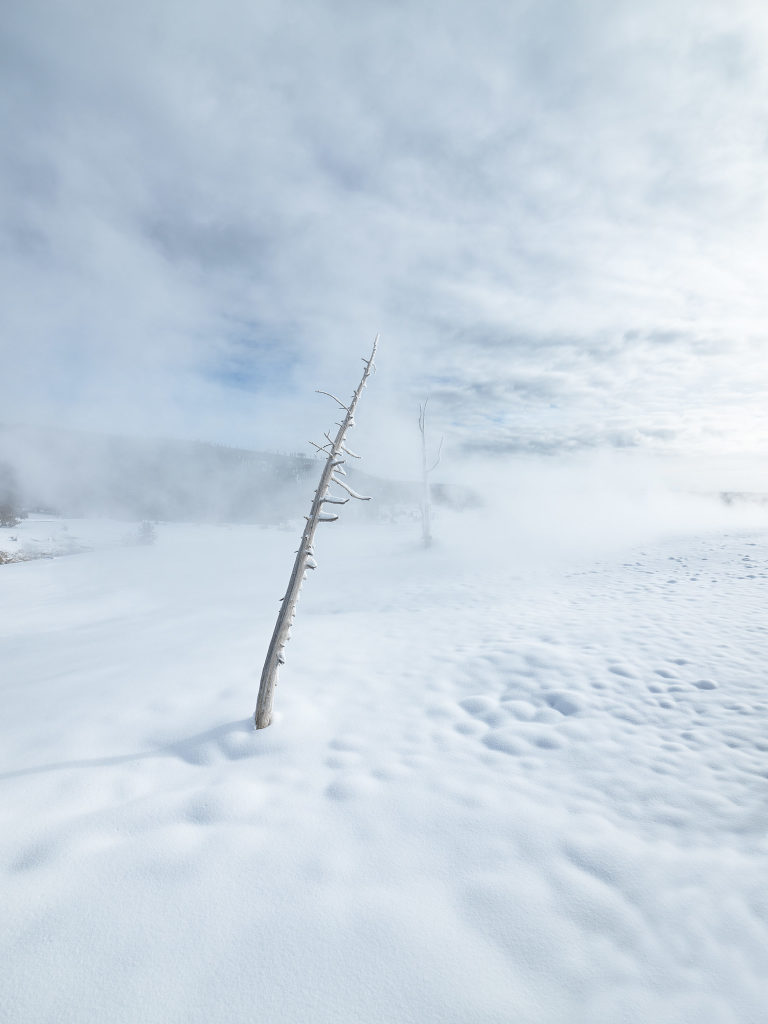 If you would like to see a wider selection of these images check out the Winter 2019 Newsletter. My sincere thanks to Richie for letting me tag along and for making that trip possible. Yellowstone is a magical place in winter, and if you can get into the center of the park it is a completely different experience (with relatively few people) than at any other time of year.
RED BULL SUPERMOON
Los Angeles, California — USA
When I got the call from Red Bull for this assignment it was immediately apparent they had already been planning out this audacious project for several months. Having worked with the Red Bull Air Force on several assignments they are good friends at this point and they are also true professionals. It is always a huge honor to work with them. This assignment was no different. As can be seen in the images below Jon DeVore, Andy Farrington and Mike Swansons created quite the stir. Below, the middle image is of Jon DeVore and Andy Farrington and the top and bottom images are of Mike Swansons.
The idea behind this shoot was to have the Red Bull Air Force athletes wing suit through downtown Los Angeles with the last Supermoon of the decade behind them–just as it rose over the LA skyline. Sadly, mother nature had other ideas and there were low hanging clouds on the horizon behind the Los Angeles skyline. Luckily, the clouds stayed low and the Supermoon rose shortly above them–and Mike Swansons was in tune enough with the film crew to swerve over towards the moon so that I could create these images from four miles away with a giant 800mm Nikkor lens. This all happened during rush hour as everyone in LA was driving home on the freeway. So, as you can imagine, from a distance–not knowing what was happening–it appeared as if a meteor (or two) had just fallen into downtown LA. This made national news 20 minutes after it happened and we rushed back to the Red Bull headquarters to put out a social media blast explaining what everyone just saw.
One of the other fun parts of this project is that Red Bull had four helicopters in the air, and a crew of fifteen or more cinematographers running around LA and all at different vantage points to capture the action. Additionally, Red Bull hired two still photographers, Keith Ladzinski and myself to capture the action. Keith was in the helicopter and I was on top of an eight-story building four miles away from the action. As usual with wing suit flying and skydiving you literally have a few seconds to capture the action and this assignment was no different. I had two cameras firing away with two different focal length lenses (300mm and 800mm) so that I could get two different perspectives of the action. The top image here (just below) is definitely up there as one of the best images of the year–if nothing else it is surely one of the most unique images I produced this year.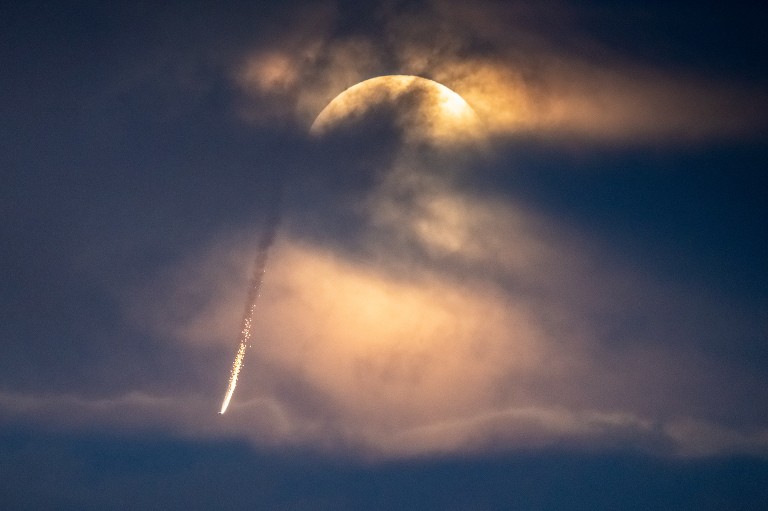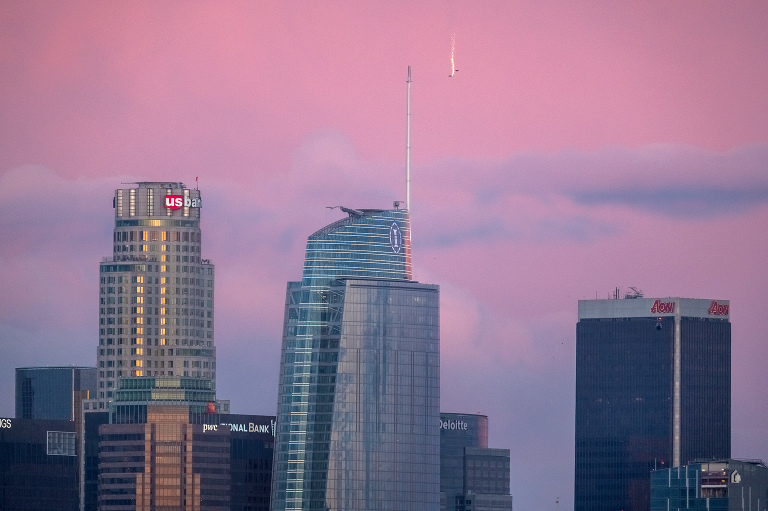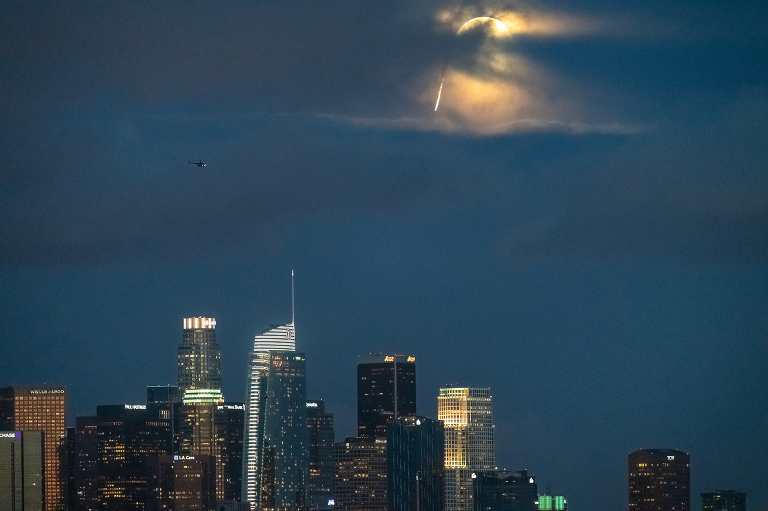 My thanks to Red Bull (yet again) for bringing me in on a such a wild assignment and for doing all the research to make this happen. As always it is a total blast working with Red Bull and especially with the Red Bull Air Force. My thanks as well to Jon DeVore, Andy Farrington and Mike Swansons and the rest of the Red Bull Air Force for making it all happen.
EYLEA (BAYER)
California — USA
One of my largest assignments of the year, both in complexity and scope, was for the pharmaceutical giant Bayer to create imagery and motion content for a new drug named "Eylea" that helps those with macular degeneration. The image below is a composite of several images and was the brainchild of the ad agency The Bloc. While it was relatively simple to create the images for this campaign, the pre-production was extensive and the post-processing on both the stills and motion components required extensive retouching, which is where the well-known and highly regarded post production house Happy Finish came into play. Over a period of four months Happy Finish worked closely with the ad agency to dial in the images and the motion footage so that it fit perfectly into their advertising.
For this production we had a crew of forty or more people working on set. It was a big production with Hollywood level support for the motion component of this campaign–including a giant grip truck, a process trailer, multiple grips and lighting techs, two RVs, production assistants, digital techs, Director of Photography (DP), Assistant DP, Drone Techs and of course the client and the ad agency. These larger productions are intense but also a lot of fun. When you bring a crew of people together who are all incredibly good at their jobs–and bring an agency with a lot of creativity–then magic can happen.
My sincere thanks to Bayer and The Bloc for entrusting me and our team with this production. Additionally, my thanks to the entire crew for pulling together and bringing these images and this content to life–especially my extraordinary producer Rebecca Schatten of Arpen Productions without whom I would not have been able to pull of this off.
FUJIFILM GFX 100
Indian Creek, Utah — USA
Every once in a while, an assignment comes along that is a full-on dream assignment. I have wanted to create images for the launch of a top-tier professional camera for as long as I have been a pro photographer. I worked with Nikon for many years as one of their "Legends Behind the Lens" and I even shot the launch of a few of their point and shoot cameras, but never for the pro bodies. Enter Fujifilm. Last year, I tried out a huge range of Fujifilm cameras and liked them quite a bit but at that point it just didn't work out. Earlier this year, seeing that the FUJIFILM GFX 100 was going to launch at some point, I got back in touch and the stars aligned where I was one of the lucky few chosen to capture images with a few prototype GFX 100 camera bodies.
The GFX 100 was not a secret. Fujifilm announced the development of the camera in the late fall of 2018 and there were plenty of images of the camera all across the internet. Exactly what sensor the camera would use and how it would all come together was the big question. Having shot with medium format cameras for decades, both in the film era and the digital era, the GFX 100 piqued my interest. I was dreaming of a medium format camera with fast autofocus that could work for my brand of adventure sports photography.
At this point in my career, I was aware of how big a deal this assignment actually was while I was creating the images. That realization made it even sweeter to be a part of the launch and also to join the Fujifilm executives, engineers and designers in Japan for the launch of the camera. I have enormous respect for Fujifilm not just as a camera and optics manufacturer, but also as a corporation. Their passion for photography and the way they treat and honor their customers is apparent both in person and with every free firmware upgrade for their cameras.
Below are just a few of the images from the GFX 100 assignment. This was by far the most successful assignment of the year for me so it is hard to pick out the best of the best as there were quite a few stellar images both from the rock climbing portion of the assignment and the downhill mountain biking portion. My sincere thanks to the amazing athletes and the crew that came together to help create these images including Savannah Cummins, Angela Van Wiemeersch, Ted Hesser, Carson Storch, Dusty Wygle, and Dave Gardner. Also, a huge thank you to Justin Stailey, Senior Manager of Product Development for FUJIFILM North America, who was the tech guru helping me dial in the camera all throughout this assignment.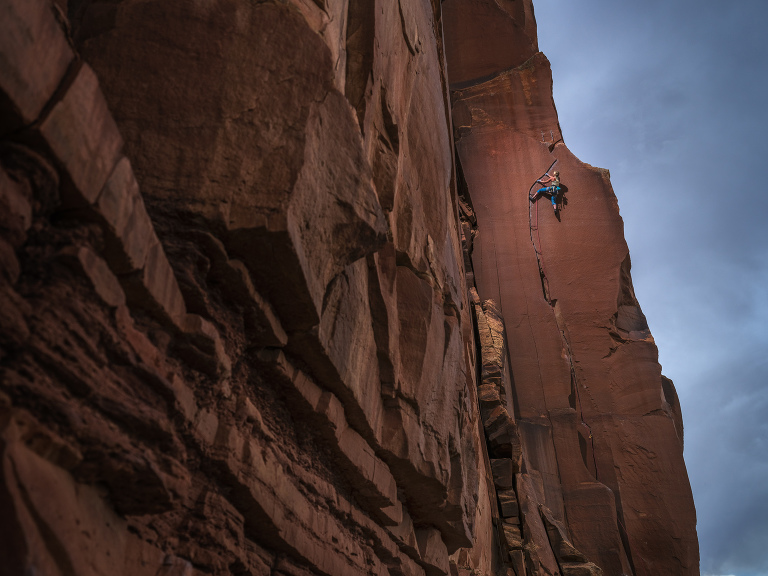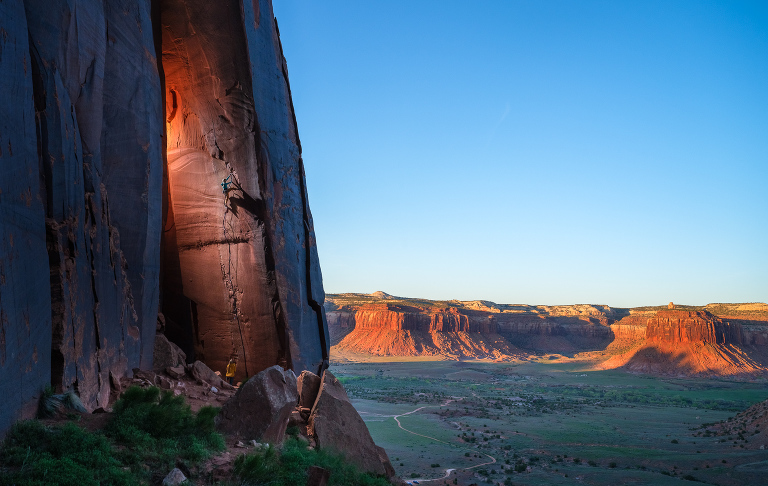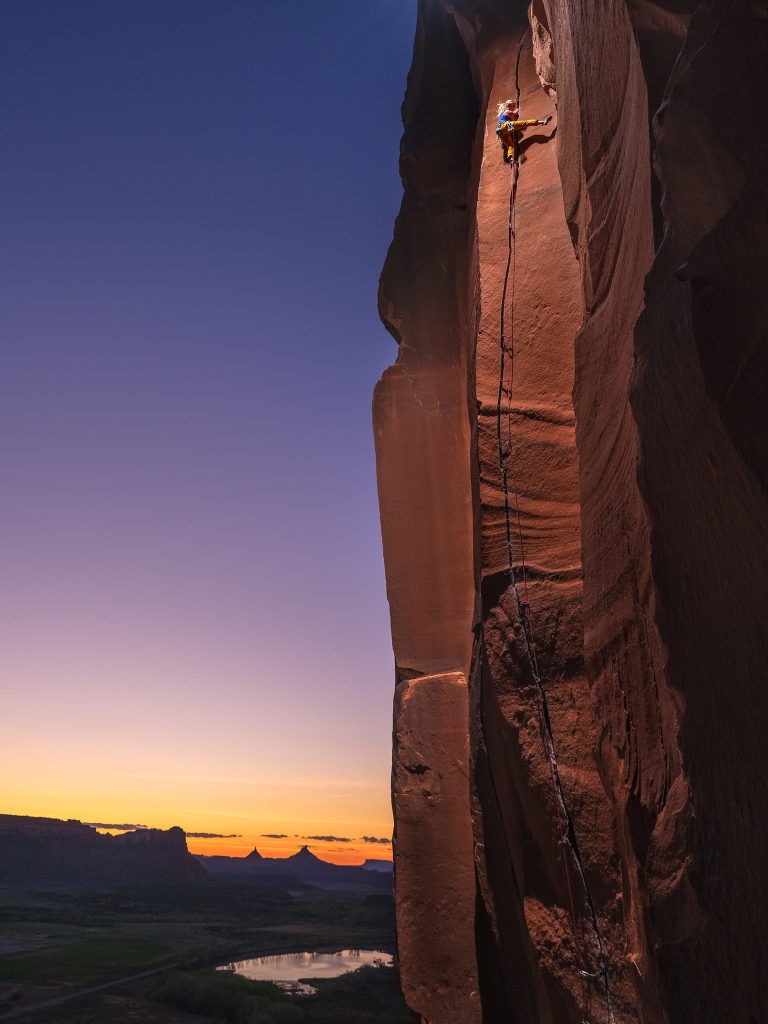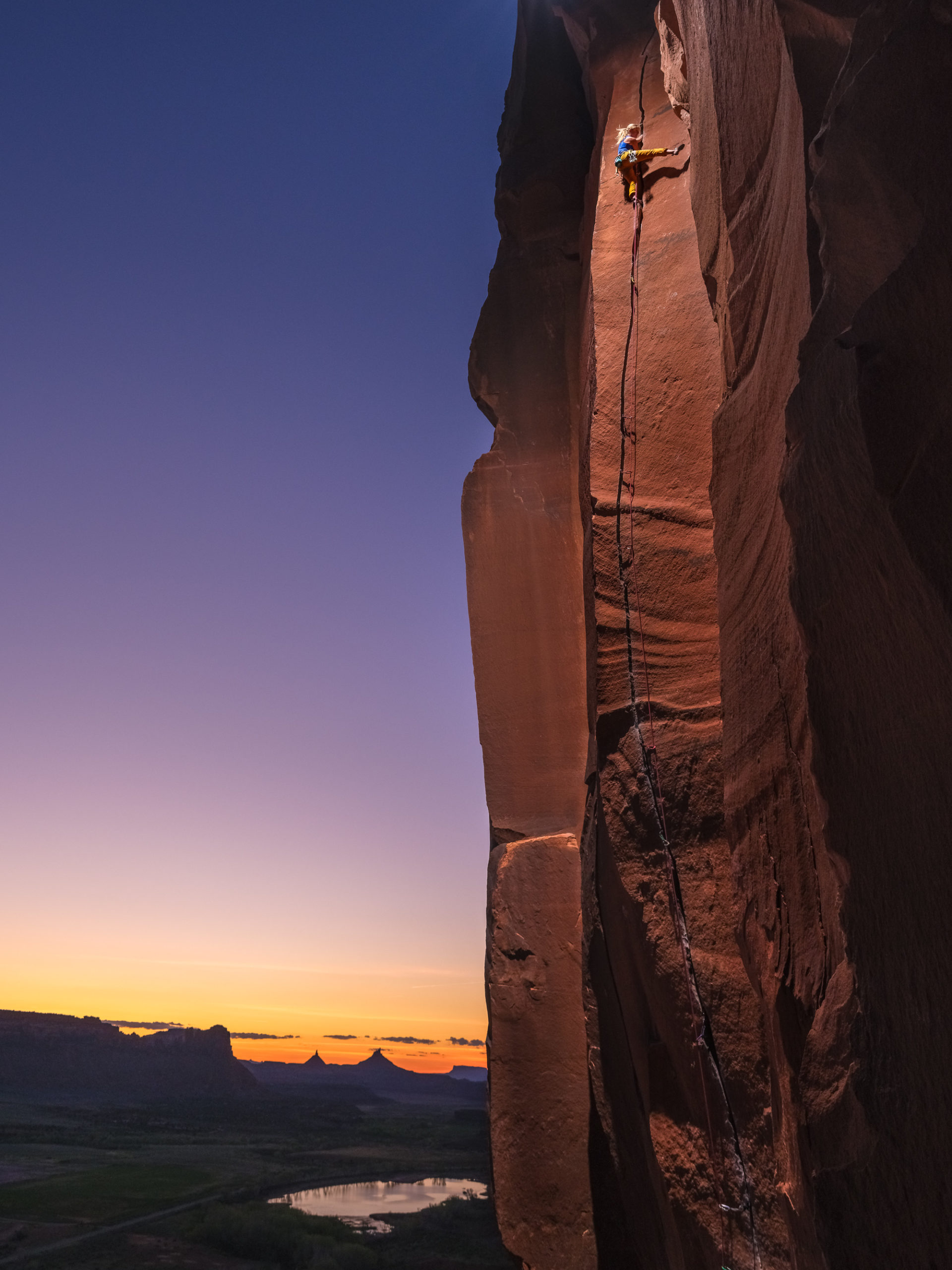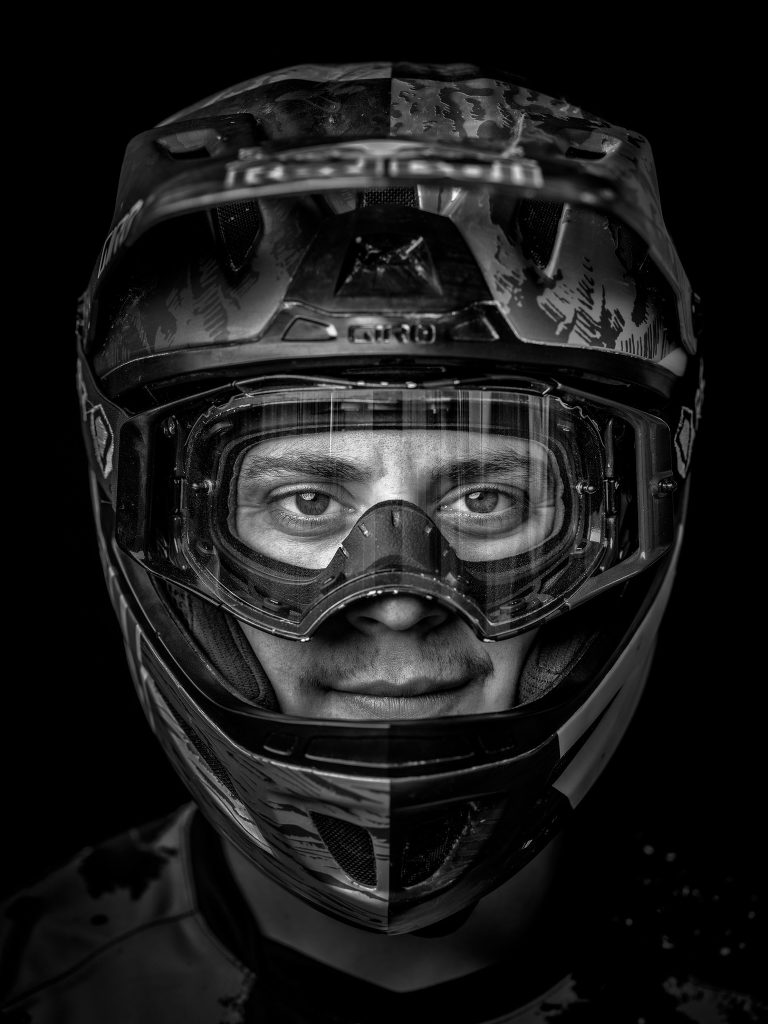 My sincere thanks to FUJIFILM USA and FUJIFILM Japan for entrusting me with this prestigious assignment. It was a great honor to be a part of this campaign and also to be there in Japan for the launch of the camera. It is also incredible to see how it has been received in the six or seven months since its launch. Fujifilm really did shake up the market–especially the medium format genre–and show what is possible when engineers are let loose to create a dream product. To see more from this assignment–and to read the full behind-the-scenes story–check out my Summer 2019 Newsletter. Lastly here, A big thank you to Elinchrom as well who supported this assignment with the latest battery-powered strobes allowing us to light up the athletes from near and far.
Note: A good portion of the rest of these images in this year end review were captured using the GFX 100 since it has become my main camera.
FUJIKINA 2019
Tokyo — Japan
As I mentioned in the last section, being a part of the launch of the FUJIFILM GFX 100 was a major career highlight this year. After submitting images from the assignment I was shortly thereafter on my way to the launch in Tokyo, Japan at FUJIKINA 2019. Fujifilm rolled out the red carpet at the launch and it was great to be there and see how the camera was received by the press. Following the launch was a full weekend open to the public and the press where they could come to touch and feel the new camera and also try out any of the Fujifilm products. On one floor was an active video shoot with the GFX 100, above that was a giant gallery (as shown in a few images below) showing off images shot with the GFX 100 for the launch, another floor with the cameras and tech reps to answer questions and also areas for photographers like myself to give presentations on our experiences with the GFX 100.
The gallery was quite amazing–and for me one of the coolest parts of the entire Fujikina gathering. Seeing giant prints in a huge open space–and my images among them–really was the icing on the cake. All of the photographers that shot with the camera really knocked it out of the park and produced some stunning work. In addition to the prints, Fujifilm had a few of the behind the scenes videos running in the gallery as well, which were mixed in right next to the images. On the far wall they had a giant video playing on a wall to show just how incredible the footage out of the GFX 100 looked on the big screen.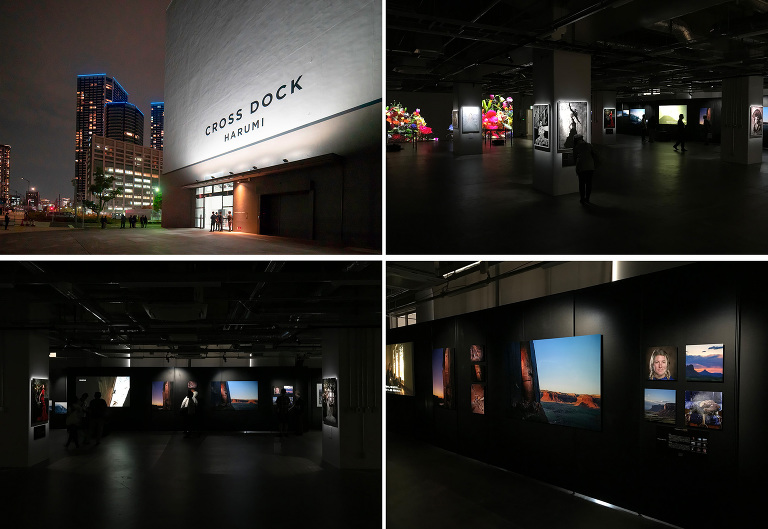 After the Fujikina event, my girlfriend and I took some time off and went down to the Kyoto and Nara region to explore Japan a bit more. We spent the next week at some of the most famous tourists sites (as shown below) and also out in the country in more remote areas, which had few if any tourists. Japan is an incredible country–perhaps one of the most civilized countries in the world. We had a great time exploring small temples and shrines, remote tea farms and under the radar restaurants. After a great experience in Japan, I am very happy to be headed back there next year to lead a photography workshop "Japan: The Art of Motion" with the wonderful Japanese photographer George Nobechi.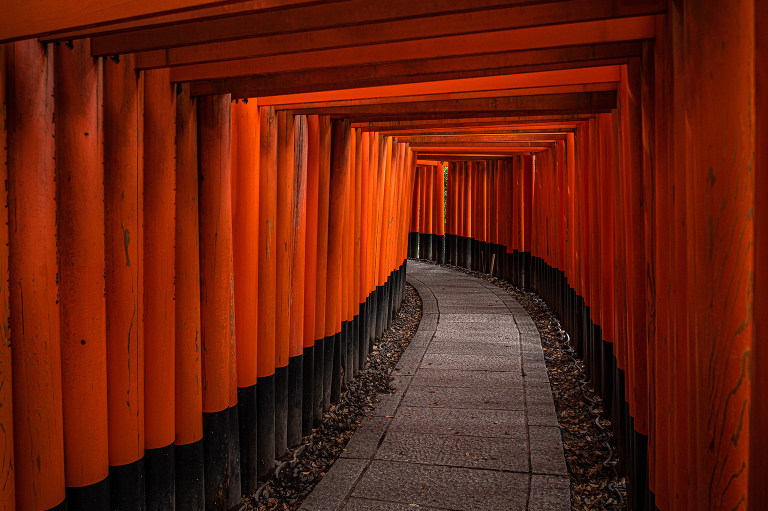 NEW ZEALAND INSTITUTE OF PROFESSIONAL PHOTOGRAPHERS (NZIPP) CONFERENCE
Wellington and Queenstown — New Zealand
I have wanted to travel to New Zealand for a long time. It has always been touted as a magical place and man, it lived up to the hype! I was invited by the NZIPP to speak at their annual conference. The NZIPP annual conference is similar to the Photo Plus Expo here in the USA. Hence, it was a great honor and a wonderful way to visit such a spectacular country.
The conference was a blast! The conference takes place in Wellington, the capital of New Zealand. I made some great connections and met some incredible photographers. Everyone was so welcoming and enthusiastic, it really started my trip to New Zealand off with a great experience. I am not sure there is anything like the NZIPP conference here in the USA, which is a shame because that is an incredibly tight community and seeing how they honored the best work of the year was enthralling. Also, seeing that they judge the images from prints was very cool–they basically created a gallery of prints with the best work of the year.
After the conference, I flew down to Queenstown on the South Island. That flight, on a cloudless day was like watching an endless array of incredible mountains stream by out the window. Straight away I headed up to Mt. Cook. As a climber, heading to the big mountains was a must. Sadly, I didn't have climbing gear or a climbing partner with me but just being able to see the landscape gave me the impetus to go back and climb a few of those peaks one of these days.
This was another trip this year where I was free to roam around and explore a new country without the constraints of an assignment. At every turn in my travels there was yet another incredible vista, a frozen pond, or any number of magical locations. No wonder the Lord of the Rings movies are predominantly filmed in New Zealand. It does almost feel like another planet. I can't wait to go back!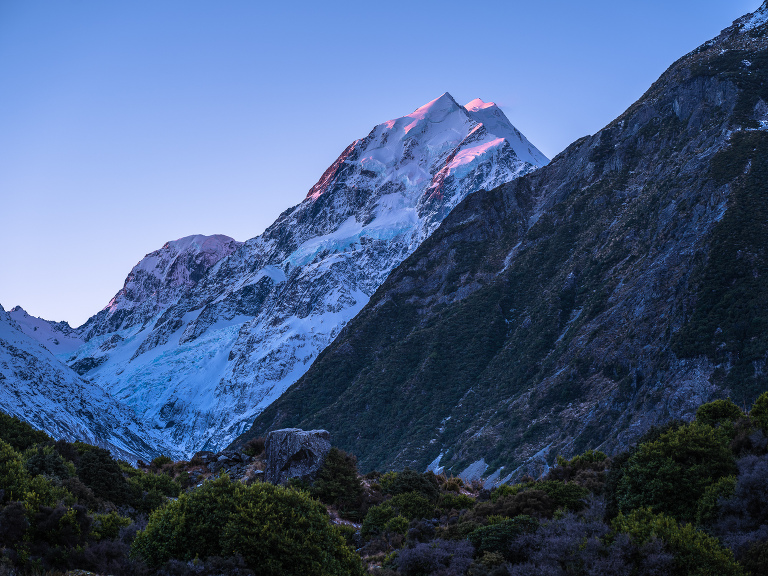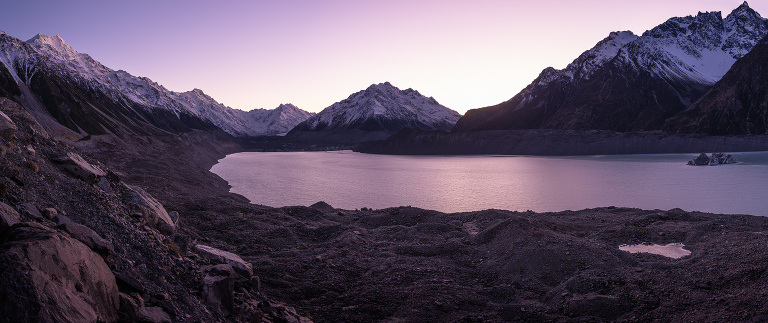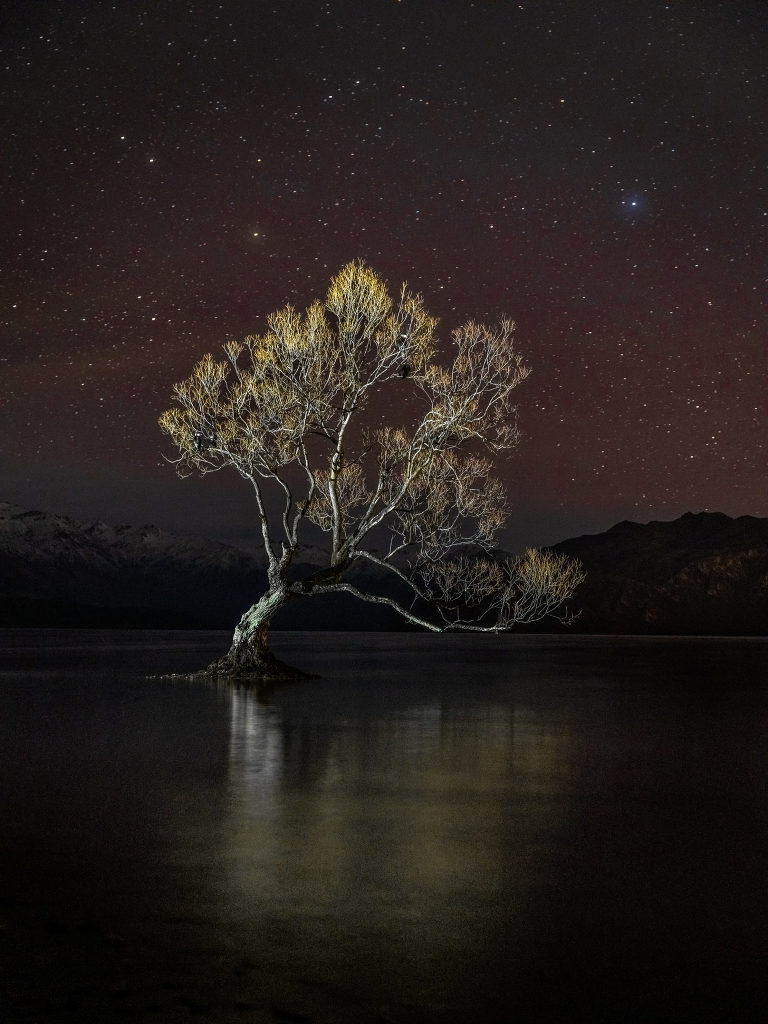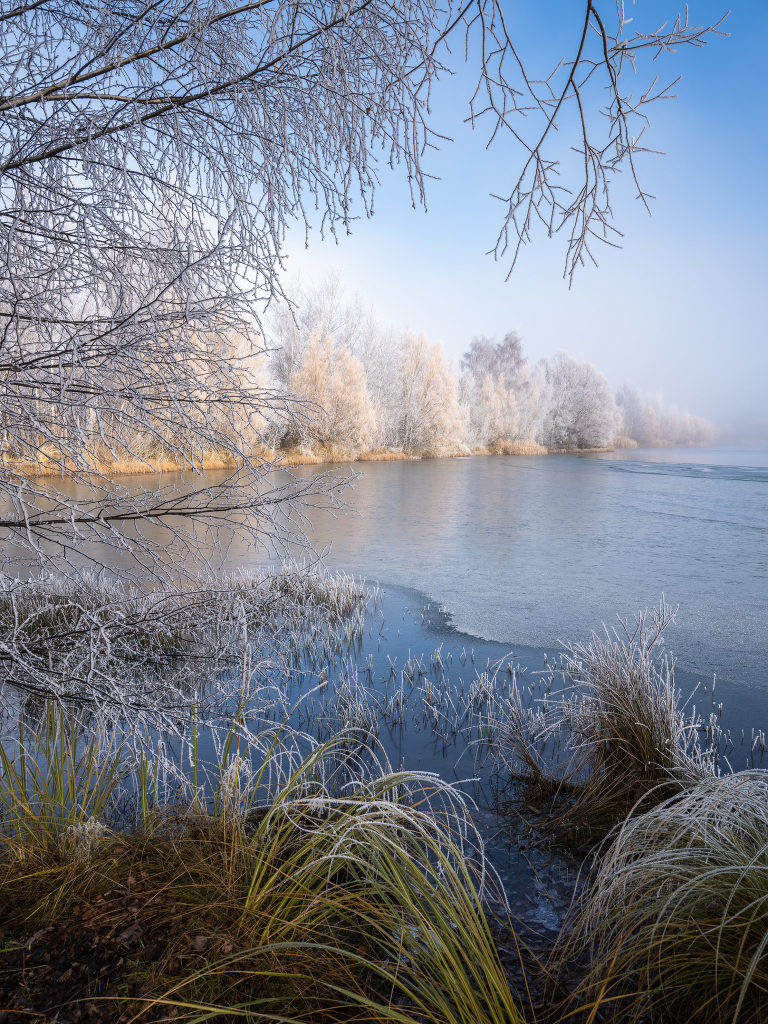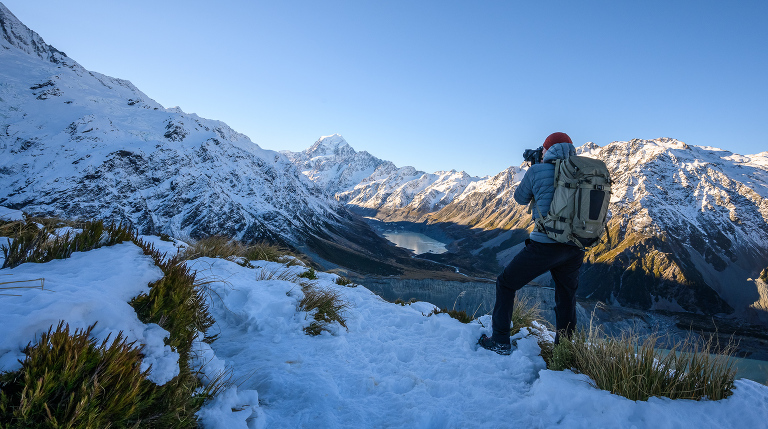 My sincere thanks to the NZIPP community and leadership for bringing me out. It was an honor to be a part of the annual conference and explore your wonderful country. There are too many people to thank, but I have to give a huge thank you to the photography community there–especially the incredible photography couple Mike Langford and Jackie Ranken who took me in, let me stay with them and with whom I had some great diners, as well as Andy Woods who set me up with a Milford Sound flight on the only decent weather day to see it at the end of my trip.
MARSOC
Camp LeJeune, North Carolina — USA
This past summer, I got a call inquiring about a project with the Marine Special Forces, also known as MARSOC (Marine Forces Special Operations Command). Photographing for the military isn't my normal gig as most of my readers will know. I was on the fence as to whether I should take this assignment but opted to do it because the images were only going to be used for internal recruiting use–you have to be pretty elite within the Marine Corps already to even apply to MARSOC. I was incredibly impressed with the MARSOC staff and of course with the soldiers as well.
We got some incredible images–some right up there with the best images of the year actually. But at this point, I have not gotten clearance to share those images. So, stay tuned. Once I get clearance to share a few I will put together a piece here on the blog or in the Newsletter.
MAMMOTH PHOTO FESTIVAL
Mammoth, California — USA
In the last several years, speaking at photo festivals has become a new thing for me. They are always a great time to meet new photographers and also hang out with my peers. The Mammoth Photo Festival was definitely a good bit of fun. First off, it was great to see several of my peers including Christian Pondella, Corey Rich, Krystle Wright, Savannah Cummins, Pete McBride and many others. It was also great to meet some legends who have inspired me for decades like Cristina Mittermeier and Frans Lanting. As freelancers, it isn't often that we get to hang out with our peers and compare notes, swap stories and hear the juicy gossip from the photo industry. These photo festivals definitely create a space for that over a beer or a group dinner each evening.
It was very nice to see Corey Rich again since we started out at around the same time–and we haven't seen each other in a long, long time. We had a great moment reflecting back on how our careers developed as they have. Corey gave a great presentation showing his work and images from his new book Stories Behind the Images.
It was also great to see my good friend Christian Pondella and to be able to go out and shoot with him a few times while teaching seminars for the photo festival. As can be seen below, we ventured down to the Buttermilks just outside of Bishop, California and had a sunrise session with some local climbers. Christian is in my mind one of the most unique adventure photographers working today in that he is a world-class athlete himself. Take a gander at his ski photography and realize he had to ski the same lines as the pro skiers but with a 40-pound backpack! He could have easily become a pro skier. There are very few of us working in the adventure sports genre that have his talent as an athlete and as a photographer.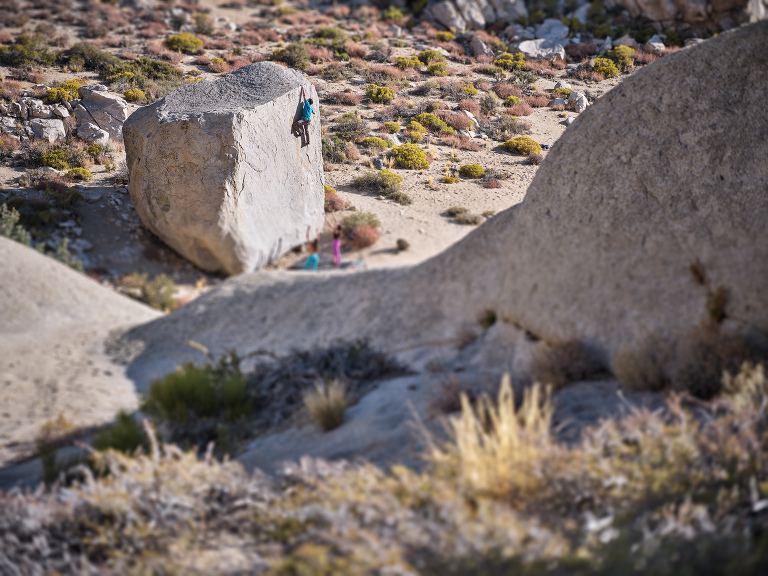 My thanks to Kevin Green, Joshua Cripps and Christian Pondella for creating and putting on the first Mammoth Photo Festival. Over the four days there were a wide variety of informative and inspiring talks and seminars. If you love photography and want to go out and shoot with some of the top pro photographers working today put this festival on your calendar for October 15-18, 2020.
RED BULL RAMPAGE
Virgin, Utah — USA
For the last decade or more I have wanted to photograph the Red Bull Rampage. In all that time Red Bull has had a tight crew photographing the event–and there was no way to get on that crew–until this year. As the newbie on the team it was a big challenge and a major learning experience. I was asked by Jorge Henoa, the Director of Red Bull Photography, to photograph the event using a medium format camera, which meant I shot the event with my FUJIFILM GFX 100. As can be seen below, the GFX 100 came through with flying colors–literally.
It was an honor to join my peers to cover this event. There is so much going on that you can't be everywhere. Hence, a crew of the top adventure sports photographers that cover downhill mountain biking is a must to get a wide variety of images and actually cover the event. Some, like Christian Pondella have been covering the Rampage since it started, and the rest of the crew including Peter Morning, Garth Milan, Paris Gore and Long Nguyen have been covering it for several years. Getting the images requires hiking all over a steep desert hillside running here and to with a forty-pound backpack. The fine red dirt seems to get into everything. Your cameras and lenses are coated with it–and your backpack requires a full-on shower after the event is over.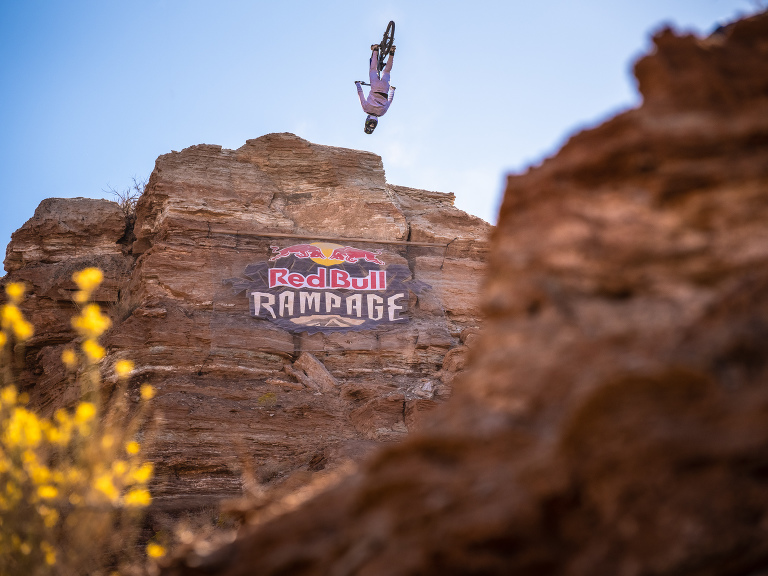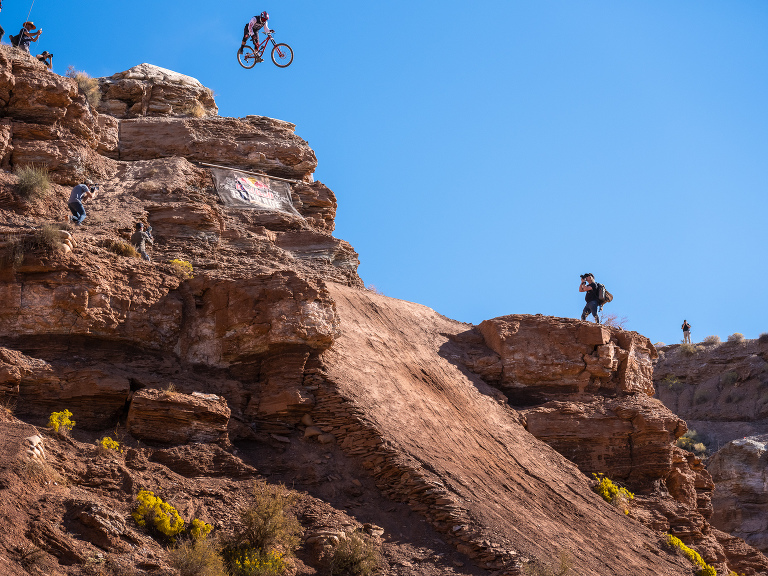 My thanks to Jorge Henao, Marv Watson and the crew at Red Bull for bringing me in on this assignment. Fingers crossed I get to photograph it next year as well. To see some of the best images from the event check out the Red Bull Rampage 2019- Best of Article on the Red Bull Content Pool. That article also has a short interview with me on my experiences photographing the event.
This year, like last year has continued to be a year of transition–working more with mirrorless cameras than I ever have and also working on more video projects than ever in my career. I realize none of the video content is shown here in this blog post but it is forthcoming. As my readers know, I am on the never-ending search for tools that help me push my photography to the edge of the envelope technically. With the GFX 100, I am still riding that bleeding edge (as are my hard drives) and it is a fantastic time to be a photographer.
So long 2019. My thanks to Red Bull, Fujifilm, Bayer, National Geographic and all of my other clients with whom I worked this year. As I said in the beginning, it has been a remarkable year. Of course, there are a whole lot of other excellent images from this year, but for some reason these shown above have resonated the most for me.
Thanks for taking the time to check out some of this years highlights. Feel free to comment on any of these images and tell me which one you think is the best of the best from this year. Happy Holidays and a Happy New Year to you all. Here's hoping your 2020 is filled with adventurous travels and amazing experiences!