Last fall, I had an assignment working with the Marine Forces Special Operations Command (MARSOC), also known as Marine Raiders, to create a series of images alongside a video shoot out at Camp LeJeune near Jacksonville, North Carolina. The Marine special forces are the most elite of the Marines and it was fascinating to spend a week capturing images mostly during the night with the Marines fully decked out on a mock mission. The images and video that were created are being used internally to encourage the top-end Marines to apply for MARSOC. These images have been held back until they could go through a series of approvals by the US Military to make sure nothing sensitive was pictured in the images. As such, because this is an unusual shoot for me and the subject matter includes a lot of sensitive topics I will keep my remarks here on the technical details of the shoot rather than give a chronological account of how the assignment unfolded.
As can be seen in the images, for the most part we were working at night under moonlight with a little help from various low-power LED lights pulled in by the video crew. The Marine Raiders were in full kit at all times and my assignment was to capture stills (and some video clips) while the crew was filming and in between takes. This was extremely challenging from a technical perspective as we were moving so fast I had to catch images on the fly . All of the images you see here were captured handheld without tripod.
For this shoot, I needed the fastest lenses I owned, which meant I was working with my trusty Sigma ART 24mm f/1.4 and Nikkor 85mm f/1.4G lenses for pretty much the entire assignment. Since I was working at crazy high ISO settings ranging from ISO 6400 up to ISO 12800, I chose my Nikon Z6 as my main camera body since it has the least amount of noise of any camera I own at super high ISO settings. The Z6 also has incredible In-Body Image Stabilization (IBIS) which allowed me to capture images handheld at extremely slow shutter speeds in the range of 1/10th to 1/20th of a second. For a good portion of the entire assignment I was working wide open at f/1.4, 1/10th second shutter speed and at ISO 6400 or higher. These were some of the toughest lighting conditions I have ever faced while on any assignment–at least in terms of the lack of light. The idea was to keep the shoot as realistic as possible and closely aligned with what Marine Raiders actually do. Hence, the nighttime images in this blog post.
I also had the privilege of working with an incredible crew on this assignment including Jon Long (Director), Gary Lorimer (1st AD), Alex Fostvedt (DP), Lane Stevens (1st AC), Ben Cowan (2nd Unit), Tal Black-Brown (2nd Unit AC). What these guys were able to pull off in terms of the video was astounding. The video was captured using a Red Gemini and Blackmagic 4K Cinema Cameras–all mounted on stabilizers. They captured a lot of footage with nothing but the moon lighting the subjects, which was mind-blowing from a technical standpoint. In between takes I would jump in and capture stills–and because I was using such slow shutter speeds most of my stills required the subjects weren't moving.
As shown in the first image in this post, we were also working in and around the Osprey tilt-rotor aircraft, which is one of the most complex aircraft in the world. MARSOC utilizes various aircraft in training, and while forward deployed, including the MV-22B Osprey, which was used to capture them sky diving out of at night during this mock mission. Not many civilians get to fly in an Osprey so it was a special honor to jump in and capture images as the team exited the aircraft. Myself and another cinematographer sat on the open back exit ramp of an Osprey capturing images of a second Osprey flying behind us, which is how the daytime images of the Osprey in flight were captured. We did some practice runs in the daylight in preparation for the night jump. Note that we had to be especially careful while capturing images of the Marine Raiders in order to protect their identities.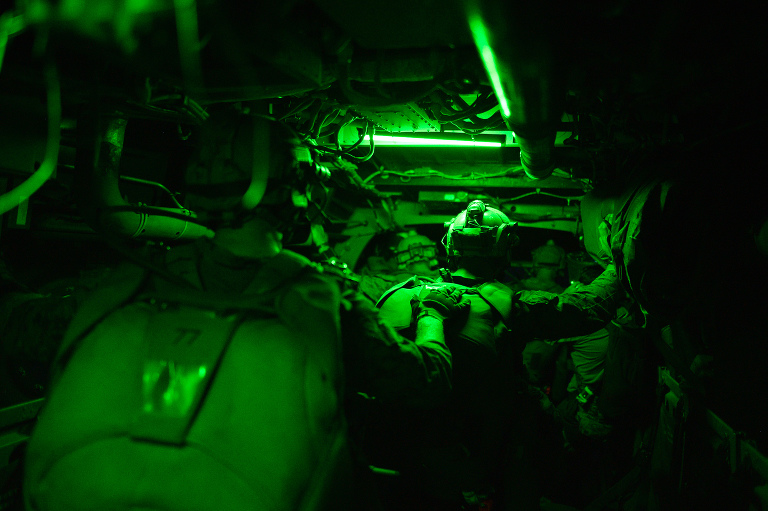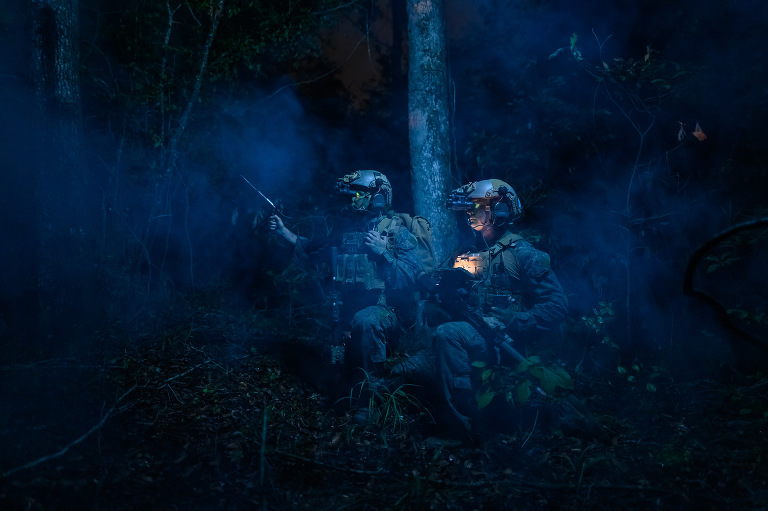 All in all, I have to say I was quite impressed by the entire MARSOC team. Even though this was just a mock mission, it was incredible to see them at work and see what they go through just in training. At one point while we were set to shoot images of the snipers I showed up a few minutes after they got set and asked "Where are they?" One of the crew pointed down right at my feet and there was a sniper all set in the grass just below me. Looking down at him I couldn't even see him until he moved his finger. Needless to say I was pretty blown away at their ability to camouflage themselves. With the help of a little green tinted LED light we made the image below.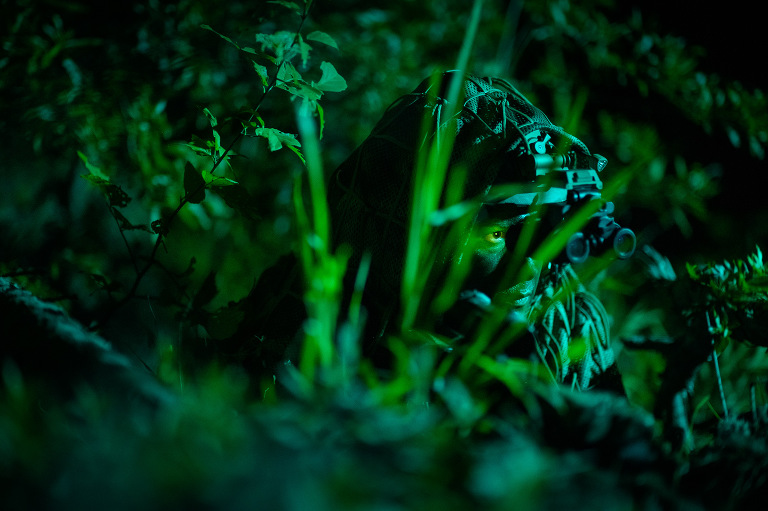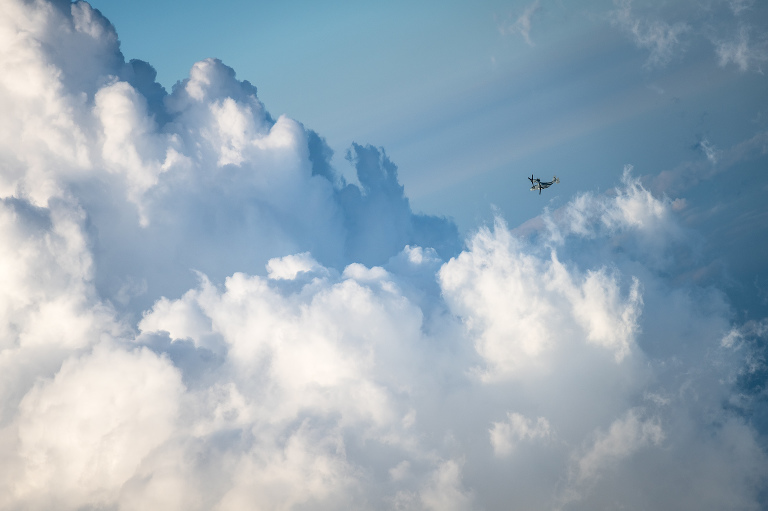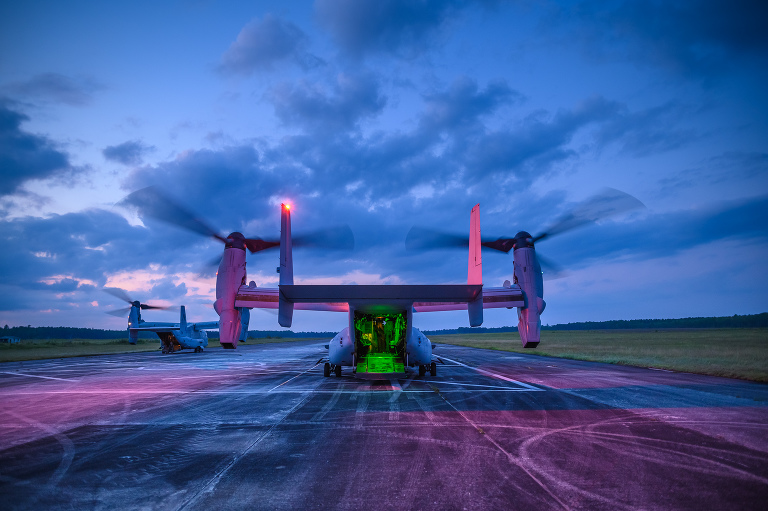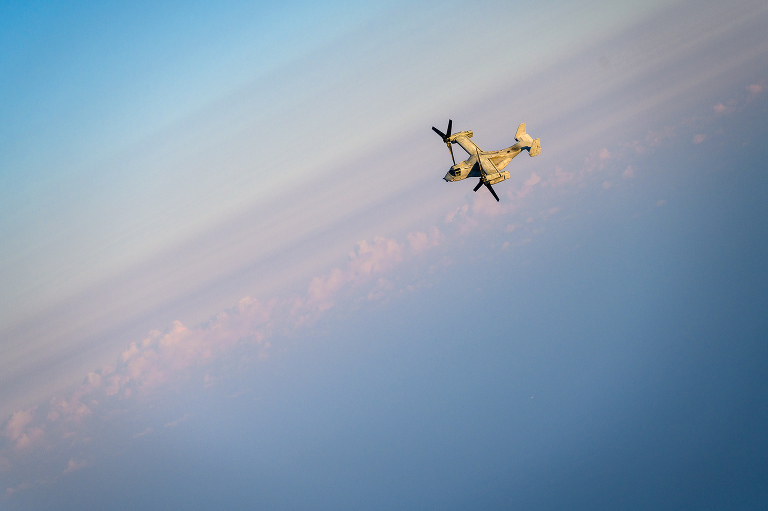 My grandfather was a Marine Sniper in World War II, and much of his career was so secret that we only learned of his whereabouts during the war after his death. He was at Pearl Harbor when the Japanese bombed the base, then was sent all over the Pacific to many of the largest battles. He also received a Purple Heart, among many other medals, and was handicapped for 70-plus years after being hit by shrapnel at Okinawa four years after he enlisted. As with many World War II vets he never spoke of the war, but he did speak about the Marines often. It was clear the respect he had for the Marines superseded the respect he had for the government. The MARSOC team I worked with were all super smart, dedicated and honorable men who did their job to the best of their abilities.
Technically, this assignment pushed the limits of what is possible with modern digital cameras about as far as I have ever seen. I was blown away by the handheld images we were able to create at such shockingly low shutter speeds. The lighting employed to get any detail in the soldiers was comical at best (in terms of its brightness). I also used the FUJIFILM GFX 100 for some of these images and for capturing 4K footage for the motion component of this assignment. The GFX 100 would have been my main camera but I need faster lenses than were available for the GFX system–specifically a fast wide angle lens. Hence, the Z6 stepped up the plate and performed incredibly well.
As someone who has not spent much time around the military or military bases this assignment was quite interesting and the images we produced are quite frankly like nothing I have ever captured in my career. A few of the images–especially the second image in this blog post–look like they were captured on a modern day Apocalypse Now film set. As an adventure photographer, I have seen a lot but this assignment was out there in a completely different way knowing that the team we worked with could and most likely would be sent out on a real-world mission at any moment. My thanks to Nathan Simpson for this assignment, and also thanks to Becca Newman and the entire MARSOC team for working with us deep into the night for an entire week.