Note: Of course, at the moment with the Covid-19 virus virtually everywhere and all of us on lockdown I am not traveling at all. All of my assignments have either been cancelled or indefinitely postponed as they should be. I have had this blog post in the hopper for a while now and thought that it might be of interest to some–and entertaining for others. I hope this finds you all doing well, staying healthy and staying home.
In April of 2019, Justin Stailey, the Senior Manager of Product Development for FUJIFILM USA, flew out to New Mexico to hand deliver a prototype FUJIFILM GFX 100 and help me get to know the camera. I was set to shoot a major assignment with the GFX 100 a few weeks later for the launch of the camera and was also flown to Japan to attend the launch event and the 2019 Fujikina conference as well. When I returned home from Japan, I received one of the first GFX 100 camera bodies in the USA–long before it was actually available on the market. Since shooting that assignment for the launch of the GFX 100, and getting my own production version of the GFX 100, I have barely even picked up my Nikon D850 or my relatively new (at the time) Nikon Z6. There have only been a handful of assignments this last year where I needed something specialized (like f/1.4 lenses) for any of my assignments. Even if I needed slightly faster glass or a specific camera to pull off an assignment, the GFX 100 went with me on every single assignment last year and was used for both stills and video. Here in this blog post I thought I would present some of my thoughts on the GFX 100 and the Fujifilm GFX system after using it for a full year.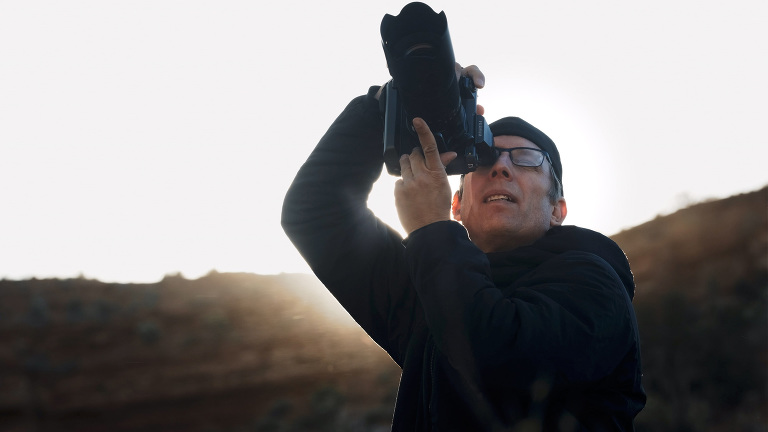 It wasn't my intention that I would fully switch over to the GFX 100, and I am still grappling with which camera systems to take on which assignments–and how to transport multiple camera systems when flying. The image quality produced by the GFX 100 is so mind-altering that I have worked hard to maximize the performance of this camera for use on a wide range of subjects including action photography, which is typically not the genre associated with medium format photography. See my earlier post on Setting up the FUJIFILM GFX 100 for Action Photography.
Even landscape photography is a bit more involved than one might think with medium format cameras (and here the GFX 100 is no different than the Hasselblad and Phase One offerings). The shallow depth of field created by the larger sensor means that even at f/11 (on the cusp where diffraction starts to lower image quality) it is not possible to get a full landscape with close objects completely in focus from near to far as it is with a full-frame (35mm) or a smaller APS-C sensor. Hence, I have to use focus stacking and take multiple images to get everything from a few feet to infinity in focus. This is commonplace with medium format systems though not all of them have a focus stacking feature like the GFX cameras have. Regardless, the image quality is so phenomenal that doing a three-to-five image focus stack is worth the effort and the post-processing is fairly easy.
The Long and Winding Road of Adapting a new Camera System
When Nikon and Canon release new DSLRs, like the new Canon 1DX III and Nikon D6, they purposely don't radically alter the design of the camera. Having shot Nikon for nearly 35 years now, I know my Nikons–and the nuances on how to eke out the best from them–incredibly well. Even the new Nikon Z6, which I have had for over a year, feels quite familiar and there was very little for me to learn to get up to speed with that camera. By contrast, over the last year with the GFX 100 I have had to really dive in deep and scour the menu to learn everything I could. It has not been a difficult path to get to know the GFX 100 but it is a complex camera with incredible capabilities and if I want to get the best out of it then I need to know how I can dial it in to get the best possible results. Even one year later, I am still finding new menu items that I have seen before but never really explored.
As an example, setting up the camera to use High Speed Sync or Hi-Sync flash techniques with my Elinchrom strobes is quite a bit more complex than with my Nikon D850. This is partially because the GFX 100 is a mirrorless camera and I have to go in and turn off the EVF preview so I can actually see the subject and also because there are considerably more flash settings to deal with in the GFX 100 menu as well. As another example, when using one of my older Hasselblad leaf-shutter lenses with the Fujifilm H-Mount Adapter G, there are several menu changes that have to be made to get the camera to use the Leaf Shutter. None of these are that difficult to set up, it is just educating yourself to know how the camera works and what is required to get the desired result. It would be the same scenario if I switched to Canon, Sony or any other camera brand. I remember years ago shooting with a Canon DSLR on one occasion and I couldn't even figure out how to turn it on at first.
What I have found is that the GFX 100 has just about any and every feature you could ever want in a camera. Lots of people that test this camera out for YouTube camera reviews never spend enough time (and by that I mean months and months of shooting with the camera) to figure out how to squeeze the best possible performance out of the camera. I have heard too many reviewers say that this is not an action camera–and it definitely is not the camera for shooting the NFL, NBA or any other major league sport–but it does have impressive autofocus capabilities if you set up the AF for fast action. I am not saying it will then track action on par with the best sports cameras but it will do far better than most might imagine. I shot the Red Bull Rampage, which is a fast action downhill mountain biking event, with this camera last year and it held its own.
This is one camera where I highly recommend reading the User Manual. I have to say that I am only now starting to feel like I know the GFX 100 camera really well after a year of using it. It has taken a long time to learn about all the various shortcuts and settings and I now feel I have command of the camera and can change settings quickly and efficiently.
The GFX Lenses
The GFX lenses are superb. In fact, across the board they are so good that I am a bit spoiled and find many of my Nikkor lenses wanting in comparison. Compared to the extremely expensive Hasselblad lenses I had for my H5D 50c WiFi, I have found the Fujifilm GF lenses to be even better than those legendary lenses. I have a wide array of the GF lenses and none of them are weak. I also just shot an assignment for Fujifilm with the new GF 45-100mm f/4 lens (see the ice climbing image below) and that is another stellar addition to the lineup. My biggest issue these days is figuring out which lenses to take on assignments as I can't fit all of them into my f-stop backpack.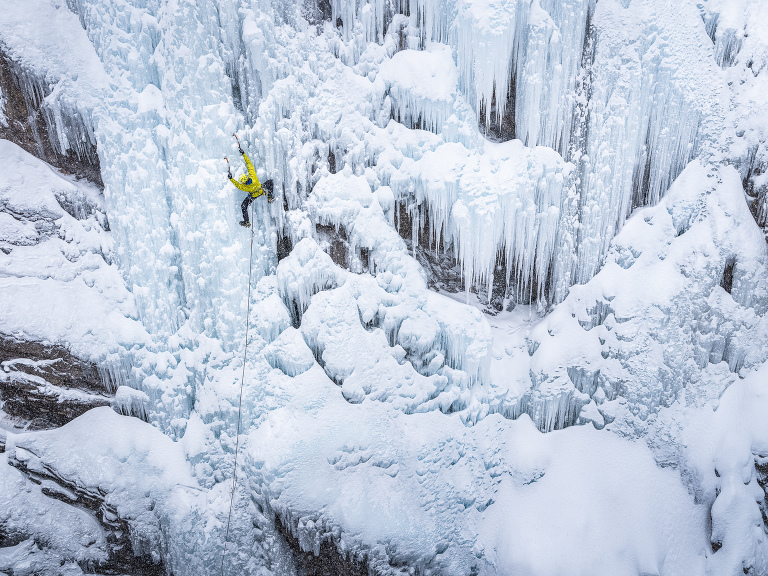 At this point, I am not really wanting for any new lenses, though I will admit the new GF 30mm f/3.5 and GF 80mm f/1.7 that were announced a while back do sound exciting. If anything, I can see how a super wide 17mm tilt-shift lens would be really exciting for landscape photography and it would also negate the need to focus stack. On the other end, it is fun to think about a medium format super telephoto–something like a 500mm f/5.6, even though it would be a giant lens. Other than those dream lenses, the GF lens lineup is very well flushed out.
Using the GFX 100 with Hi-Sync & High Speed Sync Flash
The GFX 100, like the GFX 50s and 50r, work very well with my Elinchrom ELB 1200 and ELB 400 as well as the ELB 500 TTL. The Fujifilm cameras are a bit more complex to use with Hi-Sync and High Speed Sync as you have to make a few key settings in the cameras Flash menu, i.e. setting the flash mode to "M" (for Manual) and also setting the flash sync mode to "FP". I have also found that I have to set the Overdrive Sync (ODS) setting on my Elinchrom Transmitter Pro to 1.2 or thereabouts to get the best light output when using Hi-Sync. On both the camera and the transmitter these key settings are by default reset to TTL on the camera and an ODS setting of zero on the transmitter every time you turn them off, which makes sense but is somewhat frustrating in use. It is the same with most other cameras as well (aside from Nikons since they do not need any ODS setting adjustments). Regardless, the results are excellent–as shown below in this portrait captured using HSS with the Elinchrom ELB 500 TTL and the new GF 45-100mm f/4 lens on the GFX 100.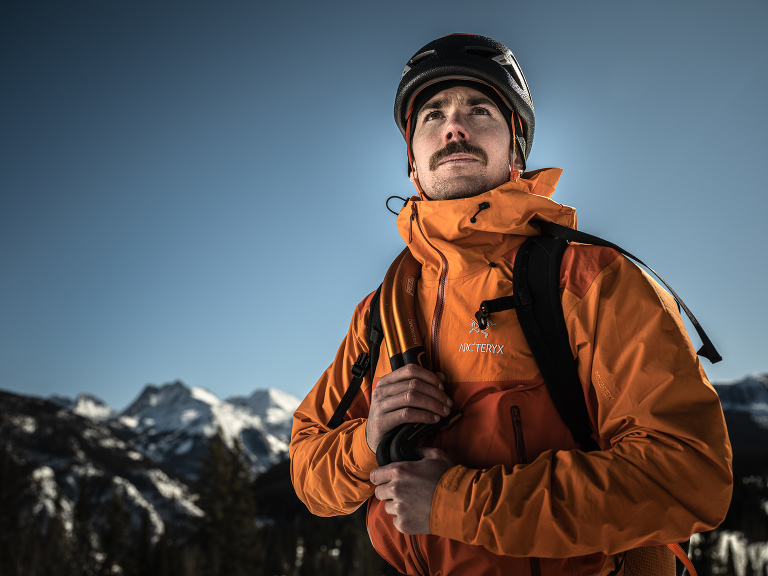 I have also used the GFX 100 with the FUJIFILM H Adapter G, which allows one to mount the Hasselblad H series leaf-shutter lenses onto any of the GFX cameras. Using this adapter and the Hasselblad leaf-shutter lenses allows one to sync the flash at any and all shutter speeds (up to 1/800th second), which is a nice option for studio portraiture. This essentially gives us the best of both worlds for syncing flash via normal flash sync speeds with the Fujifilm lenses, using Hi-Sync (HS) and High Speed Sync (HSS) with the Fujifilm lenses, and also working with leaf-shutter flash techniques via the Hasselblad lenses. I have done a few portrait shoots using the Hasselblad HC 50-110mm f/3.5-4.5 and the adapter. Even though this technique forces you to use manual focus on the Hasselblad lens, in a portrait scenario this is not that big of an issue to overcome.
During my last portrait shoot I also found the flip-out rear LCD to be extremely useful with the camera on a tripod. With my subject seated and the Face Detection and Eye AF engaged I didn't need to look through the camera viewfinder and could just look down occasionally to make sure the Face Detection was still engaged on his face. This allowed me to interact with the subject and not have the camera in front of my face, as photographers used to do with the waist level viewfinders on the old-school Hasselblads.
File Size and Hard Drives
No doubt, the GFX 100 image files are massive. That has to be taken into account when purchasing this camera as you will blow through hard drives like there is no tomorrow. I have the latest Apple MacBook Pro and it seems to have no trouble working with the GFX 100 image files in both Adobe Lightroom Classic CC and Capture One Pro. Of course, once I work up the raw image file and then save it as a layered-PSD file in Photoshop the file size often balloons to 1.5 GB or larger. In the last year, I added an OWC 84TB Thunderbay 6 RAID array to my desktop to go along with the other three giant RAID hard drive arrays I already had. It will obviously take me some time to fill that giant hard drive array up but it just goes to show that high-resolution stills, just like high res 8K video, requires huge amounts of storage.
In-Body Image Stabilization (IBIS)
The IBIS built into the GFX 100 is hands down the most useful feature in this camera–aside from the astounding image quality. Without that IBIS system, the GFX 100 would be quite difficult to use and get sharp images at normal shutter speeds. I never turn the IBIS off. Even if I have the camera on a tripod, which is normally where camera manufacturers tell you to turn off the IBIS, the GFX 100 helps stabilize the image even in high winds. I have done testing with the IBIS both on and off and I have not seen any reason to ever turn it off. For such a high resolution camera this feature alone allows for a much wider shooting envelope in terms of shutter speeds–and it makes the GFX 100 a handhold able camera whereas the Hasselblad and Phase One 100 MP and 150 MP cameras would be very difficult to use handheld except at the highest shutter speeds–and still get sharp images.
4K Video
The GFX 100 is not only a stellar still photography machine but the video output from this camera is also quite incredible. It hasn't been widely discussed but the look and quality of the video output is (in my humble opinion) only a hair's breathe away from a much more expensive Red Digital Cinema camera–at a quarter of the cost. I have tested the camera using my Atomos Ninja V recorder so that I can output the highest quality F-Log and/or 4:2:2 10-bit footage and while this setup (shown below) is a bit of a beast the footage is remarkable. Of course, the GFX 100 is not set up like a pure motion camera so it is a bit ungainly but it is a great rig when you need to swap back and forth between stills and video, especially since the mode dial on the top left side of the camera allows you to switch between stills and video easily and it retains your exact settings in each mode.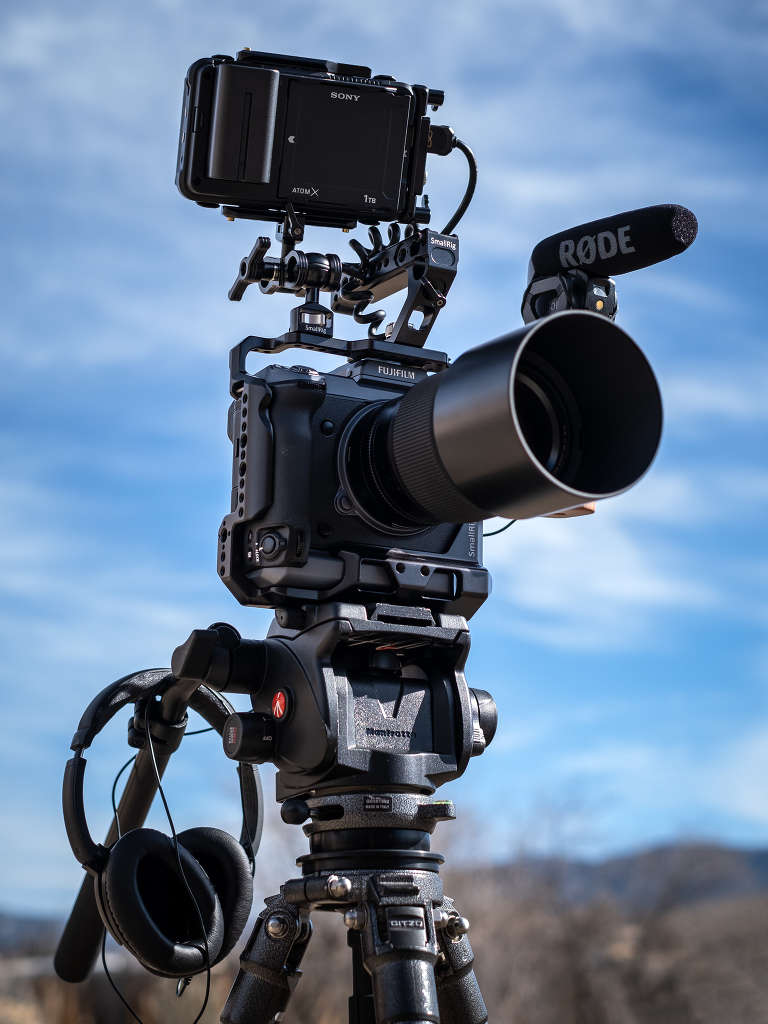 As shown above, I have my GFX 100 setup with a SmallRig cage, handle and wooden grip (hard to see as it is on the far side of the camera in the above image) to help carry the setup when shooting handheld. With the Atoms Ninja V on top, a microphone and headphones this is a big and heavy system. For handheld work I have found the IBIS is sufficient for stabilizing the camera. But of course for really high-end work, stripping down the camera and putting it on a gimbal (with a small- to medium-sized lens) would be the best option. Stay tuned for more on the motion capture capabilities with he GFX 100.
Wrapping Up
In short, the GFX 100 has set a new bar in image quality and functionality for medium format cameras. The autofocus is beyond anything ever seen in the medium format genre. And after a year, I have a good handle on the complexities of this camera and how to get the best results from it in a wide variety of situations. I am sure there is still more to learn. The good news is that I don't see this camera being eclipsed anytime soon. The 50 MP medium format sensor used in the other GFX cameras, Hasselblad's X1D II and Pentax's 645D was released in 2014 and it is still going strong and still produces some of the best image quality of any camera out there. As with many medium format cameras, they are not replaced nearly as quickly as their smaller format brethren. I foresee the GFX 100 having a long life as a top-end camera.
The upshot here is that I am completely spoiled now. Are there things I want added or changed about the camera? Sure, a few items here and there but overall those are small quibbles. No camera that I own is perfect. I do look forward to the new lenses and hopefully a super-wide tilt-shift lens at some point but otherwise even one year later I am still incredibly impressed by what Fujifilm has created in the GFX 100. Having spoken at length with the Fujifilm engineers and knowing how incredibly difficult many parts of this camera were to build (like the crazy tolerances of the IBIS mechanism) the fact that they can mass produce something of this caliber is an engineering miracle. Kudos to Fujifilm, from one year on, for creating such a ground-breaking camera system.