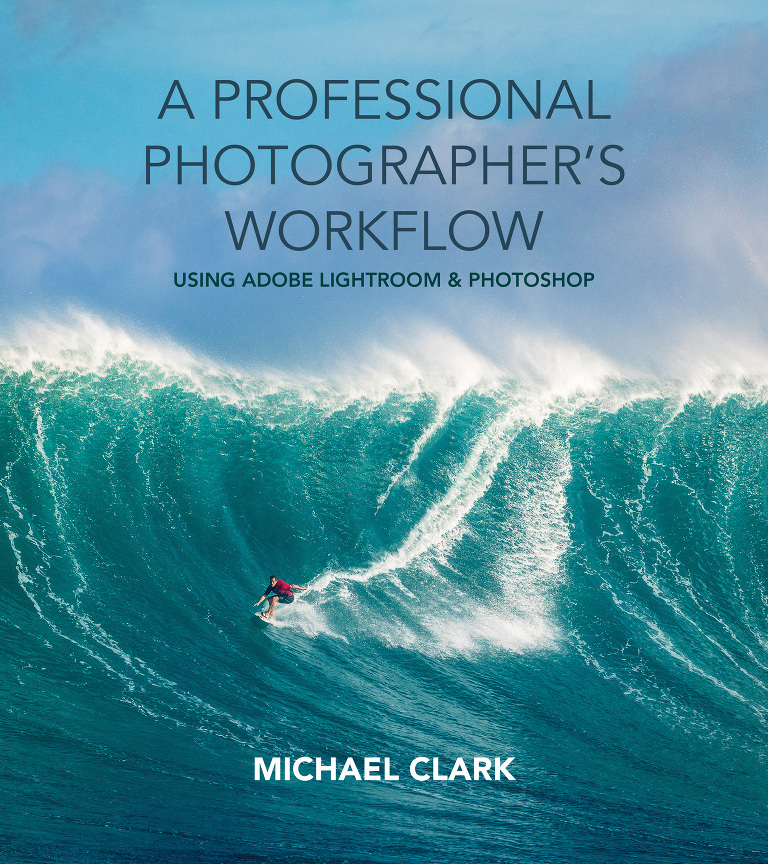 I am happy to announce that I have updated my highly regarded e-book, A Professional Photographer's Workflow: Using Adobe Lightroom and Photoshop, for Lightroom Classic CC (2020) and Photoshop CC. This book is a 565-page digital workflow workshop in book form. This new edition was sorely needed as the last version was nearly five years old. To purchase the e-book visit my website.
The back story to this e-book goes all the way back to 2006, when I shot the first assignment for Adobe Lightroom before it was even launched. George Jardine, then the Product Manager for what was known as "Shadowlands" internally at Adobe–and later became Lightroom–hired me for a freeride mountain biking assignment in the spring of 2006 to create images to promote the new software launch. We shot the images just outside of Moab, Utah at Bartlett Wash with a few top riders in the area and afterwards George showed me how to use the software so I could work up the images after the assignment. At that point, it dawned on me that not many photographers get to learn a top-end piece of software from the folks that designed it. A few months later I was teaching a digital workflow workshop with Nevada Wier and Jerry Courvoisier at the Santa Fe Workshops. We all put together a 20- to 40-page outline of our digital workflow for the workshop participants and afterwards I expanded that into the first edition of the digital workflow e-book, which was a mere 97-pages.
Fast-forward to today, and now we have the 7th edition, which has been massively expanded and is just shy of 600-pages. This is not your normal puff-piece e-book. It is just as dense as any textbook and is filled with basically everything I know about a complete digital workflow. As I learn new techniques, I add them into the next version of the e-book. Over the last fourteen years, the e-book as sold thousands of copies and some folks have purchased five or more versions of the e-book since the beginning. My sincere thanks to those that have purchased the e-book and have helped make it what it is today.
Over the last few years I have just been too busy with assignments to update the e-book. I started work on revamping this book from front-to-back about a year ago. In 2019, I had so many assignments and was on the road for over nine months, which made it tough to update the book but I worked on it as much as I could between assignments. In the last six weeks, with Covid-19 keeping us at home I have been able to make some serious progress and finally was able to finish the update. The e-book now includes an entirely new chapter on Equipment Selection and brand new links to Full HD videos where you can watch me work up three images in both Lightroom and Photoshop.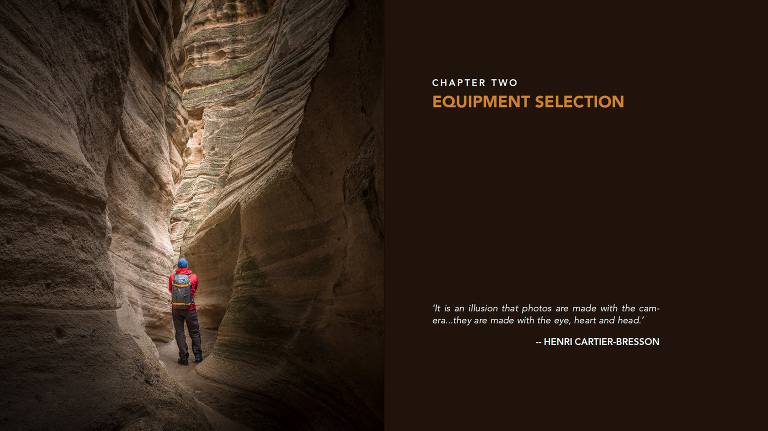 With every new update and revision of the e-book, I always try to add new information to help further enhance the usefulness of the e-book and also to help those that purchase it grow their understanding of this complex topic as I grow my own learning. At this point in the camera industry, even though it is going through some tough times right now, as is the rest of the World, we are at a major crossroads. Mirrorless camera technology is and has been making great strides. It is the future of interchangeable camera systems and is already more than capable for most genres of photography–save for action and sports photographers where the autofocus may not be quite up to snuff save for a few cameras.
I have been reticent to include a chapter on camera gear for a long time as it is constantly being updated and changing. Also, it is so easy to get mired down comparing cameras and camera brands that I wanted to avoid that altogether. But now, at this crossroads between DSLRs and Mirrorless cameras, it seemed appropriate to discuss a number of different topics related to modern digital cameras. This new chapter on equipment includes a discussion of modern camera technology, a comparison of Mirrorless vs. DSLR cameras, the advantages and disadvantages of Mirrorless camera systems, a discussion of digital camera formats including medium format cameras, and much more.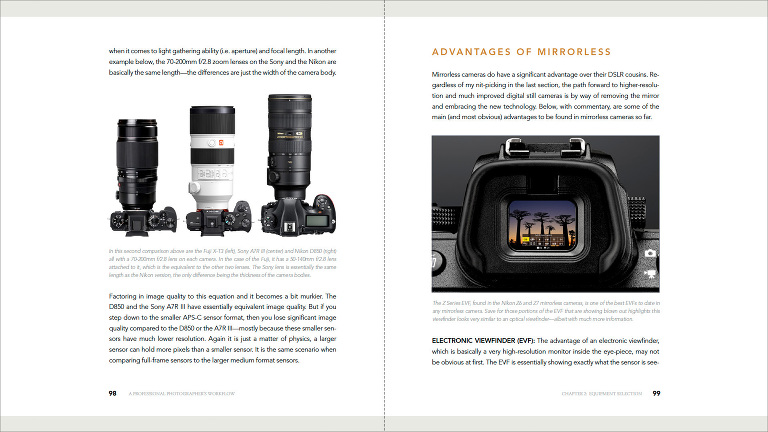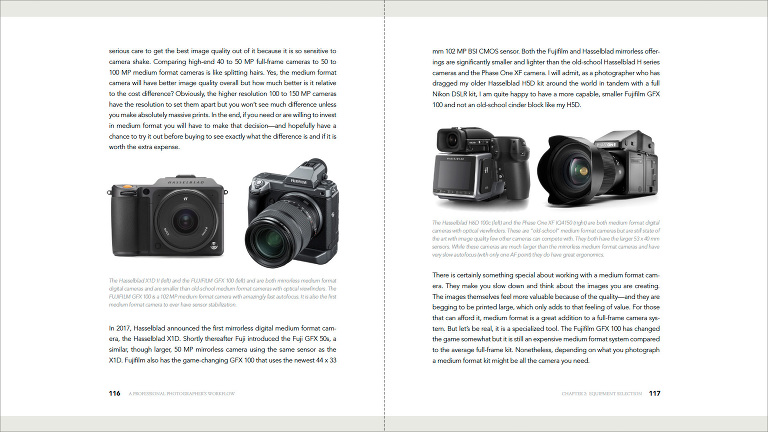 The reality is that there are really no bad cameras on the market these days. Sure, there are some that are better suited for one genre or another and some that have better image quality but in general all of the modern digital cameras on the market produce fairly incredible images. This chapter was included in the book to help photographers make good decisions about the type of camera that will work best for their needs.
In addition to the new chapter, the new videos and the updates throughout the book, the e-book also comes with a Photoshop Action which lays out the basic adjustments I do to pretty much every image. The Photoshop Action comes with a ReadMe PDF that explains how to load that action into the Actions palette in Photoshop. It will work on just about any version of Photoshop that you might have.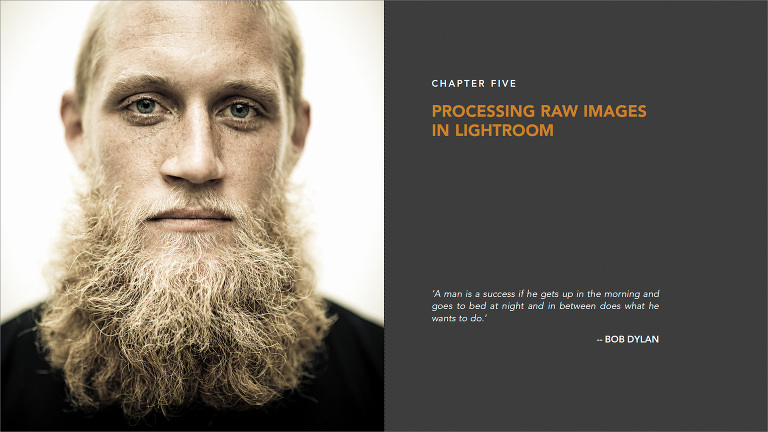 I can honestly say that I have not seen any other book on the market today that includes as much detailed and comprehensive information as this e-book does on a complete digital workflow from setting up the camera to backing up your images and everything in-between.
"I will boldly state right here and now that there is no other resource, be it a book, website or anything else, that has such a thorough and complete discussion on real-world color management issues as does this e-book."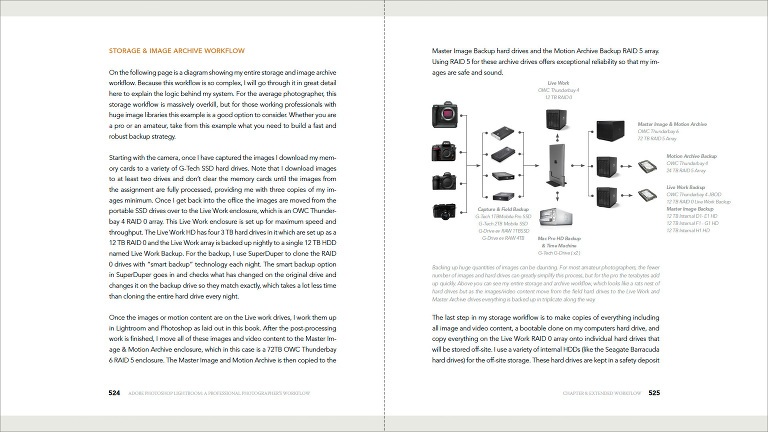 To purchase the e-book please visit my website. If you would like to download a sample of the PDF with the table of contents and the introduction click here.