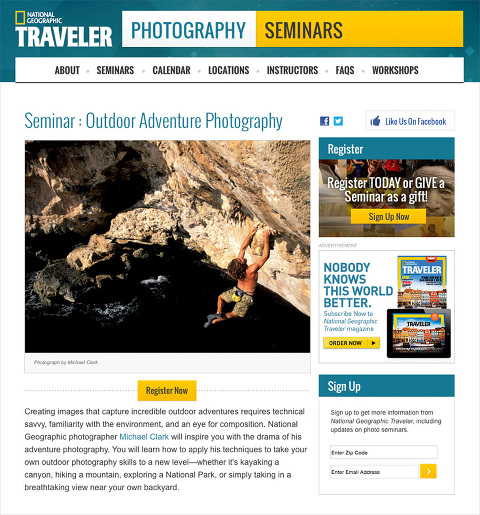 I am happy to announce that I will be part of the National Geographic Traveler Seminar series in 2015. It is an honor to work with National Geographic on these seminars. I will be giving a half day seminar in Boston on Outdoor Adventure Photography and a full day seminar with my good friend Nevada Wier in Washington D.C. on Adventure Travel Photography.
These one day seminars cover a lot of ground and are jam packed with information and entertaining stories. These seminars are aimed at amateurs who want to improve their photo skills and take their photography to a whole other level. They include technical details as well as inspiration – and they are quite affordable. Here are the exact dates of the seminars I will be teaching:
Outdoor Adventure Photography – Boston University – Boston, MA – March 22, 2015
Adventure Travel Photography – National Geographic Society – Washington, D.C. – April 12, 2015
Click on the links above for more details and to register for these seminars.
From the National Geographic Traveler website:
"If you've ever wondered what it is that makes a photograph great—or more important, how you can make a great photograph—here's your opportunity to learn from our experts. National Geographic's renowned photographers shed light on every phase of the art and science of picture taking.
Our seminars will teach you how to judge and control natural light to your advantage, find the right composition when framing your picture, know when it's best to use flash, discover what's new in digital camera equipment, and much more. You'll get information on photographing every type of subject from landscapes and nature to portraits and people, plus insider tips and personal viewpoints from some of the most talented photographers—and storytellers—in the industry.
No matter what your skill level, National Geographic Traveler Photography Seminars will show you a whole new perspective on what you can do with photography."
I hope you can join us for one of these Seminars in the Spring of 2015.