Disclaimer: I am sponsored by Elinchrom and have received some of my lighting gear as part of that sponsorship. Regardless of my sponsorship, I look for the best equipment that suits my needs and I was already using Elinchrom lighting equipment before receiving any gear as part of my sponsorship. I was not paid to test out the ELB 400 and give feedback to Elinchrom and I was not paid to create and post this review of the ELB 400.
Over the last few months, I have had the honor of testing out the new Elinchrom ELB 400 before it was announced this morning. The ELB 400 is an updated version of the venerable and well-loved Elinchrom Quadra Hybrid RX. Elinchrom has simplified their naming convention to make all of their product names more uniform. The "ELB" portion stands for "Elinchrom Battery" and the 400 signifies that it is a 400 Watt/second (Ws) strobe. With this update, Elinchrom has added quite a few new and exciting features into this lightweight strobe, which in my mind makes it one of the most versatile and advanced strobes anywhere.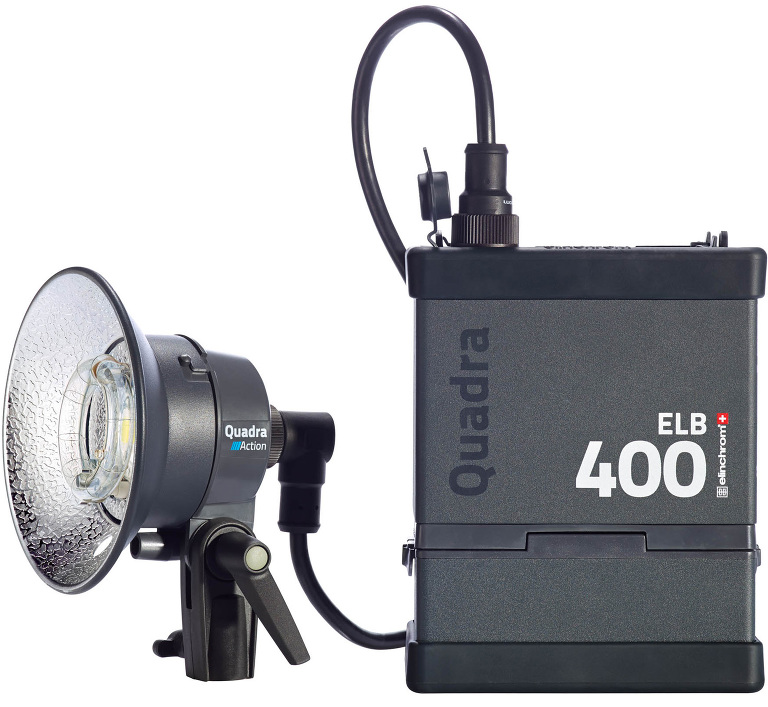 Before we get into this review, a little background on my experience with the Quadras, which I have used since they came out almost six years ago. I currently have both the Elinchrom Li-Ion Hybrid Quadra and the first generation Lead-Gel Quadra and both have served me very well. I have taken the Quadras to the extremely humid jungles of the Amazon, on ice climbing shoots where they sat in freezing snowy conditions for hours and I have used them in Patagonia in some wild, wet weather. They have survived it all and my units barely even have a scratch on them. They have also been incredibly reliable. I have never had one of my Quadras go down on me, ever.
The reason that so many adventure sports photographers use Elinchrom strobes is that they are (in my experience) the most weatherproof strobes on the market – and they can deal with a fair amount of abuse and continue to keep on firing. As in the image below, a little rain or snow isn't a big deal with the ELB 400 (or with my 1,100 Ws Rangers). I know that Elinchrom doesn't like me to say that these units are water resistant but in my experience they can deal with a lot. In fact, I have never had a unit go down due to getting wet. The Elinchrom battery-powered strobes are in my experience the most weatherproof of any strobes on the market, bar none.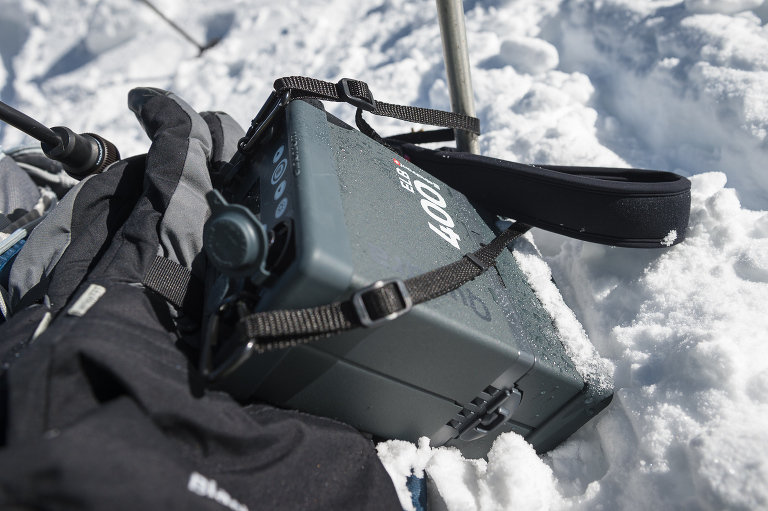 Above: While on this shoot with the new ELB400, I gave it the full snow test. As you can see in this image, there was quite a bit of snow and moisture sitting on the pack. Here there are water droplets all over the side of the power pack. The ELB 400 didn't miss a beat and reaffirmed my belief that these the Elinchrom battery-powered strobes are the most weatherproof units on the market.
The first thing you will notice about the ELB 400 is the new OLED display on top of the power pack (see the image farther down in this blog post). This new OLED display is very similar to the one on the back of the ELC Pro HD monolights that Elinchrom released last year. The new OLED display is very easy to read and shows just about every bit of information you could ever want. It also makes diving into the custom settings and menus a much simpler and easier task than with any previous version of the Quadra.
Aside from the new display and a cleaner, easier to understand button layout on top of the pack, the build quality and form of the ELB is reminiscent of the Quadra Hybrid RX Li-Ion. I know for many that the amount of plastic in the flash heads was a point of concern with the Quadras. The flash heads for the ELB 400 are practically identical, though the cables that connect the flash head to the power pack have been slightly refined. After traipsing all over the world with my Quadras for the past five years, I have yet to damage a flash head. I am not crazy hard on my gear, but I don't pamper it either. I love the lightweight nature of the flash heads and when they are mounted onto a light modifier like a softbox they are really easy for an assistant to hold and the flash head itself seems to mold into the light modifier.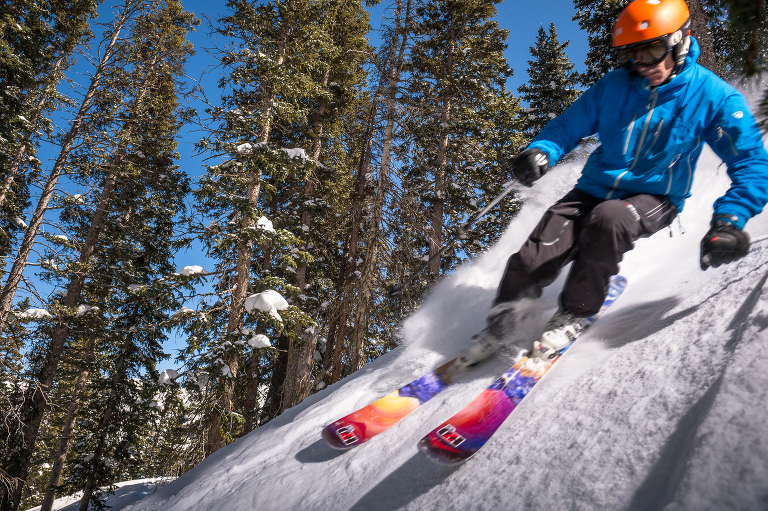 Above: Expert skier John Fullbright skiing at the Taos Valley Ski Area near Taos, New Mexico. Shot with the Elinchrom ELB 400 and the Pro Flash Head. Since I wasn't using Hypersonic with the Pro Head, I instead opted to create a motion blur of John flying by my position. Image Data: Nikon D4, Nikkor 24-70mm f/2.8 lens @ 24mm, ISO 100, 1/250th sec at f/7.1.
To test out the ELB 400, I headed up to the Taos Ski Valley, where they have received over four feet of fresh powder in the last week, to shoot some skiing with my buddy John Fullbright, who is an expert skier and whitewater kayaker. I had the ELB 400 along with a Pro Flash Head with me on this shoot. It was a bluebird sunny day at the Taos ski area, which meant with 424 Ws we headed into the trees not only for the shade but also for the bottomless powder. The ELB 400 easily lit up John in the trees (as can be seen above). The amount of light power these little units have is incredible, especially when considering the weight.
One thing you will notice about this ski image, which I have to say isn't a phenomenal ski image by any means, is that John is blurred in the frame. This is because I had the Pro Head, which has a t0.5 flash duration of only 1/1,200 second at full power (424 Ws). Because of this limitation, I chose to create a motion blur of John as he skied by my position. If I had used the Action Head, I would have had a much faster t0.5 flash duration of 1/2,800 second, which would have frozen John's movement completely. And if I had used two Action Heads, one each plugged into the A and B ports, I could have gotten an amazing t0.5 flash duration of 1/4,000th second at full power. Note that for this shoot, with the Pro Heads, I could have used the PocketWizard Control TL transceivers to trigger the ELB 400 in Hypersync mode at a shutter speed up to 1/4000th second with the Pro Heads, but I didn't have those with me for this shoot.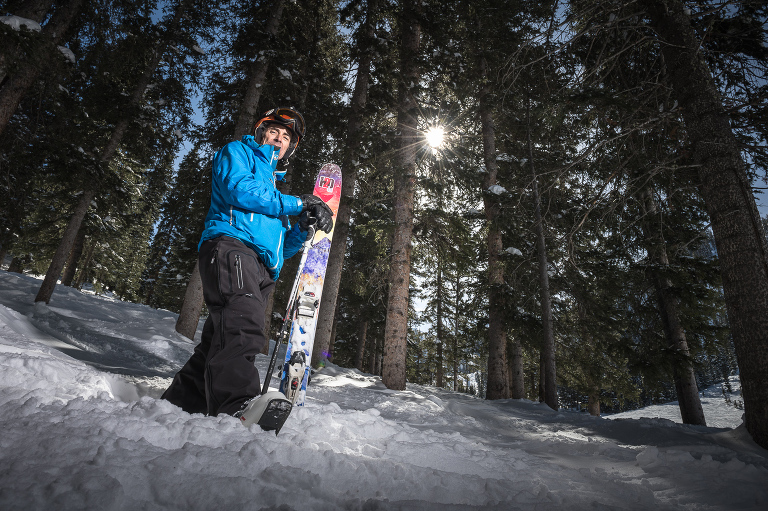 Above: Portrait of John Fullbright shot at the Taos Ski Area near Taos, New Mexico. Image Data: Nikon D4, Nikkor 24-70mm f/2.8 lens, ISO 200, 1/200th sec at f/14.
To test out the ELB 400 for portraits, I shot a few portaits of John in another location, also in the trees. Since John wasn't moving for the portraits, I could easily freeze his motion and the images are tack sharp. Also of note, since I was able to get the flash head closer to John, I also had to turn the power output down to less than half power. At full power, I could have easily overpowered the sun in this scenario by moving the flash head in closer and cranking up the power.
Above: Portrait of John Fullbright shot at the Taos Ski Area near Taos, New Mexico. Image Data: Nikon D4, Nikkor 24-70mm f/2.8 lens, ISO 100, 1/80th sec at f/6.3.
Along with the new display on top of the pack, Elinchrom has also added some very advanced flash modes and extended the battery life even farther than the Hybrid RX model. Here is a list of some of the new exciting new features of the ELB 400:
OLED Display: The new OLED display on top of the ELB 400 makes it very easy to see what is going on with the unit. Changing powers settings is much faster and very responsive. Diving into the menus is easy and very straightforward when it comes to changing settings. I didn't even need a manual to figure out the custom settings menus. Hurray for not having to pull out the manual to change custom settings!
Extended Battery Life: At full power, the ELB 400 will give you 350 flashes on a fully charged battery. At minimum power it can put out up to 6,000 flashes on a fully charged battery.
Faster Recycling Times: The ELB 400 recycles at full power in 1.6 seconds, almost a half second faster than the Quadra Hybrid RX. At lower power settings the recycling times are much faster — nearly instantaneous.
424 Watt/seconds (Ws): The new ELB 400 actually puts out 424 Ws of light.
Strobo Mode: The ELB 400 has a "stroboscopic" mode where it can fire up to 10 flashes per second (10 Hz) within a single frame. For the best results, you will need to use a lower power setting in a dark location and use the Action flash head, which has a very short flash duration to stop the movement of the subject. Below is an example of the stroboscopic effect, created using the Elinchrom ELC Pro HD strobes, which have the same Stobo Mode capabilities. For this image I had the shutter open for 0.8 second at ISO 50 and let the flash fire five times in that period.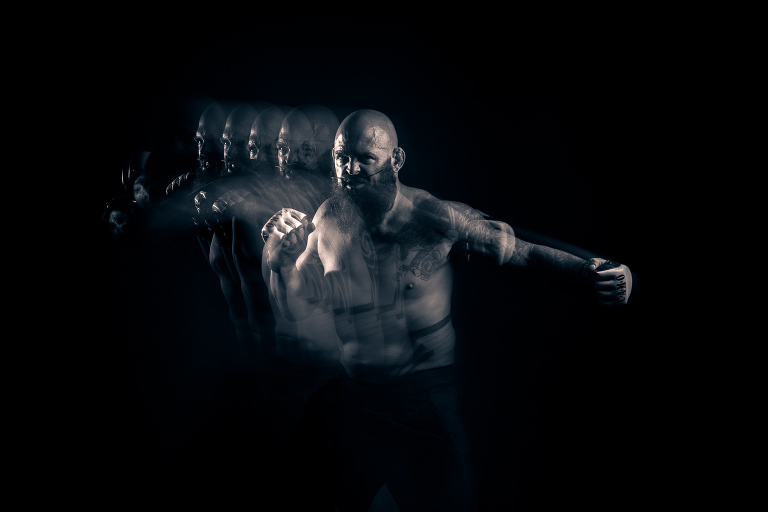 Sequence Mode: This mode allows you to sequentially trigger up to 20 separate ELB 400 packs so that you can shoot at a high framing rate, like say 11 fps with a Nikon D4.
Delayed Mode: This mode allows you to shoot in a "second curtain" or "rear curtain sync" mode with cameras (like Canon cameras) that don't have this feature built into the camera.
Two different Flash Heads to choose from: Elinchrom offers the Pro Head and an Action Head. The Pro Head is the standard flash head while the Action Head offers significantly faster flash durations. If you are trying to stop the movement of a subject you are better off with the Action Head. If you are using Hypersync techniques, then the Pro Head is the way to go.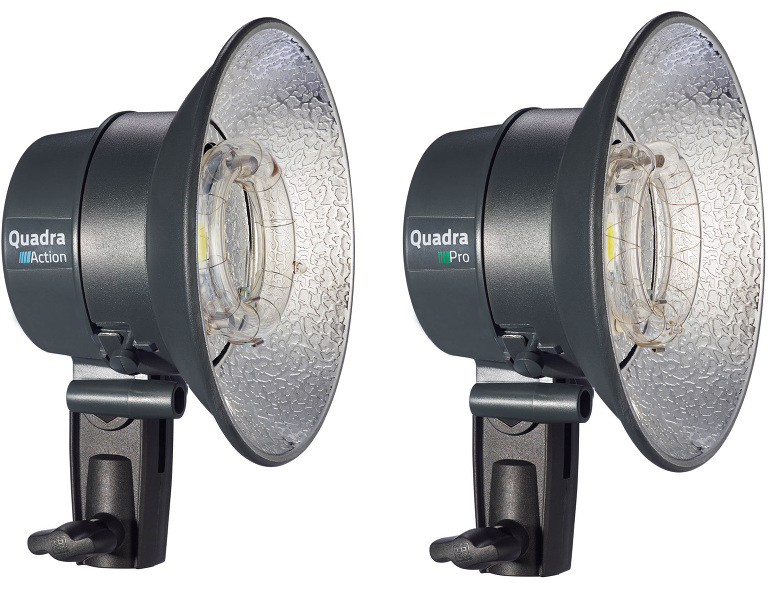 Easy to use new Strobe Port Closures: The new port closures on the top of the power pack are much easier to open and close than the old screw top closures and also stay out of the way while trying to screw in a flash head.

Fast Flash Durations: With two Action Heads plugged into the unit you can get flash durations as short at 1/4000th second (t0.5) at full power. With one Action Head in the B Socket you can get down to 1/5,700th second (t0.5). While 1/4000th second flash duration may not sound that fast realize this is at full power. Most other units out there (like the Profoto B1) are down around 1/1000th second (t0.5) at full power, which is not fast enough to freeze motion as can be seen in my ski image above.
Consistent Color Temperatures: As with all Elinchrom strobes they are extremely accurate and vary only plus or minus 150 °K from flash to flash.
Hypersync: Using the Pro Flash Head and the PocketWizard ControlTL system you can shoot at much higher sync speeds with the ELB 400 than normal. With my Nikon D4 and D800, I can get up to 1/4000th second shutter speeds using the Hypersync function, which really comes in handy when trying to overpower daylight with only a 400 Ws strobe in those situations where you can't move the flash head close to the subject – as when shooting adventure sports and your athlete is launching off a cliff.
With so many new features, and advanced capabilities, the new ELB 400 is bound to be popular. It is the most advanced battery powered strobe that I have used and certainly the most versatile as well. After testing this unit out, I am definitely going to have to upgrade my older Quadras. Shooting adventure sports, the key features for my work are the lightweight yet durable construction, the fast flash durations at full power and the ability to use Hypersync. Because the ELB 400 offers two different flash heads, that opens up a lot more options when it comes to creating the image in mind. I just pop on the Pro heads if I want to shoot using Hypersonic or I can choose the Action heads to freeze the motion. Of course, it is also awesome to have the new Strobo mode, an easy to use display on top of the pack, a faster recycling time and 350 full power pops on such a small rig. I still can't believe we can get 350 full power pops out this unit and it weighs only 6.02 lbs (2.7 Kg) with the flash head and the cord. That is incredible.
"In my view, the Elinchrom ELB 400 is the most advanced battery powered strobe that I have used and certainly the most versatile as well."
On top of all these new features, Elinchrom still makes, in my view, the best modifiers in the business. There is a reason you see so many Elinchrom Octabanks on other manufacturer's strobes. With the addition of an adapter, the ELB 400 can use any light modifier Elinchrom makes and this is a huge reason to go with Elinchrom strobes, since they are all optimized to be used with their light modifiers.
Lastly, I know another manufacturer (Profoto) has been making a big deal out of the fact that their latest battery-powered flash is an all in one style mono bloc design with no cords. I am very happy that Elinchrom has chosen to keep the separate pack and head design with the ELB 400. I own a few mono bloc strobes and while they are great in the studio, once you put them up high it is a pain to have to lower the flash head and modifier to change a few settings on the back of the unit. I realize that many settings can be changed on the transceiver on top of the camera but in all cases there are some settings that can't be changed anywhere but on the monobloc. Monobloc designs are also quite a bit heavier when it comes time to mount them on a light modifier, like inside an Elinchrom Octabank. I wouldn't dare mount my monobloc strobe inside an Octabank as it would stress the mount quite a bit and be a beast to lock down. It would also weigh a ton. With the separate power pack and head design of the ELB 400, and especially the lightweight nature of the Pro and Action flash heads, they are so lightweight that you can get away without even using a stand (see the image below where I mounted the flash head on my ski pole) and they don't require a big, hefty light stand to put them on. Since this is meant to be a fast and light strobe system, this is a critical fact that you may not think about when standing in the camera shop debating which brand to go with.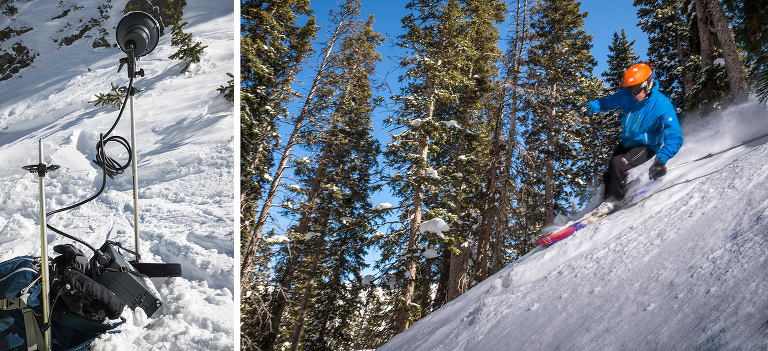 Above: For some of these lit images I simply put my ski pole into the powder snow and mounted the flash head on the bottom of the ski pole (above left), which was also anchoring my pack to the steep slope. this allowed me to quickly set up without having to pull out a lightstand. 
My thanks to Elinchrom for allowing me to test out the ELB 400 and give feedback. For more information on the ELB 400 visit the Elinchrom website, which has also been completely redesigned.
Bonus Material: Stay tuned for an in-depth comparison of the Elinchrom ELB 400 and the Profoto B1. I will add that to the blog here in a few days.