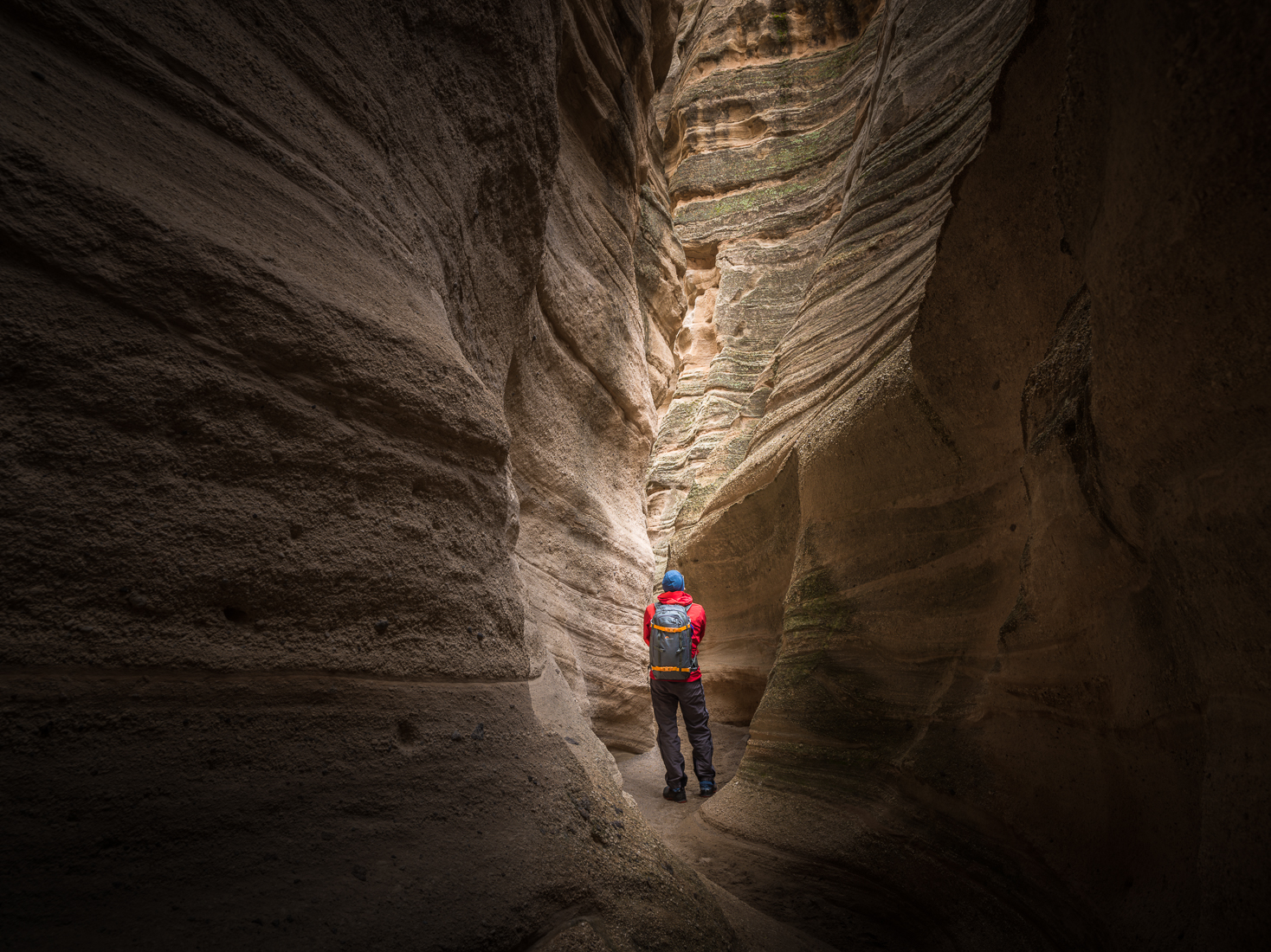 Over the last several months, I have had a chance to test out the Lowepro Whistler 450 AW backpack designed for adventure photographers that need a go-anywhere, do-anything backpack. Having worked with Lowepro in the past as one of their sponsored photographers, they were kind enough to send me the Whistler 450 AW. So, to be upfront, I didn't pay for it. Regardless, here I will give my honest opinion of the pack. As shown above and in other images in this post, I have taken the Whistler 450 AW to the desert and the high mountains and it has handled everything with ease. I have skied with it and scrambled through narrow canyons, scraped it against rock walls and tossed it into the dirt, mud, snow and grime. It still looks brand new after four months of hard use.
Before we get started, I just want to say that I already love this pack. It has some things I would like to see improved, but it is by far one of the best camera bags that Lowepro has ever produced. I would go so far as to say that it might be one of the best backpacks any camera bag manufacturer has ever produced – and I am not just saying that because I got it for free or have an allegiance to Lowepro. Read on to see why I love it and how I feel it could be improved.
First off, the Whistler comes in two sizes, the 350 and the 450, with the 450 being the larger of the two sizes. It is designed primarily for snowboard or ski photographers who need to lay their pack down in the snow or mud and access gear through the back panel of the pack. As such, it offers a solution for a very specific genre of photography but can also be used for a much wider variety of sports and those types of photography where you need to haul a lot of gear into the backcountry – and don't want to get the back panel really dirty when you set the camera bag down.
To clear the air here, the Whistler series is very similar in design to the F-Stop backpacks, which have become quite popular the last few years among adventure and outdoor photographers. While they are similar in design, they are slightly different in execution. The Whistler is a heavier, beefier pack than any of the F-Stop backpacks I have seen. There are also three separate compartments in the Whistler and the rigid camera compartment, which is removable, is incredibly rigid. The camera compartment is made so that if you fall and hit the backpack on something, as when skiing or snowboarding, your camera will survive that encounter. Just a few days ago, I crashed while skiing in deep powder and had $50K worth of camera gear in the pack. My cameras were fine, I was a little sore. The pack didn't even blink.
[Side Note: Don't get me wrong, F-Stop gear makes some great camera bags as well. They have been pushing the design of camera backpacks for a while now and it is great to see them and Lowepro drive some innovation in this genre of camera specific backpacks. I'll point out that Lowepro has manufactured camera bags with an access panel that sits against your back for a long time. Lowepro created the Flipside Sport models, which had this style of entry, many years ago and before that they had other packs where the gear was accessed via the back panel. I have an ancient Lowepro backpack that I have used for over 10 years in my closet, the Lowepro CompuPrimus AW, which has two separate back panel access sections. I have held onto that backpack because it works perfectly for carrying my Elinchrom Ranger RX Speed AS strobe kit when skiing or hiking way back into the backcountry. I say all this just to make the point that they have been creating these style bags for quite some time, even before F-Stop gear even existed. Regardless, F-Stop has certainly perfected and improved upon much of what Lowepro did way back when and has also innovated more than any other camera bag manufacturer in this category.]
Back to the Whistler, I chose the 450 AW model as I am 6'3" tall and the longer back length fits me better. The Whistler 450 AW is a great size and form factor and it is fairly comfortable. It also allows for extremely easy access to your camera gear. The outer fabric on the back and sides of the backpack is a tough waterproof fabric that can take some serious abuse. You could literally drag this bag behind you on the trail and it would be fine. Hence, setting the bag down in the snow or mud isn't an issue.
The camera insert is a one-piece shell built with a stiff material, like the Lexan used in Lightware cases, and it is wrapped in a very soft, plush padded material making it a bombproof compartment. I have put all of my body weight onto the edges of the camera insert and it doesn't deform even a little bit, which gives an idea of how stiff the sides of the insert (and the pack) are and the level of protection afforded to the contents. The top lid has no padding so that it can flip over without adding any bulk, leaving the camera insert accessible when in the backpack (as shown below). The insert is deep enough to carry a pro-level camera like the Nikon D4 or the Canon 1Dx, or a medium format rig like the Phase One XF or a Hasselblad H5D.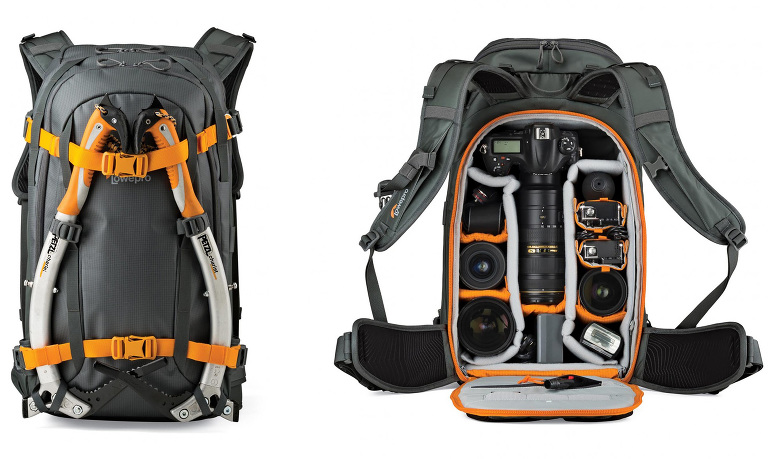 One of the biggest drawbacks to the bag is that the width of the pack and the camera insert is only 10 inches. So, when you look at the image of the camera packed on the Lowepro website (as shown above) you'll notice two things: there are no lens hoods on the lenses and the lenses are mostly lower end smaller diameter lenses. I found it impossible to fit my pro-grade f/2.8 lenses into the pack with the lens hoods reversed and have the 70-200mm attached to my D4 in the middle of the pack as Lowepro shows on their website. There just isn't enough room for that to happen. With my Lowepro Vertex 300 AW, fitting my D4 with an attached 70-200 f/2.8 lens down the middle and the other lenses, with their lens hoods attached on either side is not a problem because that pack is 12-inches wide instead of 10-inches. I point this out because it might come as a shock to you that the pack doesn't hold as much as other Lowepro packs. I am guessing that Lowepro designed this pack to be narrower so your arms wouldn't hit the pack while skiing or hiking, especially if you are carrying skis lashed to the sides of the pack. Regardless, I reconfigured the pack insert dividers (as shown below) and I can still get two camera bodies, my three main f/2.8 lenses (14-24, 24-70, and 70-200) into the camera insert along with an 85mm f/1.4 and a Nikon Speedlight. That is still a lot of gear, but when I first got the pack I was a little thrown off by the width.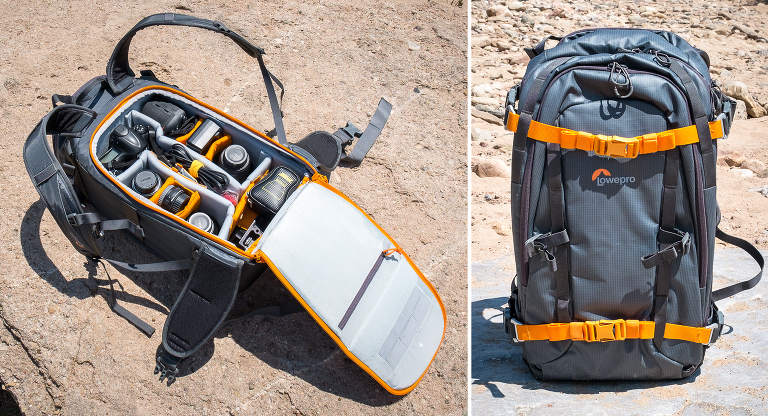 There are many reasons I like this new pack. The three biggest reasons, which I have already mentioned, are that it is made for the outdoor photographer specifically, the camera gear is easy to access through the back panel and it is made to be set down on it's back. There are a host of little touches that really make it stand out:
Well thought out pockets and other zipper pouches to hold accessories, clothing, food, water, passports, wallets and mobile phones.
The padded back panel is beautifully crafted and the padding is comfortable.
It is easy to lash a tripod, skis, snowboards, ice axes or any other outdoor gear onto the pack.
Because the compartments are separated, and the camera insert is completely sealed so that water can't get into it from the other compartments, I can confidently carry water in any of the other compartments, which was a huge issue with previous camera backpacks.
It comes with a rain cover, but the outer fabric is pretty weather resistant so you won't need it in anything other than a full on downpour. Snow isn't an issue with the tough water resistant outer fabric.
The large pocket on the back of the pack is expandable to allow for a laptop in a Pelican Case or that huge puffy jacket and some extra food. It can also hold a snow shovel and has a pocket built into the back compartment to hold an avalanche probe.
Skis fit on this pack better than any other I have ever owned. The beefy ski loops on the side of the pack lock in the skis and the tough outer material means you have no worries about ski edges cutting into your pack or your camera gear.
Lastly, one of the most critical and important features for me is that it fits into the smaller regional jet overhead bins, which is a huge deal when travelling out of smaller airports.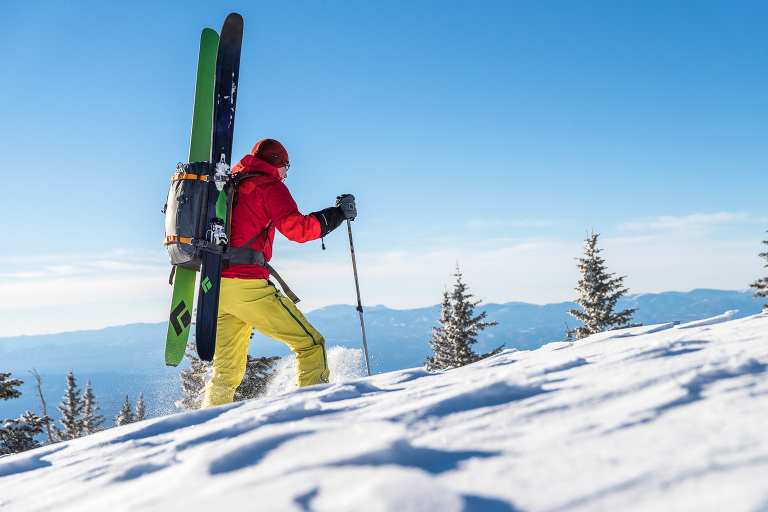 My main complaint against all backpacks made by camera bag manufacturers is that they are essentially a brick with straps on them. My back has a curve to it and all of the backpacks made by outdoor companies (like Arc'teryx, Osprey, Black Diamond, etc.) have stays built into the pack to allow you to custom shape the pack to your back. This makes those packs a thousand times more comfortable than any camera backpack, which is why if I have to carry a pack any real distance, I opt for my Arc'Teryx or Black Diamond packs and load my camera gear into the individual camera and lens pouches and carry them inside my backpack along with my outdoor gear.
[Lowepro did make the Rover Pro, which had a stay and curvature, a first for them, but it was lacking in several other ways. I still have the Rover Pro AW but rarely use it.]
The Whistler has a flat back panel and no way to conform the back panel to your curved back. It does have stays on either side of the camera insert that smartly helps to put the load onto your hips. Even though the Whistler is a brick, it is still decently comfortable, especially if you are wearing a lot of clothing—as when skiing or hiking in the winter. If it is loaded with 45 pounds of gear, which isn't difficult to do, and I have to carry it for an hour or so, then the bottom of the pack starts to dig into the top of my butt. I have been asking and pleading with every camera bag manufacturer for years to go out and buy an Arc'Teryx Arrakis 50 and copy that pack and add a camera insert accessible from the back panel. So far, no one has done that yet. To their credit, Lowepro is listening and they are working on new designs continually.
Lastly, it is great that Lowepro offers two sizes so that the Whistler fits a wide range of back lengths, but it would be even better if there was an adjustable torso length, i.e. adjustable shoulder straps so you can dial the pack in for a custom fit. I have already given this feedback to the designers at Lowepro and they are aware of how it can be improved, but they also had very good reasons to design it as it is currently. They thought through all of these issues before coming out with the Whistler, so you know it was a difficult task to design this thing.
In the last four months I have taken this backpack all over the world. In fact, it has become my go to backpack for just about every adventure save for those where I need to take a lot of gear and just a few pieces of camera equipment, as on a climbing expedition. It is incredibly well thought out and tough enough to last for a long, long time. This might end up being the camera bag that will never die, which is a good thing. Sure, it could be lighter, it could be a bit wider, and well, if it had a curved back panel and adjustable torso length it would be perfect. As it is, it is very nearly perfect. I have been hard on it here in this review but regardless of the areas where it could be improved, this is currently the state of the art in camera backpacks for adventure photographers.
For more information on the Lowepro Whistler AW backpacks, visit the Lowepro website.