2015 was yet another incredible year both creatively and personally. It was also another stellar year in the business and one that had quite a few moments of recognition. I gave more talks and presentations this past year than I ever have and for companies like Nikon, Elinchrom and National Geographic. Along the way, I also managed to create a few amazing images. Folks that have heard me speak know that I am hypercritical of my own work so I don't say that lightly. So, without further ado, here are what I consider to be the best images I have created this past year. If you are interested in the best of the best from prior years check out the 2013 and 2014 blog posts.
Hypersync Ice Climbing Project – Dawn Glanc
Ouray, Colorado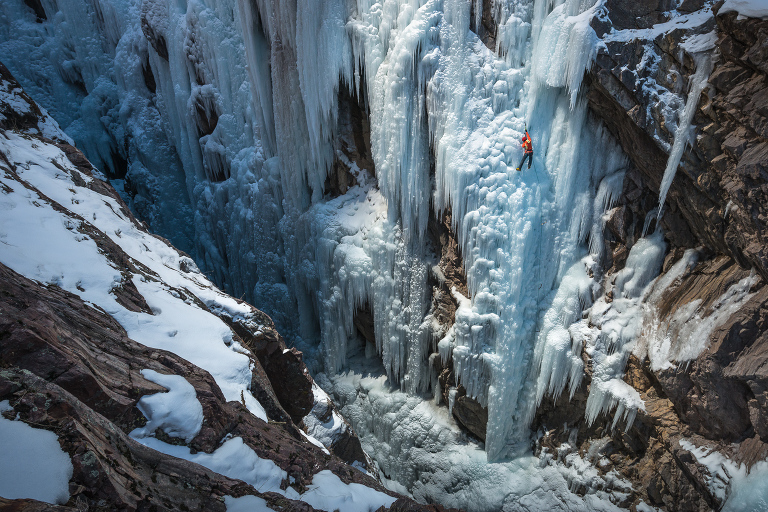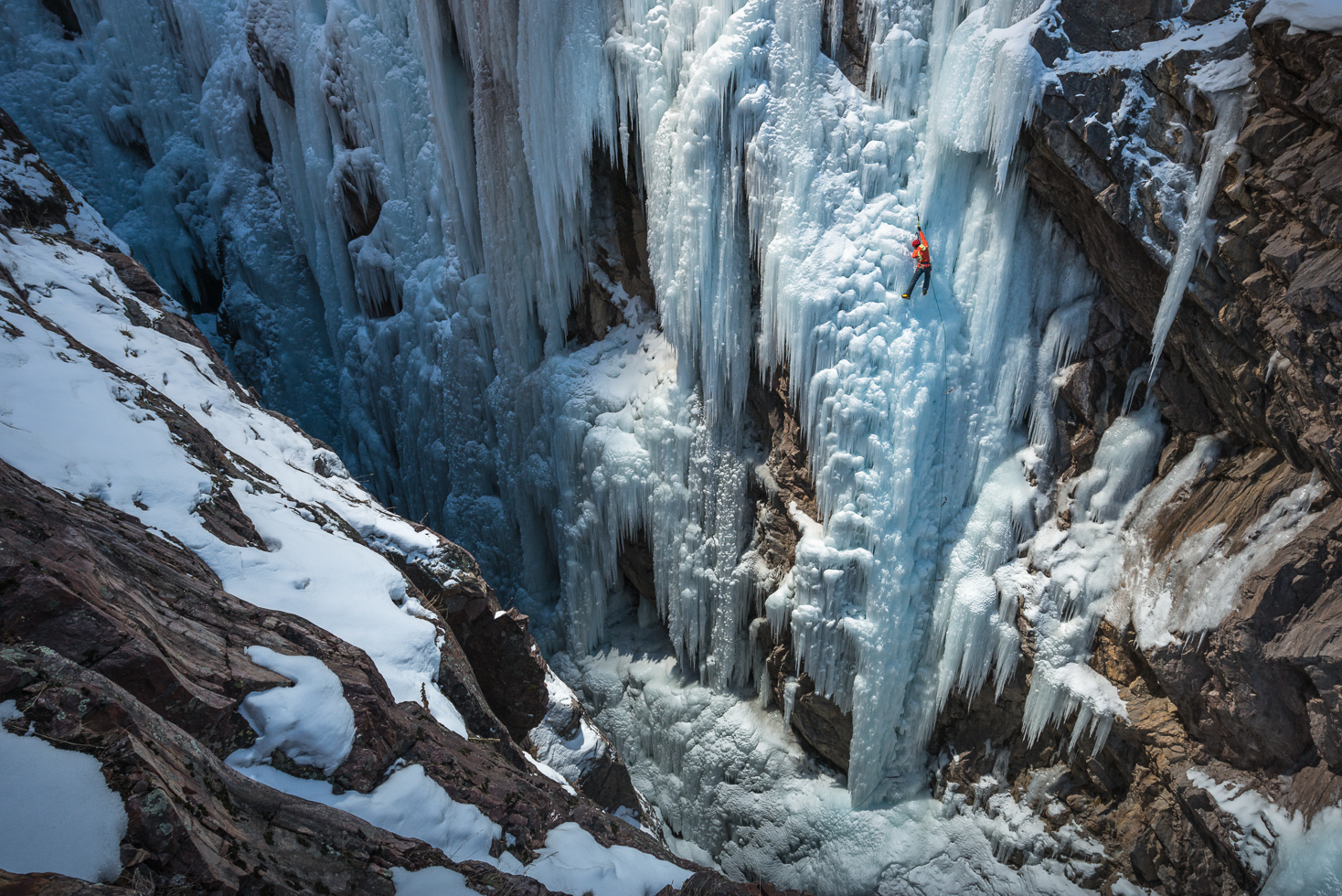 The above image is by far my favorite from 2015. To create this image I used fairly complicated Hypersync lighting techniques, which Elinchrom subsequently discussed and highlighted on their blog. I worked with Dawn Glanc back in 2013 and created another amazing image using standard flash techniques at that time but this image is what I really wanted to create and it epitomizes the image I had in my head when I started this project.
Along with this image, I was also able to create a variety of other images to complement the image above and show the ice climb from several different angles, as shown below. My thanks to Dawn, and her sister Kristy who dutifully belayed for us all day, for all their hard work climbing any and everything I asked for.
For the image above I used a tilt-shift lens to create the narrow depth of field. To gain a different perspective, in the image below, I walked down canyon from the ice climb and photographed Dawn with a longer lens. The lighting in all of these images never changed.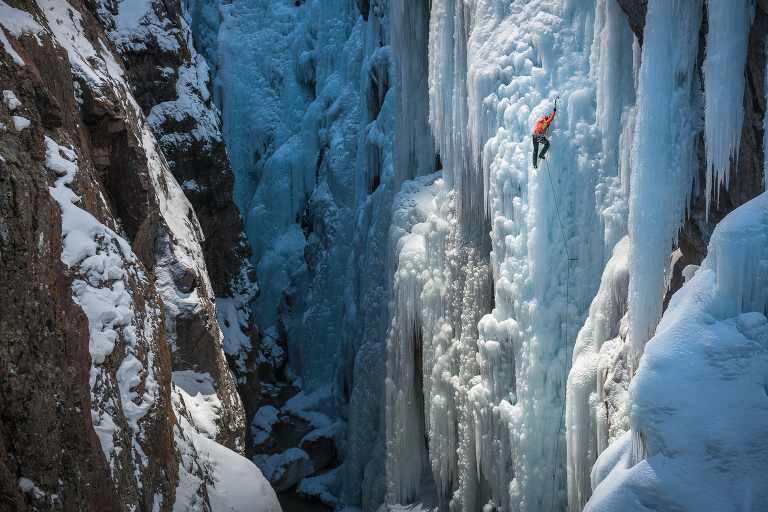 This project was a personal project that basically set up the rest of my year. Elinchrom and several other manufacturers saw these images and immediately wanted to use them. These images also showed me the possibilities with this Hypersync technology, which leads into the next image from my Hypersync Surfing project.
Hypersync Surfing
North Shore of Oahu, Hawaii
After the Hypersync Ice Climbing project, I kicked into full gear with the Hypersync lighting techniques and Elinchrom came through and sponsored me for the Hypersync Surfing Project. For this project, I wanted to see if it was possible to light up a surfer on a wave from the beach – about 500-feet away – AND overpower the sun in the middle of the day. It had never been done before, but that didn't stop me. The resulting image, showed below, is not one of my best surfing images ever but it is a solid image.
For the full story on how we shot this and all the technical details, head on over to the Elinchrom blog. It is pretty exciting to see the possibilities with these advanced flash techniques. To this day, it boggles my mind how many things had to come together just perfectly to actually get this image.
Rocky Mountain Elk Foundation – Cattle Drive
Rio Grande Del Norte National Monument, New Mexico
This summer I got an interesting assignment to photograph a cattle drive in the northern part of New Mexico. As an adventure sports photographer, this assignment certainly wasn't the norm, but it turned out to be fairly interesting. The Rocky Mountain Elk Foundation hired me to document the last cattle drive within the Rio Grande Del Norte National Monument, which is a huge swath of land that has been purchased by the Federal Government to protect the 7,000 Elk that migrate through this area each year. This was one of those assignments where you get the call because you live nearby and I happened to be around and available when this was happening. There was certainly a feeling of being out on a huge expanse of land a 100 years ago and I tried to convey that in the images. My thanks to the Mestas family for letting me tag along on their cattle drive.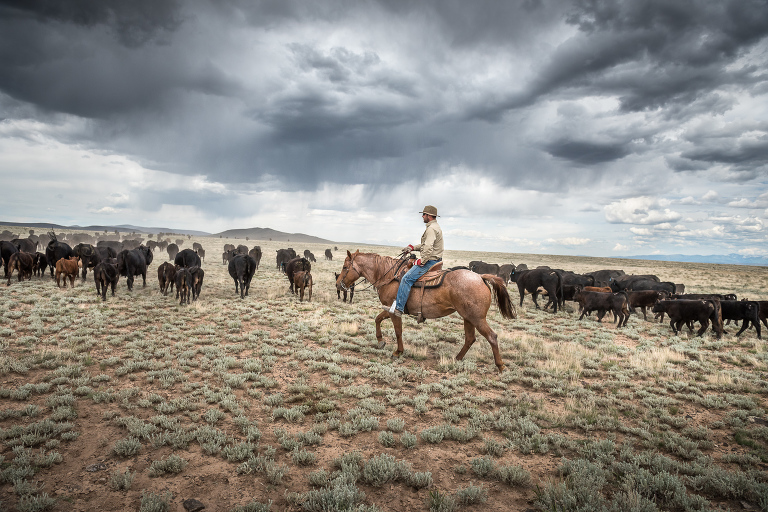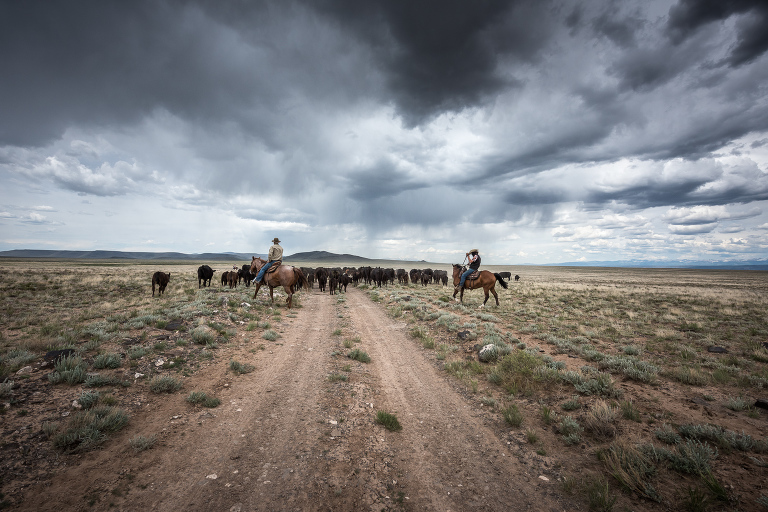 Grand Teton National Park
Grand Tetons, Wyoming
This summer I had the opportunity to shoot in Grand Teton National Park while teaching a photography workshop with the Mentor Series Photo Treks. This is one of the rare photography workshops where I can actually shoot along with the participants. Needless to say we all got some incredible images during this workshop.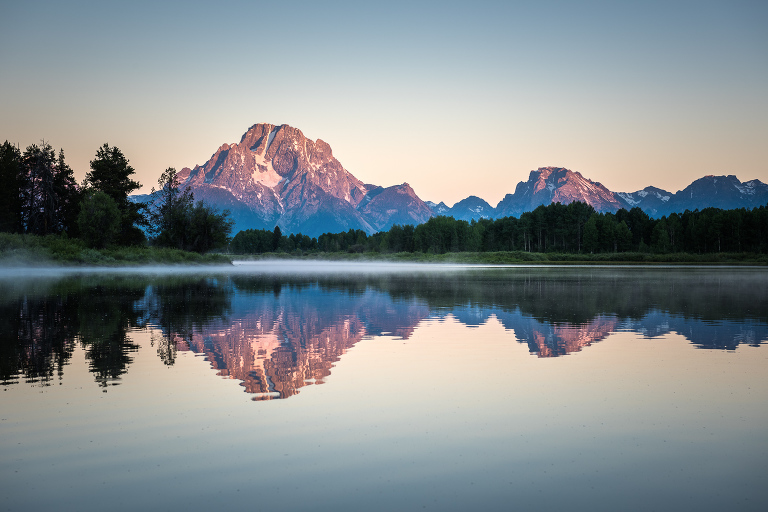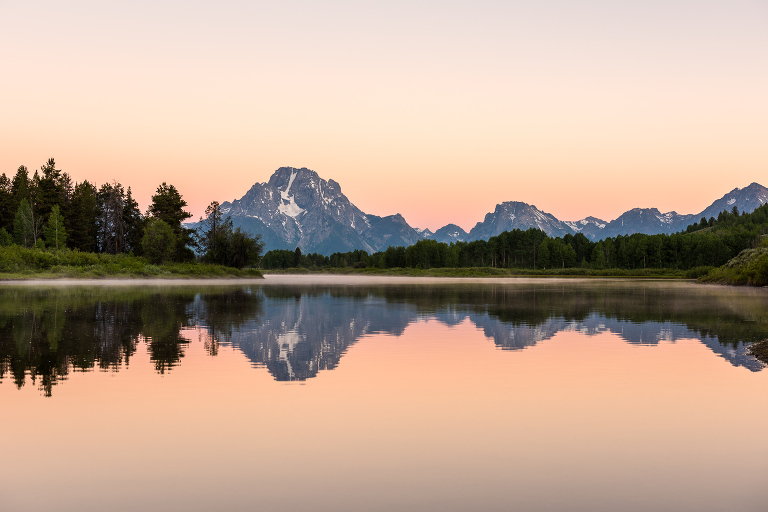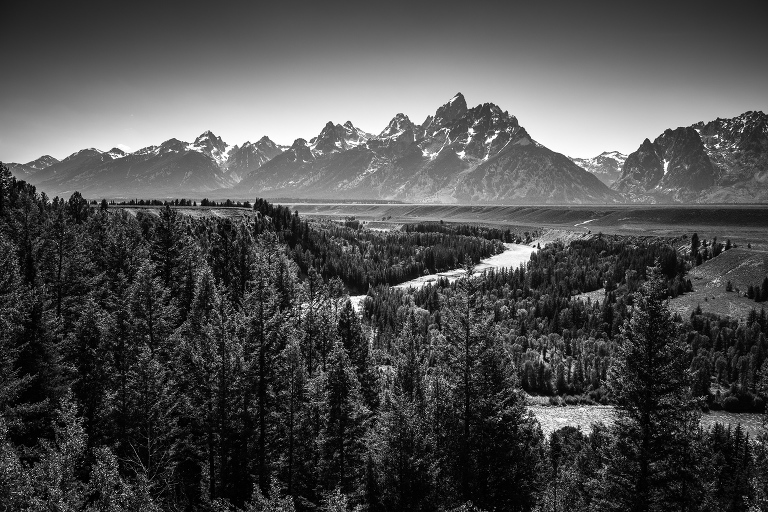 Elinchrom Hi-Sync Promo Image
Lausanne, Switzerland
This fall, I was invited to speak at the Elinchrom distributor conference in Switzerland at the Elinchrom headquarters and got the chance to shoot with the new Elinchrom Skyport Plus HS and the HS flash heads, which work with the ELB400 power pack. During that presentation I created the image below of Maxime Genoud in-line skating in an indoor skate park. I realize in-line skating isn't a huge sport here in the USA but in Europe it is still practiced right alongside skateboarding. Elinchrom liked the image so much that they ended up using it for their marketing materials when the Skyport Plus HS was announced. I also wrote two technical blog posts for them that highlights the Skyport Plus HS and the Hi-Sync technology built into this new transmitter.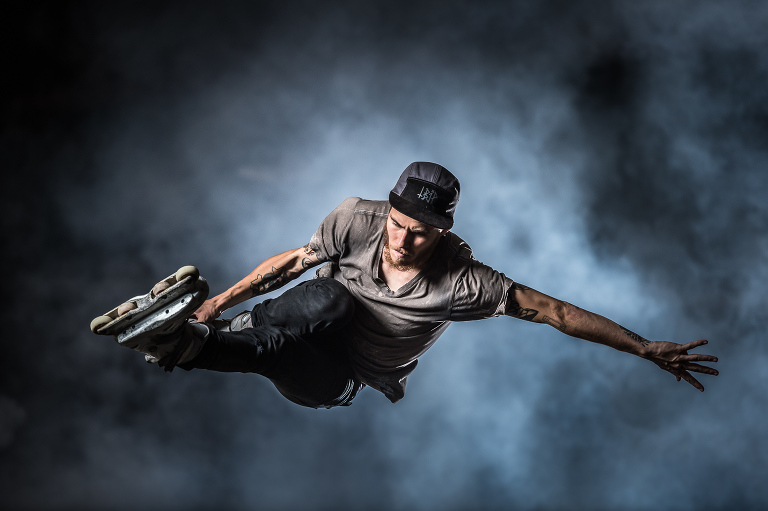 While in Switzerland, I also had the chance to run over to Chamonix, France. Originally, I intended to do some climbing with a friend that lives there but the weather did not cooperate. Instead of climbing, I was able to hike around and get some pretty amazing landscape images, as shown below. I have to say, the Alps surrounding Chamonix are some of the most amazing mountains anywhere on Earth. I need to get back to Chamonix soon!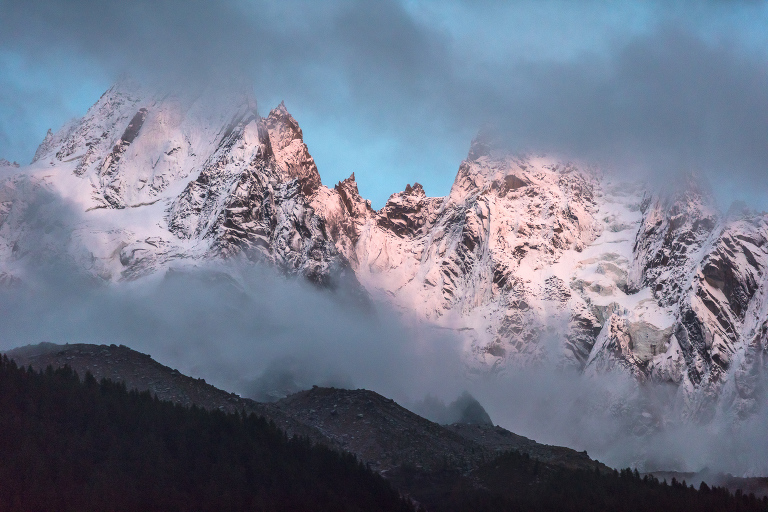 Elinchrom Hi-Sync Downhill Mountain Biking Shoot
Telluride, Colorado
After coming back from Switzerland and France this fall, I headed up to the Telluride Photo Festival where I was a Keynote speaker. I took along with me the Elinchrom Skyport Plus HS and my ELB400 strobes and worked with some local athletes to create a few more images for Elinchrom. As this was my first experience using the Hi-Sync capabilities of the new transmitter in the outdoors, I was completely blown away by what it allowed me to do. With the riders in mid-afternoon sunlight, I had full creative control to make it look like night in the middle of the day as shown in the second image here. This one day of working with the new strobe system from Elinchrom changed how I think about all future assignments where I will be using flash. This new technology also allows me to differentiate my work from other photographers by constantly pushing the technology to the limits of what it can do.
For the above shot I had Aurelie Slegers pause for a moment while hiking her downhill mountain bike back up the hill at the Mountain Village Bike Park near Telluride, Colorado. In the image below, Andrew Merrill is catching some air at the same point where Aurelie is standing in the image above. For both of these images, I set up a light trap (i.e. a lighting setup where the lights are pointing at each other) with the lights 20-feet away from the athlete on each side.
Yellowstone National Park
Wyoming
In late October, I taught another Mentor Series Photo Trek in Yellowstone National Park. At one point I took a crew of folks who were willing to hike up an adjacent hillside and we snapped photos of the Grand Prismatic Spring at Midway Geyser Basin from above. This spot isn't a secret by any means and many, many photographers have photographed from this perspective but still it was an amazing vista and one that offers up a host of creative opportunities.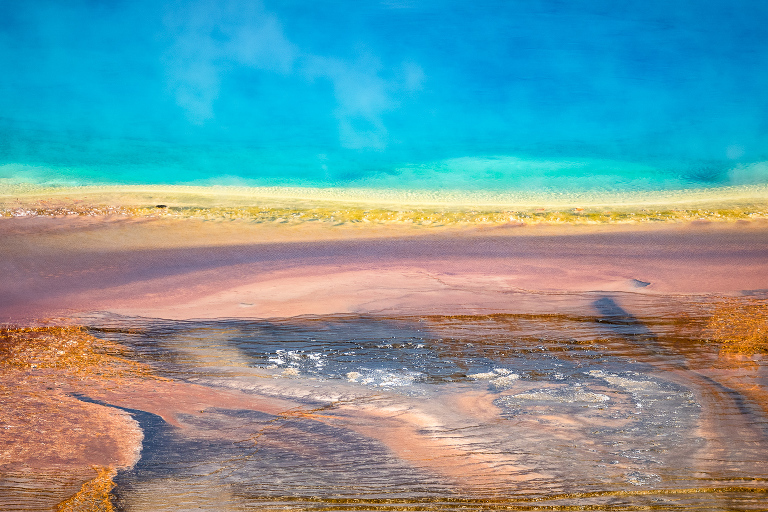 Elinchrom Hi-Sync BMX Project
Santa Fe, New Mexico
The last major shoot I had for the year was to create a behind the scenes video for Mac Group and Elinchrom. We photographed three BMX riders near my home in Santa Fe, New Mexico using the new Elinchrom Hi-Sync lighting techniques and the ELB400 strobes. We captured quite an array of images but the one below was my favorite from the photo shoot.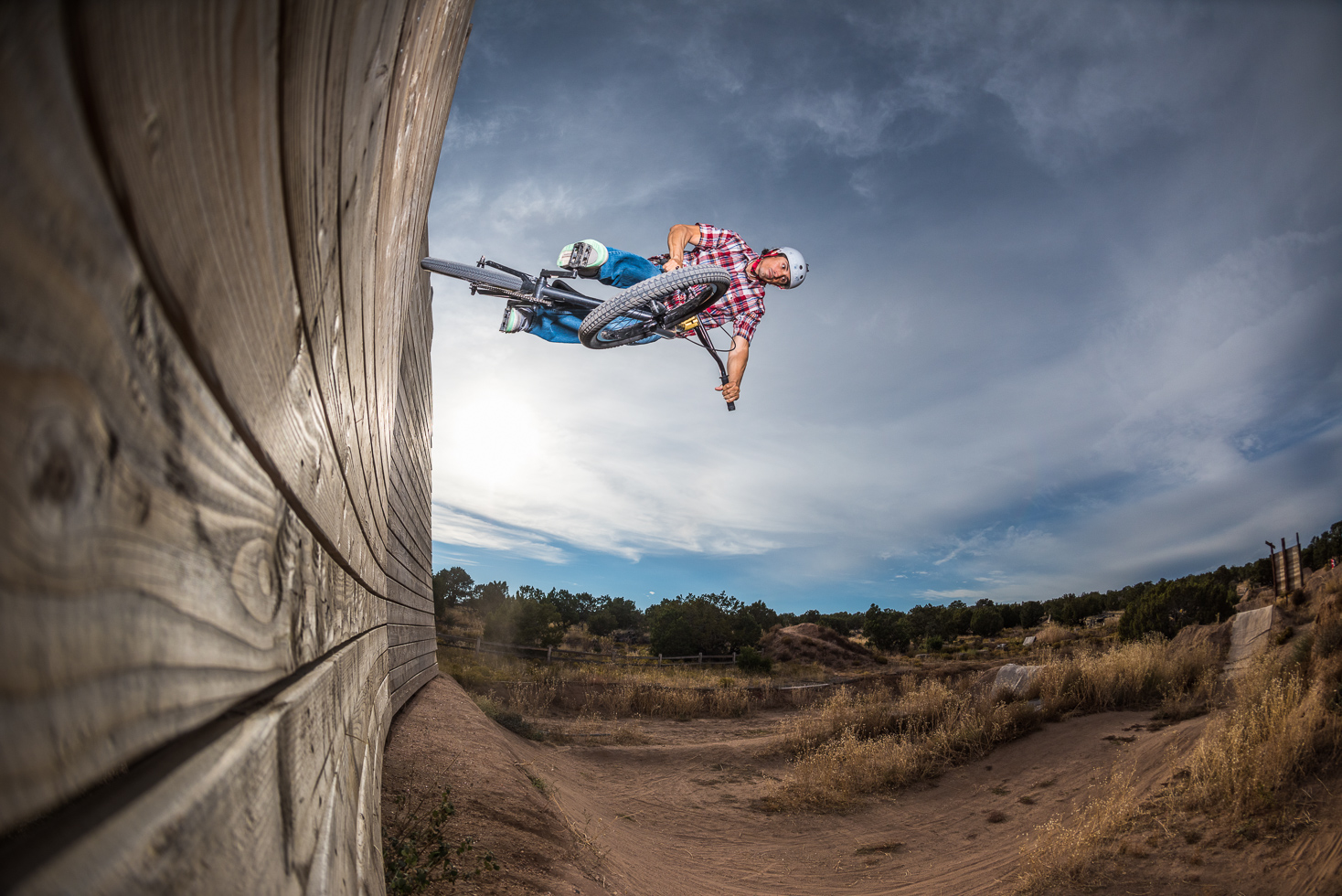 Above, Daniel Coriz rides off the wall at the Santa Fe dirt jumps just off Highway 599 in Santa Fe, New Mexico. The behind the scenes video for this image should be out soon. Stay tuned.
Hasselblad H5D 50c WiFi Test
Tent Rocks, New Mexico
In the last few weeks, I have had the chance to test out the Hasselblad H5D 50c WiFi along with two incredible Hasselblad lenses. I also had the chance to test out the new Phase One XF camera along with the IQ350 back. After testing the two cameras, I chose to purchase the Hasselblad H5D, and I am still assembling my Hasselblad kit along with that camera.
As you might expect from a medium format camera, it has astounding image quality. The H5D, with it's 50 MP CMOS sensor, has very little noise all the way up to ISO 6400. At ISO 6400, the 50 MP H5D has roughly the same amount of noise as my 16 MP Nikon D4. While testing out the H5D I took it out to Tent Rocks just south of Santa Fe, New Mexico and shot some landscapes as shown below. As you can see, even in this low res version of the 50 MP image, the image is wicked sharp from corner to corner. You never see that with any 35mm DSLR image. The Hasselblad lenses are off the charts sharp.
I haven't been this inspired by any camera in a long, long time – perhaps not since my last Hasselblad 503CW purchase fifteen years ago. I loved that camera but got tired of scanning film. It is great to have another Hasselblad to work with and I look forward to working with this camera quite a bit in 2016!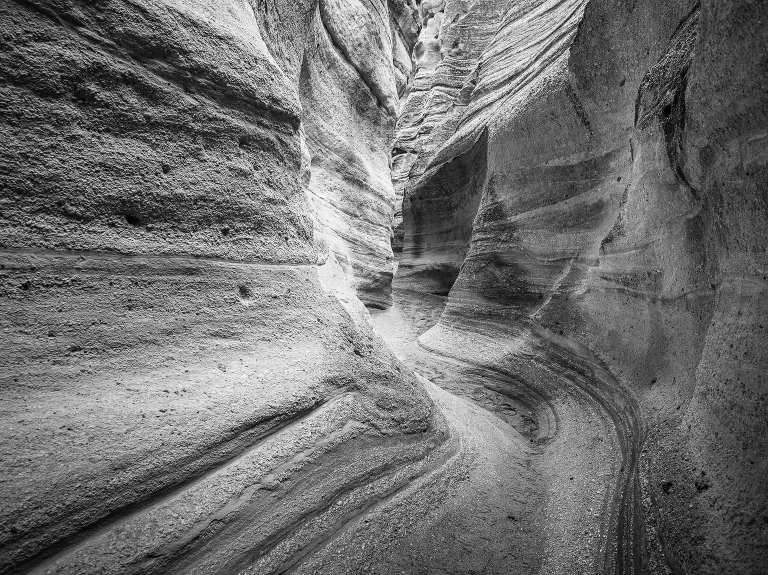 Once I have shot with the H5D for a while, I will definitely be doing a review here on the blog and in the Newsletter.
Thanks for taking the time to check out some of the highlights of the year for 2015. Feel free to comment on any of these images and tell me which one you think is the best of the best from this year. Happy New Year to you all. Here's hoping 2016 is a year filled with adventure and amazing experiences!