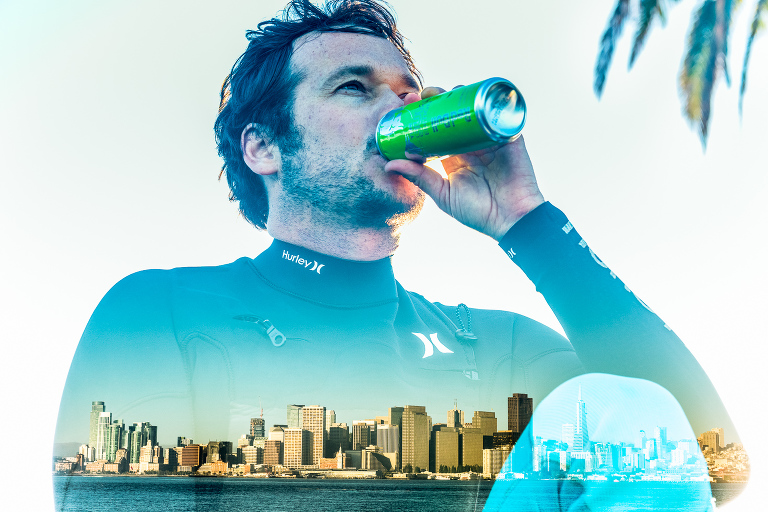 Last week I was out in San Francisco, California working with Red Bull for their 2016 Summer Solstice Photo Challenge. For this event ten photographers were paired up with ten top Red Bull athletes and each photographer and athlete team were tasked with creating a variety of images on the day of the summer solstice. I was paired up with my good friend Levi Siver, who is a world-class wind surfer and with whom I have worked on a previous Red Bull assignment. This competition was also a way for Red Bull to celebrate a new kiwi flavor, which will be available only for the summer (as far as I understand it). Each team had until 2:30 PM on June 20th to create five different images for five different categories, which would be judged that afternoon for an awards ceremony that evening.
We all started out from the hotel ridiculously early on the morning of June 20th. Some teams left the hotel as early as 2:30 AM. Levi and I left at 4 AM for a morning portrait and lifestyle session on Treasure Island. Some of the other athletes that were brought in for this event were Robbie Maddison (motorcycle stunts), Ian Walsh (Big-wave surfer), JT Holmes (Skier/BASE Jumper), Meredith Kessler (Ironman Triathlete), Joey Brzezinski (Skateboarder), Corey Bohan (BMX), Steel Lafferty (Wakeboarder), and Giselia Pulidia (Kite Surfer). Among the photographers were Christian Pondella, Zak Noyle, Chris Garrison, Chris Tedesco, Trevor Clark, Nick Teller, and Jeff Landi. Because there were such a wide variety of sports, crews were running all over the San Francisco area and beyond. Levi and I headed down to the coast just north of Davenport to a wind surfing spot. We were quite lucky with the conditions as it could have just as easily been windless and flat on the ocean that day.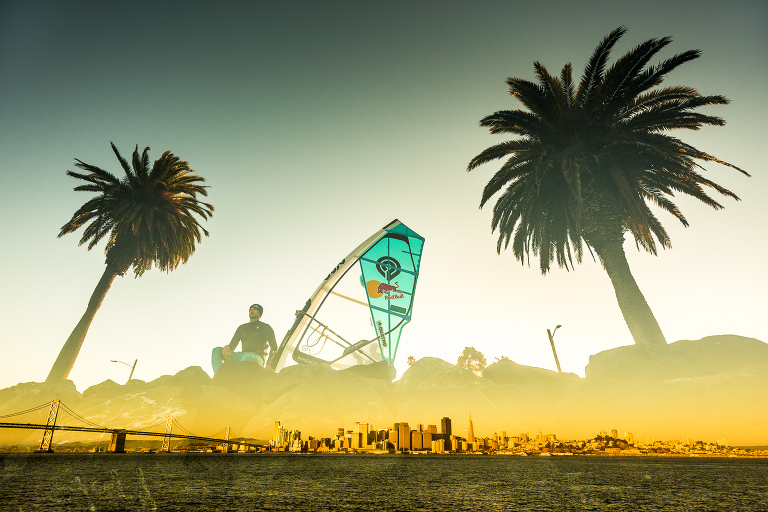 As you can see in these first two images, we got quite creative with double-exposure images since windsurfing is typically an afternoon sport. [Windsurfing is an afternoon sport because that is when the winds start to ramp up.] Hence, early in the morning with the bay calm and still, we elected to shoot portraits of Levi looking out over the bay. Note that these double exposure images were created in-camera and no Photoshop was used to create the double-exposure images. Jet Ski restrictions in the bay area, as well as the limited amount of time, killed all of our ideas to have Levi wind surfing under the Golden Gate bridge or off Alcatraz Island. We were fairly limited in what we could do in and around San Francisco. Nonetheless, as you can see below Levi was able to get out and have a pretty amazing wind surfing session considering the off-season, non-prime conditions. He still caught some serious air and worked every possible wave to get as creative as possible.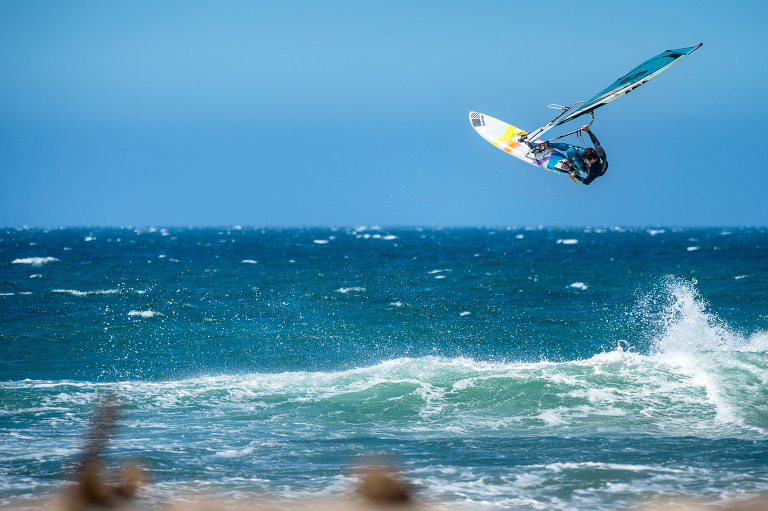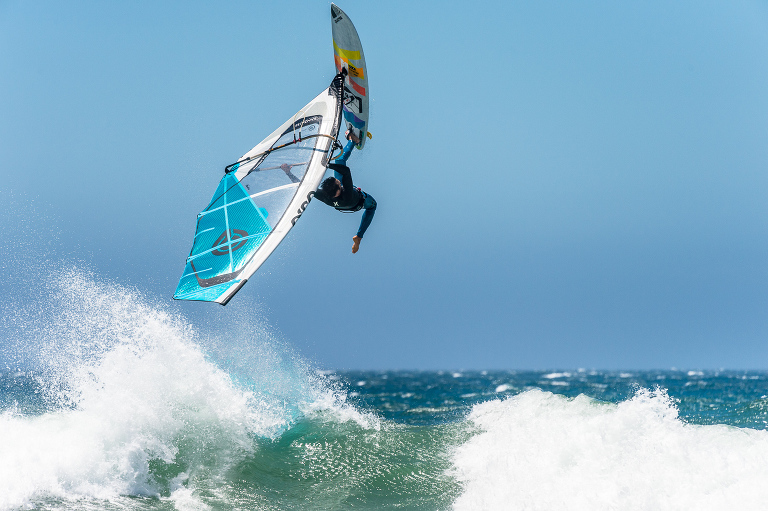 While we were out shooting we were also posting behind the scenes video footage via Facebook Live. The Facebook crew came out with us and were there to help promote the event. Out on the coast we didn't have cell reception which prevented us from posting much but you can find the behind the scenes videos on my Facebook page. My apologies for the sound on those videos as they were done with an iPhone and no external microphones. If you want to see some of the other images each team produced use the hashtag #givesyouwingssf on Instagram or Facebook.
All in all, this event was a total blast. We were free to get as creative as we wanted and working with a top athlete to craft a set of images on a tight timeline was both intense and hugely fun. Working with Levi is always an awesome experience and while working together on this shoot we came up with quite a few ideas for future projects to work on. In the end we were all exhausted from a 15-plus hour day on the go but it was a lot of fun to hang out with my fellow photographers and athletes I have worked with on other projects.
Congrats to Nick Tellez and Corey Bohan (BMX rider) on wining the photo competition! My thanks to Red Bull for making this happen and bringing us all out to San Francisco.