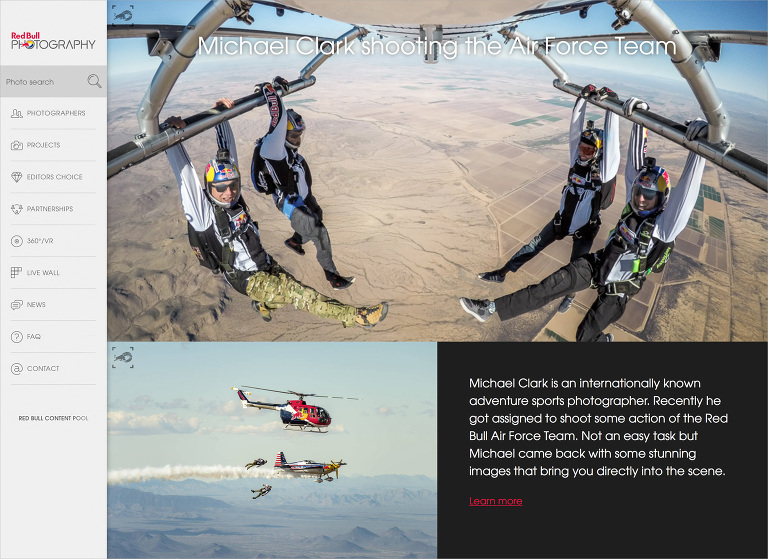 Red Bull Photography recently posted an interview with me about my most recent assignment for Red Bull with the Red Bull Air Force at their annual training camp near Eloy, Arizona. On that assignment, I spent two and a half days with the Red Bull Air Force, which is Red Bull's sky diving team based in the USA. I shot over 20,000 images, many with remote cameras. Marv Watson, from Red Bull Photography here in the USA, wanted to interview me to get some behind the scenes info on how I covered this daunting assignment.
I have shot several assignments with the Red Bull Air Force over the last seven years. I consider many on the team to be good friends and it is always a great time hanging out with this crew. The Red Bull Air Force is far and away one of the best group of sky divers anywhere in the world, which is why when Hollywood needs BASE jumpers, wingsuit BASE jumpers or sky divers they usually work with a few members of the Red Bull Air Force. As an example, Jon DeVore was recently in the new Point Break movie, and he and Mike Swanson were also in one of the Transformers movies a few years back as well. Below is an image of Jon DeVore and Luke Aikins jumping from the skids of a Red Bull helicopter, which was flown by Felix Baumgartner, with Kirby Chambliss flying a stunt plane just below the heli while practicing maneuvers at Kirby Chambliss' ranch near Eloy, Arizona. This image was thought up by Jon and we spent much of the second morning planning out how we would capture it.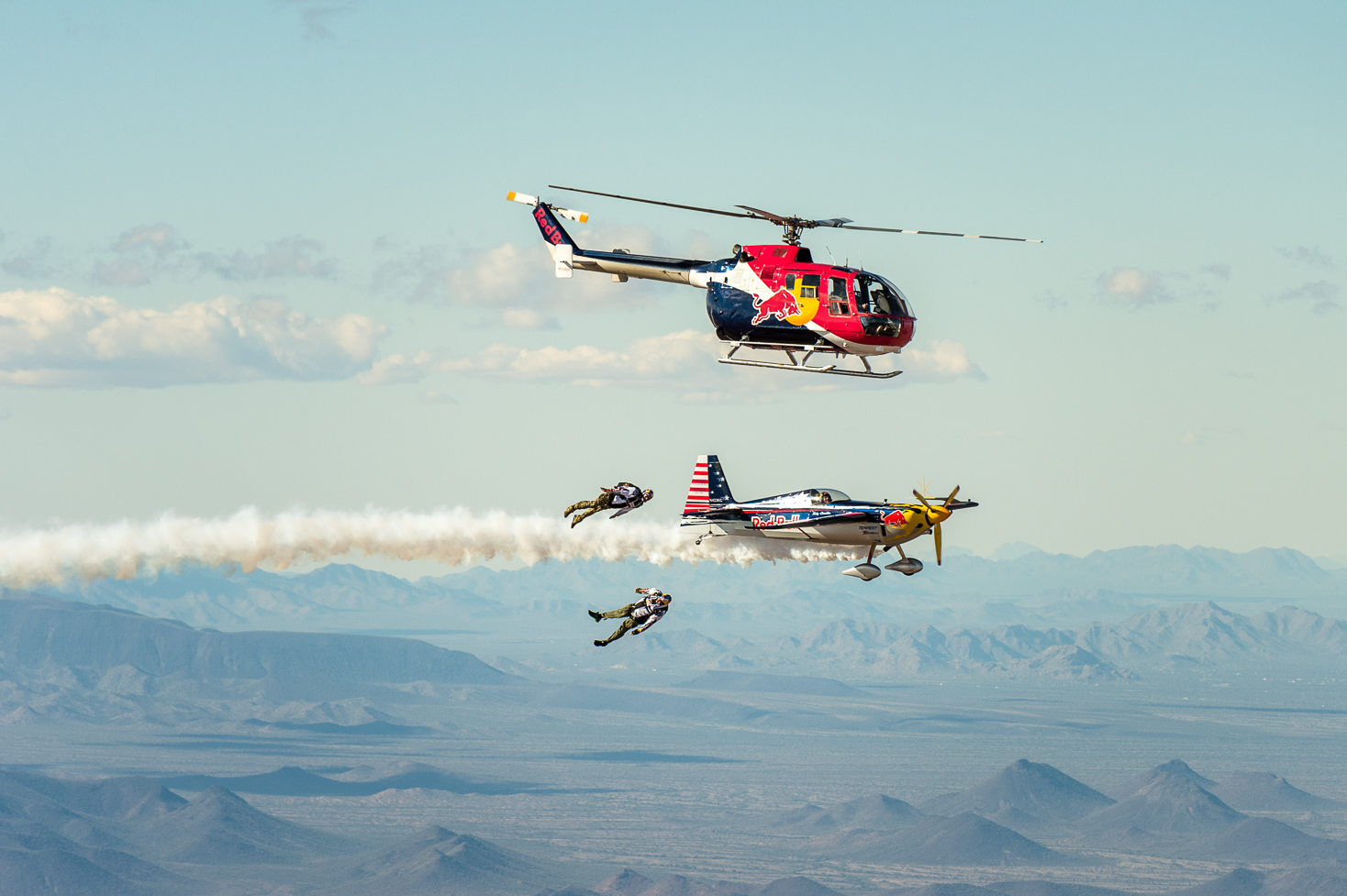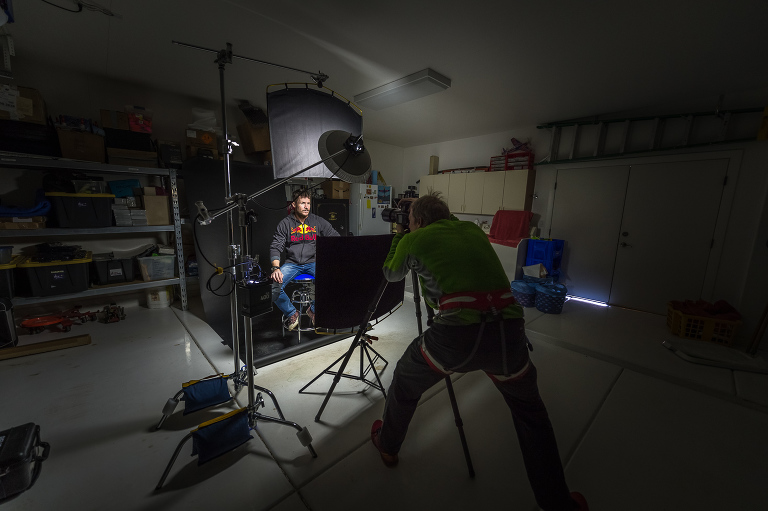 Above is a behind the scenes shot of a portrait session with Felix Baumgartner, one of Red Bull's most famous skydivers. He was also a part of the Red Bull Stratos project, where on October, 14th, 2012, he became the first human being to break the speed of sound in free fall, while skydiving out of the stratosphere. In the above behind the scenes image some have noticed that I am wearing a climbing harness. The reason I am wearing a harness is that between portrait sessions with each Red Bull Air Force team member I was jumping in and out of airplanes and helicopters where I was clipped in while shooting out an open door of the aircraft. The portraits, as shown here, were captured in between flights on an ad hoc basis. I was wearing a harness for most of the assignment. Below is an image of Red Bull Air Force team member Jeffrey Provenzano, which was created using the same lighting setup as shown above.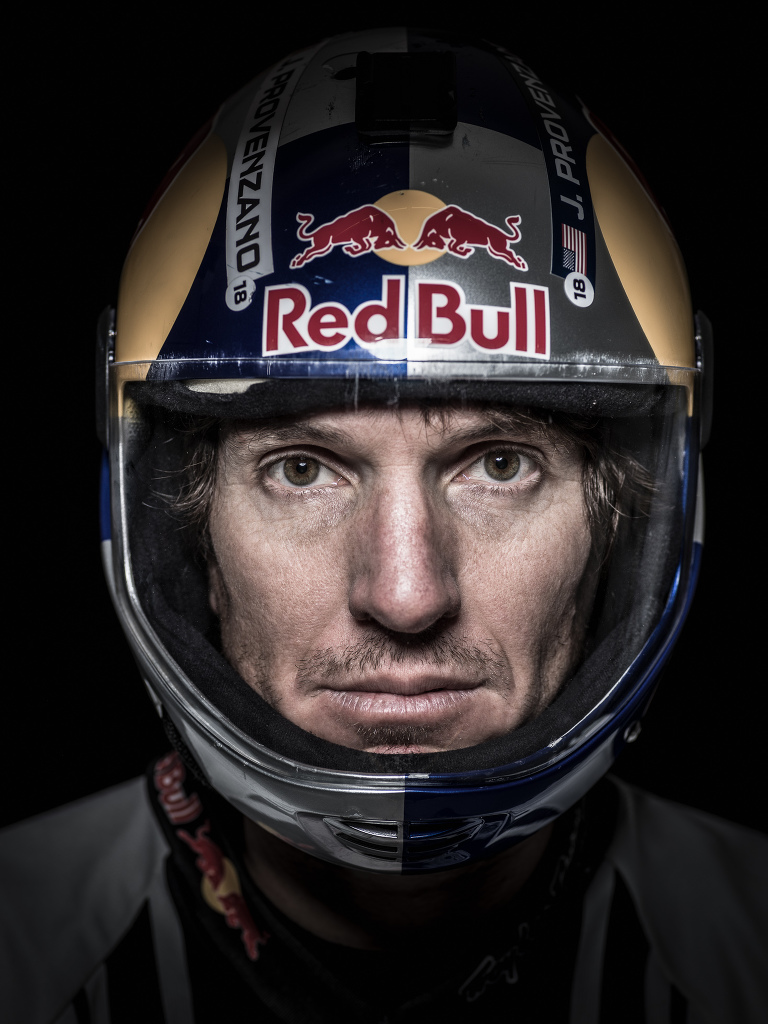 In yet another photo op dreamed up by Jon DeVore, we attached a GoPro camera to the bottom of the Red Bull helicopter and then had some team members hang from the skids before dropping into a sky dive. From left to right are Jon DeVore, Sean MacCormac, Charles Bryan and Jeffrey Provenzano. The helicopter was being flown by Felix Baumgartner. Below is a shot of the three different camera systems I was shooting with for this assignment, including a GoPro Hero 5, a Nikon D4 (and also a D500 and D810) as well as a Hasselblad H5D 50c WiFi medium format digital camera.
You can read the whole interview over on the Red Bull Photography website. My thanks to Marv for the interview and to Red Bull for the assignment. I'll have a more in-depth and expanded behind the scenes article on this assignment in my Spring 2017 Newsletter here in a few months. Stay tuned for that.