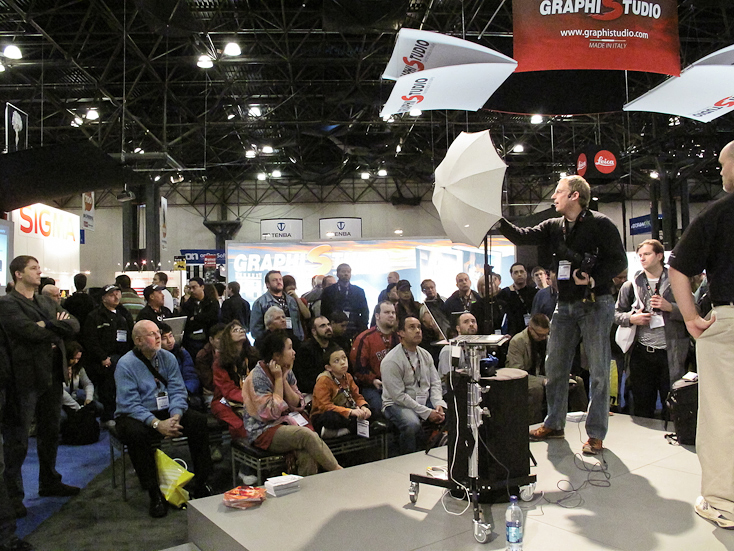 Above: Michael Clark presenting in the Manfrotto booth for Elinchrom at Photo Plus. Image Copyright © Sara Stathas
I just got back from Photo Plus in New york City. It is one of the biggest photo Expo's in North America and all the big manufacturers are there showing off their wares. In addition, there are quite a few photographers, myself included, presenting on a variety of topics related to marketing, lighting, shooting and digital workflow. I was presenting for Manfrotto and Elinchrom. As you can see in the image above there was a good turnout of around 70 or more people who watched the presentation, which was on High Contrast Black and White Portraits. I demonstrated my technique for shooting high contrast black and white portraits using Elinchrom Quadras, Skyports and a Lastolite Hi-Lite background. My thanks to the folks at Manfrotto for all their help and for including me in the mix.
In addition to my presentation, I had a truck load of meetings with other clients and sponsors. Of note, Elinchrom has a new ring light flashhead coming out which is specifically made for the Quadras. And it sells for about $575, which is far cheaper than anything else I have seen in it's class. Lastolite also had a new Ezybox Hotshoe 24×24-inch softbox designed for speedlights that looks fantastic for photographers on the go.
LowePro's new Street and Field system looks like a home run as well. Adventure Photography inherently works best with a modular camera bag system and this is sure to be a winner. Stay tuned for a review of this system in an upcoming issue of the Newsletter.
Nikon's new D7000 was also garnering a lot of attention and the new 1080p HD video with autofocus is a great setup. In terms of lenses, Nikon has some amazing new lenses – specifically their new fast f/1.4 primes including the 24mm, 35mm and 85mm. Nikon has definitely stepped it up in the high end glass department.
Overall the Expo is a great place to meet other photographers and talk with clients and peers in the photo industry.